Power Struggles in Moscow Prompt Corruption Scandals in Russian Far East
Publication: Eurasia Daily Monitor Volume: 12 Issue: 52
By: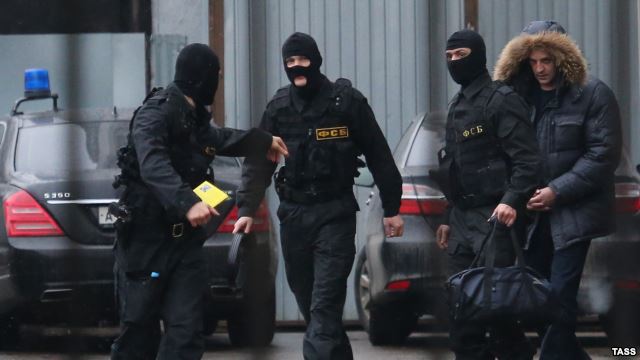 Russian President Vladimir Putin's unexplained ten-day disappearance from public view naturally drew much attention from Moscow-watchers as his regime is rumored to be in the midst of power struggles between various clans and factions. Putin's former economic advisor, Andrei Illarionov, even suggested the possibility that a palace coup had taken place, led by the siloviki (Russian security services personnel) (Sobesednik.ru, March 13; Aillarionov.livejournal.com, March 12; Top.rbc.ru, March 11).
Yet, these speculations have overshadowed other notable developments coming out of the country, such as the arrest of the Sakhalin Oblast governor (since August 2007), Alexander Khoroshavin, and three of his subordinates. Khoroshavin was detained in his office on March 4 and quickly escorted to Moscow where he will be kept in custody until at least April 27, as the Moscow court recently ruled. The Sakhalin governor is accused of kickbacks worth $5.6 million from Energostroy, a local energy company that had previously won lucrative biddings from the governor's office. Another company, Rosstroy, is further suspected of having fraudulently obtained several overpriced public works contracts in the Far Eastern province from the Khoroshavin administration. The results of a subsequent police search at the governor's residence uncovered over $16.3 million in cash and 800 pieces of jewelry, including a diamond-encrusted golden fountain pen estimated at nearly $590,000 (Lenta.ru, March 13; Kommersant, Utro.ru, March 4).
Russian governors often carry reputations of great wealth; they tend to be largely in control of their regions' economies for both the center and their personal needs. Yet, the country's current economic context—marked by slow if any growth, spiraling inflation, record-high capital flight, and other economic consequences of the West's sanctions regime—is increasingly making their otherwise generally accepted corruption and self-enrichment practices appear less sustainable. On March 5, Putin ordered a 10-percent decrease in his own salary. He also called for the same cut to the wages of Prime Minister Dmitry Medvedev and a handful of other top-level government officials, such as the chairman of the highly influential Investigative Committee (which arrested Khoroshavin) and the heads of the Federal Security Service (FSB) and the Foreign Intelligence Service (SVR). As members of Putin's inner circle scramble for ever-dwindling resources and the authorities struggle to maintain social expenses in order to avoid the regime's collapse, Khoroshavin's arrest seems to signal that embezzlement on such scale will no longer be tolerated (Rosbalt.ru, TASS, March 5; Mk.ru, March 4).
The Khoroshavin case may have another, no-less-important, political undertone, however. The governor of Sakhalin Oblast is reportedly close to Igor Sechin, one of Putin's close confidantes and the current CEO of Russian state oil company Rosneft. Between 2008 and 2012, Sechin served as deputy prime minister in charge of the domestic energy sector. Rosneft is currently involved in a joint-venture (Sakhalin-2) on Sakhalin Island where an international consortium operated by ExxonMobil is building a liquefied natural gas (LNG) plant. Some unnamed sources in the Kremlin recently told Bloomberg that the Putin-Sechin relationship might not be in the best shape, with the Russian president having reportedly grown dissatisfied with Rosneft's takeover of TNK-BP in March 2013, which led to an uptick in corporate debt and lower-than-expected returns. Sechin's position has been further undermined by his long-standing conflict with Gazprom and its powerful CEO, Alexei Miller, who also belongs to Putin's inner circle (Top.rbc.ru, March 13; Gazeta.ru, February 19).
Russia's worsening economic situation has put the authorities on alert with regard to a large number of corruption issues across the country. This is particularly true in the Russian Far East where the center has historically been unable to exercise sufficient oversight due to its remoteness. Given Russia's sheer size, the time difference between Moscow and Vladivostok is seven hours, the same as between Moscow and Washington, DC. In early February 2015, the Russian Audit Chamber wrote a memo to Putin alleging that the cost of construction of land infrastructure at the Vostochny Cosmodrome in Amur Oblast had grown by 20 percent, or $212.3 million. Earlier, in both 2013 and 2014, the Prosecutor-General's Office had repeatedly denounced cost overruns and inefficient management at Vostochny, but only now have such allegations been judged serious enough by the Kremlin to justify a full-scale inquiry (RIA Novosti, February 9; Tvc.ru, February 25, 2013; Genproc.gov.ru, December 3, 2013).
The current crisis in Russia is characterized by some optimists as an opportunity for the country to rid itself of old woes: poor financial management, corruption at all levels of government, low productivity, cronyism, and state interventionism. For now, however, the government has only further ramped up its control of the real economy after Prime Minister Medvedev, last December, ordered the return of top government officials to the boards of directors of major companies with state participation. At the same time, the incarceration of corrupt politicians is unlikely to tamper with the self-perpetuating cycle of clan nominations and spheres of influences, as the struggle between the siloviki and the so-called "liberals" is likely to intensify amid Russia's international isolation (Vedomosti.ru, December 25, 2014).