Reaching out to the Balkans: Expansion of Azerbaijan's Defense Cooperation?
Publication: Eurasia Daily Monitor Volume: 12 Issue: 52
By: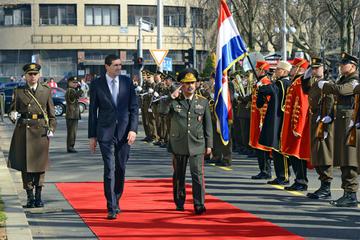 The March 10–14 visit by Azerbaijani Defense Minister Zakir Hasanov to Croatia and Slovenia attracted little attention in the local media. However, various background developments in the wake of these meetings—held to discuss the potential directions of bilateral military cooperation (Mod.gov.az, March 11)—suggest that the trip should perhaps have drawn more interest.
On the one hand, there has been relatively little military cooperation between Azerbaijan and the Balkan countries. The cooperation that has existed was mostly pursued with Bulgaria and Romania. This became possible after the United States lifted its embargo on providing military assistance to Azerbaijan following the September 11 terrorist attacks, and asked its European partners to do the same, in order to provide Baku with the military equipment required to assist in the peacekeeping operation in Afghanistan. Since 2008, Azerbaijani defense and defense industry cooperation with Western Balkan countries has grown, especially with Serbia and Croatia, though it remains relatively low on the global scale.
Baku explained Minister Hasanov's latest trip in vague terms—"expanding bilateral defense cooperation" (Mod.gov.az, March 11). Nonetheless, the cause and timing of the meetings are representative of a number of key motivations:
First, Azerbaijan has increased its arms imports by 249 percent between 2005–2009 and 2010–2014 (SIPRI Fact Sheet, "Trends in International Arms Transfers", March 2015), thanks to oil revenues. Part of the spending on military build-up has been focused on the establishment of a domestic defense industry. But the decline in the price of oil on global markets has had negative effects on state budget projections as well as economic welfare. In fact, the finances of the State Oil Fund—a government-run institution that controls revenues generated by oil projects—serve as the balancing factor in regard to the state budget.
Annual increases in military expenditures are driven most directly by the open conflict with Armenia and the need to boost national morale. While the ultimate outcome of the decline in oil prices remains uncertain, Azerbaijan will likely see further negative effects in terms of expenditure calculations. This will, no doubt, affect the country's military spending; certainly it cannot sustain its annual increases at the same rate as before. The solution in this respect could be that Baku expands its defense industry capabilities—a cheaper option than investing in military equipment. North Atlantic Treaty Organization (NATO) members Slovenia and Croatia could be new partners in this respect. If Baku is forced to cut its military budget, or is unable to make increases, the solution could be increasing the military readiness of the army through participation in international military exercises and cooperation with these new partners. Furthermore, such activities could increase the international visibility of the army.
The second major factor is the ongoing impact of the Russia-Ukraine crisis. Baku has historically purchased military equipment from both sides. In particular, Azerbaijan has bought more than seventeen different types of military equipment from Ukraine in the last decade, and Ukrainian KMDB—a state-owned defense industry company in Kharkiv—has conducted modernization and maintenance work on Azerbaijani tanks. Given the conflict in Ukraine, Baku has been seeking other options, especially in regard to modernization and maintenance work on its T-type tanks. With Ukraine incapacitated, Russia has offered to provide the same service. Last year, Rosoboronexport, Russia's main weapons exporter, proposed the in-depth modernization of Azerbaijan's T-72 tanks to the Fire Support Combat Vehicle configuration (Asbarez.com, September 12, 2014; Janes.com, September 18, 2014). Azerbaijan did import military weapons from Russia under a package agreement signed in 2010, which makes Russia the number one partner with regard to already-purchased military equipment. However, Baku is wary of increasing its reliance on Moscow for modernization and maintenance and other defense-related issues, as this will boost Russia's dominant position within Azerbaijan's military industry.
Thus Slovenia might be a good partner: its defense industry is capable of providing maintenance and modernization of T-type tanks, regardless of the fact that Russia's proposal is more cost-effective due to geographic proximity. However, geographic proximity has not always been Baku's primary concern. For instance, Azerbaijan chose the more expensive option for repair of its small Triton-2 submarines. This work is being done by Croatian shipyard company Adria Mar, which specializes in repairing vessels built by the Soviet arms industry (News.az, August 1, 2014).
The visit and likely cooperation with Slovenia and Croatia must be considered in relation to Baku's political strategy of avoiding inflaming relations with Moscow over the last few months. The consequences of this strategy have included low-level cooperation with NATO, at least publicly. Baku's option is to pursue bilateral cooperation through member states, rather than multilaterally; this can help it to maintain and develop healthy relations with NATO. Azerbaijan has already signed defense-cooperation agreements with Slovenia and Croatia in 2011 and 2013, respectively. These agreements, "within the framework of the NATO Partnership for Peace program cooperation," provide for "exchange of experiences and joint participation in military exercises" (E-qanun.az, 2011, 2013, accessed March 19, 2015). In fact, back in 2013, Slovenia invited Azerbaijani military forces to take part in mountain combat training in Bohinjska Bela, in the Julian Alps, as well as in English-language courses provided by the Foreign Language School of the Slovenian Military (Mo.gov.si, August 30, 2013). No action was taken in regard to this offer, though the recent visit has re-opened planning discussions.
During Defense Minister Hasanov's visit to Slovenia, he expressed Azerbaijan's interest in international operations and missions, as well as the importance of language courses and other training opportunities for servicemen (Trend.az, March 14). This statement could be a catalyst for the implementation of Ljubljana's 2013 offer. In the same vein, Azerbaijan signed agreements on landmine victim-assistance actions and humanitarian de-mining with Slovenia in 2009, and Croatia in 2012; this type of work seems important both as a means of deepening practical engagement with NATO member countries, and in the particular importance of de-mining in the context of Southeastern Europe. Previously, Azerbaijan's mine action center (ANAMA) helped with mine-risk education (MRE) work in Afghanistan and comprised part of Baku's practical cooperation with the North Atlantic Alliance.
Ultimately, various economic factors will shape Azerbaijan's military budget and context in ways that could increase Russia's leverage in the South Caucasus country. Thus, in all probability, Hasanov's recent Balkans visit aimed to broaden Azerbaijan's foreign military cooperation and pursue engagement with NATO. However, all developments to date indicate that Baku is proceeding with caution in order to avoid inflaming relations with Moscow.