President Xi Suspects Political Conspiracy Behind Tianjin Blasts
Publication: China Brief Volume: 15 Issue: 17
By: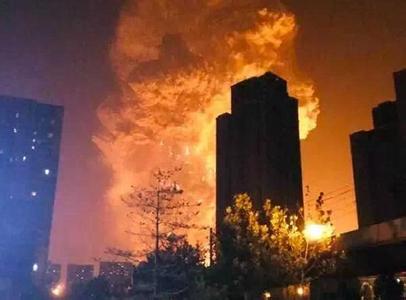 Almost immediately after the devastating explosions near Tianjin Port at 11 pm, August 12, President Xi Jinping convened his closest aides to check whether there was any political motivation behind one of the most atrocious accidents in China in recent memory. At the beginning of September, the official casualty figures stand at 158 dead and 15 unaccounted for, though it is widely assumed that the number of deaths was significantly higher (People's Daily, September 1, Xinhua, August 28; Ming Pao [Hong Kong], August 27).
Three Chinese sources with the rank of head of government departments or above told the author that Xi suspected the horrendous blasts were a "political conspiracy" aimed at dealing a body blow to the zhongyang (central party authorities) led by the President himself. Senior officials advising Xi on this supposed challenge to his authority include Politburo member and Director of the General Office of the Central Committee Li Zhanshu, Director of Xi Jinping's Office Ding Xuexiang, and Vice-Director of the General Office of the party's Central Military Commission (CMC), Senior Colonel Zhong Shaojun.
Xi, who is also General Secretary of the Chinese Communist Party (CCP), was particularly spooked by the fact that the catastrophe struck a mere three weeks before the September 3 military parade. In other words, Xi was made to lose face in the run-up to perhaps the most important public ceremony of his presidency. While the ostensible reason of this show of force by the People's Liberation Army (PLA) was to mark the 70th anniversary of Japan's defeat in World War II, it is also seen as the equivalent of a "coronation ceremony" for the ambitious leader. In China's political culture, power grows out the barrel of a gun. A top leader does not gain the status of undisputed strongman until he has presided over a parade where he receives salutes from different divisions of the PLA (Deutche Welle Chinese Service, August 28; Apple Daily [Hong Kong] August 24). [1] The author's sources have discounted any link between the Tianjin explosions to the so-called "assassination attempts" on Xi, which have been a staple in Beijing rumor mills over the past two years. However, the blasts amounted to not-so-subtle psychological warfare, implying that Xi's adversaries could harm him or his entourage during his inspection trips within China.
Sources told the author that while no conclusive evidence had yet been found, Xi's advisers had focused on a military connection to the conspiracy. One factor being assessed was that the major detonations, which took place within approximately 30 seconds of each other, could not have been due merely to the chemicals being deposited at the dangerous goods storage owned by Tianjin Ruihai International Logistics (hereafter Ruihai). The Chinese Earthquake Administration reported that the first blast generated shocks equivalent to three metric tons of TNT–causing a virtual earthquake measuring 2.3 on the Richter scale. The second blast was equivalent to 21 metric tons of TNT or an earthquake registering 2.9 (China News Online, August 13).
Xi's aides gravitated to the idea that munitions belonging to PLA companies–which should normally not be found in the vicinity of any hazardous material storage–were at least partly responsible for the extraordinary strength of the detonations. One question being asked by Xi's inner circle: were the explosions plotted and executed by "anti-zhongyang military officers" with or without the knowledge of Ruihai? In any event, all the night-shift supervisors and workers in the immediate vicinity of the storage site perished, ruling out the possibility of close-range eyewitness accounts.
Tianjin Port is well-known in military circles as an important facility for weapons manfacturers and exporters such as Norinco, which on a daily basis load hardware onto containers and vessels bound for different destinations under a shroud of secrecy. The PLA's interests in the Tianjin Port were indirectly attested to by the fact that a special work team led by the Chief of Staff of the Beijing Military Region, Major-General Shi Luze, was on the scene within hours of the incident. Shi and his colleagues provided chemical-warfare equipment as well as expertise to rescuers close to the blast site (Ta Kung Pao [Hong Kong] August 17; China Daily, August 16). However, at the same time, the Shi team appeared keen to assess the damage to PLA-owned munitions and hardware in the port area.
According to Chief Brief's sources, Xi's suspicion has fallen on the dozens of senior PLA officers who are the protégés and underlings of two purged former Politburo members and CMC vice-chairmen, the late General Xu Caihou and General Guo Boxiong. General Xu, who died on March 15 this year, had in late 2014 been detained for corruption-related felonies including "selling plum positions" to PLA promotion seekers (BBC Chinese Service, July 30; Wen Wei Po [Hong Kong] March 9). General Guo, who is facing trial in a military court, was formally arrested in late July for corruption and disciplinary violations (Xinhua, July 31). While senior officials, including the current CMC Vice-Chairman Xu Qiliang, have repeatedly told officers to "draw the right lesson" from the cases of these two "big tigers," associates of Xu and Guo unhappy about the disgrace of their mentors are still a force to be reckoned with within the PLA hierarchy (Hong Kong China News Agency, August 14; Phoenix TV, August 13).
Despite rumors in the overseas-Chinese media that there could be some links between ex-president Xi and the Tianjin disaster, Xi's aides involved in the investigations have focused on the fact that Jiang Zemin (CMC Chairman from 1989 to 2004) was the major patron of Generals Xu and Guo. Since coming to power at the 18th Party Congress in late 2012, Xi has been engaged in a power struggle with Jiang, who heads the powerful Shanghai Faction in party politics (South China Morning Post, August 11; Hong Kong Economic Journal, June 16). In the past month, official media have published two commentaries that are believed to reflect Xi's dissatisfaction with retired leaders who are bitterly opposed to reform or who refuse to leave the limelight. One article complained that "the obstacles facing reform are so intransigent and ferocious…as to be beyond people's imagination" (Xinhua, August 19). The other criticized certain retired cadres for "interfering in the [current] administration" and even "establishing cliques and cabals" in the party. The target of these two politically-charged articles is thought to be Jiang [Radio Free Asia, August 10; Hong Kong TVB, August 10]. It is no accident that public reminders of Jiang, including photos and his calligraphy, have recently been removed from institutions such as the Central Party School (BBC China Service, August 31; Radio Free Asia, August 22).
Xi's subordinates are also investigating the political protection of Ruihai, one of the few private companies to secure a license to work with dangerous chemicals. Ruihai certainly had powerful political backing. Li Liang, a major shareholder of Ruihai, is the son of Li Ruihai, businessman and brother of former Politburo Standing Committee (PBSC) member Li Ruihuan. Often called "The King of Tianjin" due to his stints as mayor and party secretary of Tianjin, Li, 81, was a PBSC member from 1989 to 2002. In a matter of a few days, however, both Li Ruihai and Li Ruihuan were able to satisfy the Party authorities that they had nothing to do with Li Liang's business. (Oriental Daily News, August 17; Apple Daily, August 15; Radio Free Asia [Chinese Service], August 15). Given that Li Ruihuan was a bitter political foe of Jiang Zemin's, there are good reasons to believe that Xi needs Li's help in his on-going campaign to curtail the Jiang's political influence.
Xi and his Politburo colleagues' preoccupation with checking out these and other leads about the explosions after the catastrophe helps explain why no senior official seemed to be in charge of the investigations. It was not until the fifth day after the explosions that Premier Li Keqiang showed up at Tianjin Port for a one-hour inspection trip, during which Li gave orders to CCTV and other official media present not to roll their cameras. Li's belated visit to the city–which is little more than one hour by car from Beijing–broke a convention set by former premier Wen Jiabao that top political leaders should show up at the site of a major natural or man-made disaster within 48 hours (BBC Chinese Service, August 16; Hong Kong Economic Times, August 16).
Yet, Premier Li did little to clarify the question of responsibility for the disaster response. At a press conference on the same day that was also attended by foreign correspondents, Deputy Head of the Tianjin Municipal Propaganda Department Gong Jiansheng was asked by local reporters about who was running the rescue and investigation operations. Gong replied: "Regarding this question, I'll try to get a detailed picture [from my superiors]" (Ming Pao, August 17; China News Service, August 17). It was not until August 19th that the most senior Tianjin official–Mayor and Acting Party Secretary Huang Xingguo–appeared at a press conference. While Huang said he bore "unshirkable responsibility" for the mishap, he said nothing about either the state of the probe or whether he would be resigning to take political responsibility (China.com, August 19; Wen Wei Po, August 19).
Beijing waited a full week after the blasts to announce that a high-level task force headed by the executive Vice-Minister at the Ministry of Public Security (MPS) Yang Huanning, would take charge of investigation efforts (Xinhua, August 19; Global Times, August 18). A 32-year veteran of the MPS, Yang is a specialist in weiwen or upholding political stability. It is understood that the CMC is also doing its own appraisal. The military investigation is being coordinated by Xi protégé Senior Colonel Zhong, who worked closely with Xi when he was party secretary of Zhejiang and Shanghai from 2002 to 2007 (Duowei News [Beijing] April 17, 2014; Reuters, April 17, 2014).
As though to pacify domestic and international opinion, Beijing authorities announced on August 27 that eleven mostly Tianjin officials had been arrested for dereliction of duty regarding the explosions. Almost all of them are mid-level officials involved with transportation, port management and industrial safety. The highest ranking person was Minister at the State Administration of Work Safety Yang Dongliang, who also happens to be a former vice-mayor of Tianjin. Yet Yang did not appear to have been penalized mainly for his failure to maintain safety standards in Tianjin. The Central Commission for Disciplinary Inspection, the country's highest graft-buster, indicated on its website that Yang was being held for "violations of party discipline and the law," usually a reference to corruption (CCDI, August 18; Ta Kung Pao, August 19; Reuters, August 18). Two other suspects had the rank of heads of regional departments: President of the Tianjin Port Group Zheng Qingyue, and Head of the Tianjin Communications and Transportation Commission Wu Dai (Ming Pao, August 28; Ta Kung Pao, August 27).
In addition, several Ruihai executives have been held for interrogation. They include company President Yu Xuewei, Vice-President Dong Shexuan and General Manager Zhi Feng. The Chinese and international media have reported that Yu was previously a senior cadre with the giant state-owned enterprise Sinochem–which has significant investments in Tianjin–and that Dong is the son of the port's police chief. Censorship authorities have excised all references to the Ruihai staff's connection to either Li Ruihai or Li Ruihuan (RTHK [Hong Kong], August 19; Caixin.com, August 19; Associated Press, August 20].
Immediately after taking over as head investigator of the Tianjin mishap, top police officer Yang Huanning indicated his team would "undertake clear, detailed and thorough investigations irrespective of who are involved and what their [political] backgrounds are." He added the results of the probe must be able to "stand the test of science, the test of law and the test of history" (Xinhua, August 19). Observers who are knowledgeable about the complicated political maneuvers behind the Tianjin calamity, however, are less sanguine about whether the truth will ever emerge. According to respected Beijing-based historian Zhang Lifan, the murky circumstances surrounding the blasts and their aftermath could point to "political intrigue within the party." "We still do not know the nature of the explosions," he told the Hong Kong press. "It is not clear who the target of the blasts was and whether there were conspiracies involved" (Apple Daily, August 18; South China Morning Post, August 18). Despite the military parade "coronation" of Xi on September 3, these questions continue to cast doubt on the extent of President and Commander-in-Chief Xi's authority.
Dr. Willy Wo-Lap Lam is a Senior Fellow at The Jamestown Foundation. He is an Adjunct Professor at the Center for China Studies, the History Department and the Program of Master's in Global Political Economy at the Chinese University of Hong Kong. He is the author of five books on China, including "Chinese Politics in the Xi Jinping Era: Renaissance, Reform, or Retrogression?," which is available for purchase now.
Notes
1. Hu Jintao was never regarded as a "strongman" during his tenure of general secretary from 2002 to 2012. The military parade on October 1, 2009 marked the high point of his political career. Even then, it was significant that his rival, former president Jiang Zemin, was able to undercut Hu's authority by sharing much of the limelight during the nationally televised extravaganza (Apple Daily, October 2, 2009; Ming Pao, October 2, 2009).