China Stokes Anti-Japanese Sentiment After Abe Speech, Ahead of September Parade
Publication: China Brief Volume: 15 Issue: 16
By: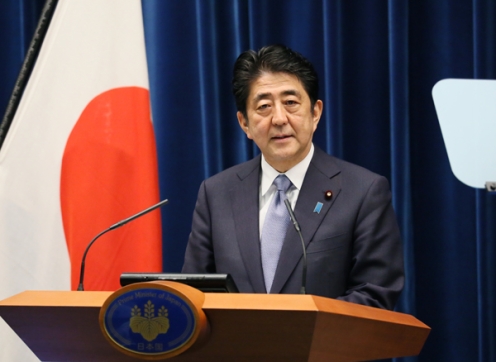 This past week marked the 70th anniversary of Japan's surrender and the end of World War II. On August 14, Japanese Prime Minister Shinzo Abe gave a speech commemorating the end of the war and expressing regret and repentance for Japan's role in the war (Kantei [Japan], August 14). The speech provoked a strong reaction by Chinese government spokespersons, who emphasized the insincerity of the speech and reiterated calls for Japan to "sincerely apologize to affected nations and completely cut itself off from militarist history" (Xinhua, August 15). While Abe's speech lacked specific phrases some regional actors had hoped for, it affirmed previous apologies by Japanese prime ministers–specifically the Murayama statement, which referred to the characterization by Japanese Prime Minister Tomiichi Murayama in 1995 of Japan's culpability in WWII "through its colonial rule and aggression" (Nikkei, August 14). The speech also echoed Abe's "deep remorse" expressed during his speech to Congress (Kantei, April 30; China Brief, May 1). The Japanese emperor, though restricted from an active political role by the Japanese Constitution, also expressed remorse for the war (Kunaicho [Japan], August 15).
China's reaction was exacerbated by visits to Yasukuni Shrine (靖国神社)–a shrine in downtown Tokyo dedicated to Japan's war dead–by three cabinet members and a donation by Abe. Such visits have traditionally been a major source of Sino-Japanese tension. Previous visits by Abe and other Japanese prime ministers, particularly Junichiro Koizumi, led to massive unrest and destruction of Japanese businesses throughout China in 2005. Chinese Foreign Ministry spokesperson Hua Chunying expressed that for Japanese government officials to use this occasion to participate in a ceremony at Yasukuni on the anniversary of Japan's surrender "again reflects Japan's incorrect attitude about historical issues" (MOFA, August 15; Kyodo, August 15).
The war, and interpretation of its history continues to cast a pall over inter-state relations in East Asia. Abe's speech lacked a specific apology for comfort women, drawing the ire of South Korean President Geun-hye who noted "…it is hard to deny that Prime Minister Abe Shinzo's statement…did not quite live up to our expectations." However, she went on to acknowledge, "we take note of the message that was clearly conveyed to the international community…that the position articulated by the previous Japanese cabinets, based on its apologies and remorse for how Japan's aggression and colonial rule…will remain unshakable into the future" (Cheongwadae [South Korea], August 15). In the United States, a National Security Council spokesperson welcomed what he called Abe's "expression of deep remorse" (White House, August 14).
Abe's speech borrowed from the "Report of the Advisory Panel on the History of the 20th Century and on Japan's Role and the World Order in the 21st Century" released earlier in August (Kantei, August 6). The report acknowledged Japan's aggression in the war, but qualified some statements with arguments that Japan was following the path of other nations at the time, and that the actions of a few countries, particularly the United States, weakened the position of moderates in Japan, and allowing militarists the leeway they needed to pursue actions such as the Marco Polo Bridge Incident (卢沟桥事变), which led to the outbreak of hostilities. However, the report also acknowledges that the "responsibilities of the Japanese government and military leaders from the 1930s and beyond are very serious indeed" (Kantei, August 6). Against this background, a strong reaction by China and South Korea is expected, but the level of animosity expressed goes beyond nitpicking over political demands for an apology that have largely already been met.
Chinese State Media has featured an enormous outpouring of responses to Abe's speech and more generally about the anniversary of the "War of Resistance against Japan and Worldwide Anti-Fascist War." This has included the publication of Xi Jinping's "Eight Core Reflections on the Anti-Japanese War," which themselves reflect revisionist views of history (Xinhuanet, August 14). "Eight Core Reflections" proclaims "The Chinese people are grateful for international assistance," Korea, India, Armenia (as part of the Soviet Union) and Russia are all mentioned as making important contributions to the war; the role of the United States or United Kingdom–in either theatre of the World Anti-Fascist War–are notably absent. At the same time, the Chinese Communist Party has been over exaggerating its role in World War II–to the point of including Mao Zedong in historical events in Conferences he was not a part of–undercutting the real sacrifices made by those who participated in the war's Asia-Pacific Theater and preventing real reconciliation over the events.
Meanwhile, tensions between Japan and China are increasing ahead of the planned Military Parade in September celebrating China's victory over Japan (People's Daily Online, January 27). Notably, a Chinese Air Force spokesperson announced that H-6K bombers had conducted their third training exercise through the first island chain strait—skirting Japanese territory (MOD [China], August 14). Moreover, according to the Japanese Ministry of Defense, Chinese military aircraft have maintained consistent pressure on Japanese air defenses. Scrambles, primarily against Russian and Chinese aircraft, increased by 133 instances over the previous year during fiscal year 2014, which ended on March 31 (MOD [Japan] May). Japanese forces intercepted 114 Chinese aircraft between April 1 and June 30 of this year (MOD, August). The Chinese Navy will also join Russia in naval exercises in the Sea of Japan as the second part of exercises held earlier this year in the Black Sea (MOD, August 15; Xinhua, August 15; Eurasia Daily Monitor, May 27). Unless China and Japan can find a way to cool their growing tensions, it will certainly hurt relations for all parties.