Prigozhin's Failed Coup and the Future of Wagner in Sub-Saharan Africa and MENA (Part One)
Publication: Eurasia Daily Monitor Volume: 20 Issue: 132
By: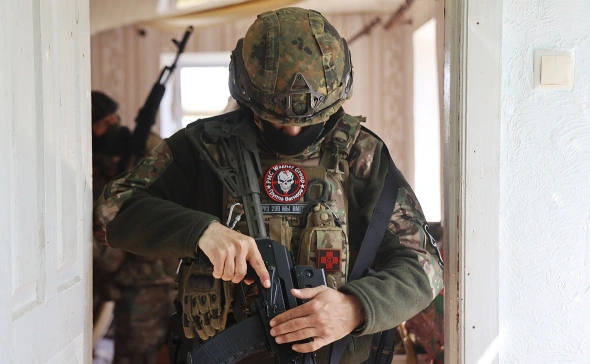 On July 31, Yevgeny Prigozhin, head of the notorious Wagner Group that had attempted an unsuccessful mutiny resulting from conflict with the Russian Ministry of Defense (MoD), stated, "At the moment, we are not planning to open recruitment centers. To avoid any talks and rumors, I am stating that the Wagner Group is continuing its activities in Africa and recruitment centers in Belarus. … As of now, we are not experiencing any deficit with the quantity of personnel we have, thus, we are not planning any new recruitment campaigns" (RBC, July 31). Earlier, Maria Zakharova, director of the Information and Press Department of the Russian Ministry of Foreign Affairs, confirmed that—in concert with interested African governments—Wagner will continue carrying out missions on the continent (Gazeta.ru, June 28). It seems doubtful that the Russian state, which has been heavily reliant on shadow and illegal (even by Russian legislation) paramilitary formations in its activities abroad, is unlikely to part with the practice of using mercenaries to achieve its geopolitical goals. Indeed, Wagner's positions are sure to evolve in the Middle East and North Africa (MENA), specifically in Libya and Syria, as well as in resource-rich, yet politically turbulent Sub-Saharan Africa.
Russian involvement in the Syrian Civil War (2015) became a key factor for allowing Bashar al-Assad to remain in power. In previous interviews, Prigozhin took full credit for this, arguing that it was the Wagner Group that had secured Russia's victory over ISIS. Syria's strategic importance for Wagner is overwhelming: the Latakia province, where Khmeimim Air Base is located, has served as a key logistical and transportation artery for the Wagner forces and their MENA operations.
Moreover, at the peak of hostilities in the country, the Wagner Group was of critical importance for Moscow. Even so, after fighting in Syria receded and given Prigozhin's march against the Russian MoD, this could all change. According to unconfirmed information, Wagnerites deployed in Syria were detained between June 23 and 24. Even if this information is not true, Syria has become a site of activities of other Russian private military companies (PMC), including the MoD-associated Redut PMC and other security providers associated with Gennady Timchenko, an oligarch close to Putin that has developed business interests of his own in Syria (RBC, June 27, 2017). Thus, it cannot be excluded that Wagner, in its current form, might be marginalized in Syria. In fact, some Wagner fighters have signed contracts with the MoD and changed their allegiances by joining MoD-associated structures. This will not only result in direct economic losses for Prigozhin but will also damage Wagner's operational capabilities in the MENA region and beyond.
Russian mercenaries were heavily involved in the Second Libyan Civil War on the side of General Khalifa Haftar of the Tobruk-based government—directly subordinated to the Russian MoD—starting from at least 2018. Following the failure of Operation Flood of Dignity (started on April 4, 2019), Wagner's positions in the country were weakened with the Kremlin starting to balance between the two confronting camps (Vpoanalytics.com, July 5). That said, despite several setbacks, by December 2021, approximately 7,000 Wagner fighters with heavy equipment were still located in the country (Gazeta.ru, December 12, 2021). Given the lack of credible information on the subject, it is difficult to assess how the number of Wagnerites changed. Even so, it most certainly decreased in some form due to changes in internal dynamics within Libya and the outbreak of Russia's war against Ukraine. Prigozhin's failed coup and open conflict with the MoD may have additionally weakened Wagner positions in Libya, which may be related to two key developments.
First, in June 2023, a drone attack (reportedly Bayraktar Akıncı) was launched on al-Kharouba air base, 150 kilometers southeast of Benghazi, which serves as the reported base for Wagner fighters. Interestingly, Wagner facilities were also attacked in several Sub-Saharan African countries (RBC, June 30). While no casualties were reported, this incident might signal the initiation of Wagner's upcoming departure from the country.
Second, a potential conflict over oil profits could further weaken Wagner's position in Libya. Specifically, on June 24, Haftar demanded that, by the end of August, oil-related revenue will be "redistributed in a fair and just manner." Otherwise, "the armed forces will be ready to do whatever it takes" to ensure the order (no further clarification was provided) (Interfax.ru, July 4). Russian sources believe that this declaration could be leveled against foreign actors involved in the domestic oil sector, including the Wagner Group, which can be accused of "blocking exports of [Libyan] oil to foreign markets." Haftar also threatened to "raise the red flag and stop exports of oil and natural gas" if the previously outlined conditions are not met (Oilcapital.ru, June 24).
Russian sources argue that a potential oil-related crisis could witness the convergence of the positions of Haftar—who may have grown weary of Wagner's presence and autonomy—and the current United States administration, which has expressed concerns with Wagner's influence in the oil-endowed and strategically located country. Most likely, as reported by Russian information outlets, Haftar and the US could use the "Wagner factor" as one of the foundations for bargaining between the two parties involved in the conflict (Nezavisimaya gazeta, July 4).
For almost a decade, the Russian state has been delegating the most "delicate" tasks—namely, those Moscow did not want to be directly implicated in—throughout parts of MENA to Prigozhin and his Wagner mercenaries. Now, as a result of intra-regional changes and domestic developments, Russia, which is by no means planning to discontinue its notorious practice of using mercenary formations, might reconsider the role of Wagner in its geopolitical escapades.