Prime Minister Pashinian Stages Own Coup Against Armenia's Military
Publication: Eurasia Daily Monitor Volume: 18 Issue: 41
By: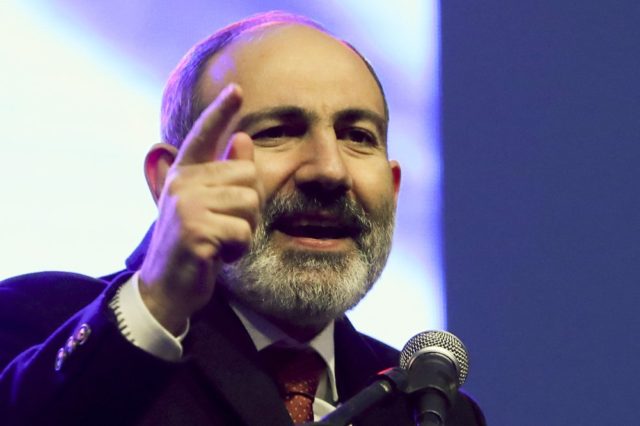 Armenia's military top brass has demanded that Prime Minister Nikol Pashinian's government resign "for having brought the country to disaster." Blaming Pashinian for overall incompetence and the recent lost war, the generals have nevertheless stopped short of attempting a coup d'état (see EDM, February 25, 26). Nor have they indulged in acts of military disobedience to the government. While sharing the civilian opposition's views and goals, the generals have refrained from joining the protest movement thus far.
Pashinian, however, has lost no time in staging a political and personnel "coup" of his own against the military's high command.
On March 10, Pashinian unilaterally dismissed the Armed Forces' chief of the General Staff, Colonel General Onik Gasparian, notwithstanding President Armen Sarkissian's refusal to co-sign the dismissal decree. The president referred the matter to the constitutional court on the same day.
Also on March 10, Pashinian brought his former protégé, Lieutenant General Artak Davtian, back from retirement to nominate him as chief of the General Staff. Davtian can legally be installed subject to President Sarkissian's consent. Sarkissian has promptly objected, however (Arminfo, March 11). Lieutenant General Stepan Galstian is, therefore, tasked to be acting chief of the General Staff by order of Defense Minister Vagarshak Harutiunan. The latter is a recent Pashinian appointee, at odds with the active-duty generals (see below).
The position of first deputy chief of staff is also vacant since Pashinian dismissed Gasparian's first deputy, Lieutenant General Tiran Khachatrian, on February 24. President Sarkissian, a hesitant personality, co-signed Khachatrian's ouster before vacillating back to decline Gasparian's removal. Both Gasparian and Khachatrian are moving to contest their dismissal by Pashinian in the Administrative Court. Their defense holds that they legally hold the positions of chief and first deputy chief of the General Staff pending a court decision (News.am, March 10, 11).
In a public statement on the same day, Gasparian contested Pashinian's dismissal order as "anti-constitutional, yet another proof that the government's resignation and pre-term parliamentary elections are the only way to overcome this crisis." In an accompanying collective statement, "The Armed Forces' high command adheres to General Gasparian's declaration and confirms his assessment of the situation in the country" (Arminfo, March 10).
Notwithstanding their resentment, however, the generals remain thus far compliant with the principle of civilian control. Pashinian, safe in this knowledge and counting on this, staged a meeting at the Ministry of Defense on March 10 to present his controversial personnel changes to the assembled General Staff. The videotape immediately released by Pashinian's office showed the top brass compactly standing at attention in front of the prime minister and listening to his presentation of the personnel changes without murmur. He added some perfunctory compliments to the military and even to Gasparian, who was absent. This scene was a successful public relations move typical of Pashinian. The public was led to believe that Pashinian had subdued his most redoubtable critics and was back in control (Armenpress, March 10).
Pashinian's capricious manner of governing has wrought havoc on the military and security services' commands during his almost three years as prime minister. His latest choice for chief of the General Staff, Davtian (see above), had already served in this post from May 2018 to June 2020. Pashinian picked him for that position at that time because Davtian was only a one-star general with relatively little authority and beholden to his benefactor. Davtian, however, had to resign after hosting a party with more than 100 guests in violation of coronavirus restrictions (Aravot, June 8, 2020). Davtian then headed Armenia's Committee on Military Industry for only four months, until Pashinian released him without public explanation (ARKA, November 16, 2020). On March 9, 2021, Defense Minister Vagharshak Harutiunian appointed Davtian to a new position created for him as "senior officer for special assignments"; and one day later, Pashinian nominated Davtian as chief of the General Staff (see above).
Pashinian appointed the respected Gasparian as chief of the General Staff in June 2020 in the run-up to the war and promoted him from two-star to three-star general during the war. Pashinian overlooked Gasparian's pre-war advice to do everything possible to avoid war or at least postpone it. Once the war started, Pashinian disregarded Gasparian's recommendations (from the fourth day of the war onward) to avoid defeat by stopping the hostilities or to fire Iskander missiles in desperation. Gasparian deemed the armistice terms not as Pashinian's "treason" (which most opposition parties pin on the prime minister) but as a lesser evil: the utter destruction of Armenia's forces (Aravot, November 17, 2020).
Retaliating to the General Staff's demand for Pashinian to resign, the latter dismissed Gasparian on February 25, nominated Davtian as replacement on March 10, and temporarily designated Galstian as acting chief of the General Staff on the same day (see above), Galstian being the fourth holder of this post during Pashinian's prime-ministership thus far. He might become chief of staff instead of Davtian, given President Sarkissian's resistance to Davtian's nomination.
Pashinian appointed Lieutenant General (ret.) Vagharshak Harutiunian (see above) as senior military advisor to the prime minister in August 2020 (one month before the war's start) and as defense minister on November 20, 2020 (ten days after the armistice). Harutiunian is alien in many ways to the General Staff's personnel and therefore a potential lever on it for Pashinian. A Soviet-schooled officer, born in 1956 and a graduate of two naval academies before serving in the Ground Forces, Harutiunian represented Armenia in the headquarters of the Commonwealth of Independent States (CIS) Joint (Collective) Forces from 1992 to 1999, receiving his first and second star during that tenure without any known battlefield exploits. Harutiunian served as defense minister of Armenia for less than one year (1999–2000), falling politically out of favor with then-president Robert Kocharian, who stripped Harutiunian of his military rank. Harutiunian was out of the military until 2019, when he had his military rank restored in the context of Pashinian's vendetta against Kocharian. Following the 44-day war, Harutiunian is liaising on a regular basis with his Russian counterpart, Sergei Shoigu, to plan a rebuilding of Armenia's Armed Forces (see EDM, March 1).
Pashinian has also appointed and dismissed the heads of the National Security Service with dizzying frequency. The Service has had five chiefs one after the other during his premiership (May 2018 to date), including three consecutive chiefs during the 44-day war (September 27–November 19, 2020); the third of these, Armen Abazian, is the current incumbent.
Armenia's current constitution makes it possible for Pashinian to play these personnel games. The constitution, amended in 2015, shifted major powers from the president to the prime minister's office, tailor-made for then-president Serge Sarkissian to become prime minister when his second presidential term expired in 2018. Pashinian led his "velvet revolution" in 2018 to prevent Sarkissian's move and has inherited those constitutional powers as prime minister. Under these provisions, Pashinian initiates the appointment and dismissal of key defense and security officials, requiring pro forma the state president's co-signature. The cautious President Armen Sarkissian has acted compliantly thus far, but Pashinian's mismanagement of the war has prompted the head of state to call for the prime minister's resignation and seems to have changed their relationship fundamentally.