Projects in Synergy: Trans-Caspian, Trans-Anatolian Gas Pipelines
Publication: Eurasia Daily Monitor Volume: 9 Issue: 44
By: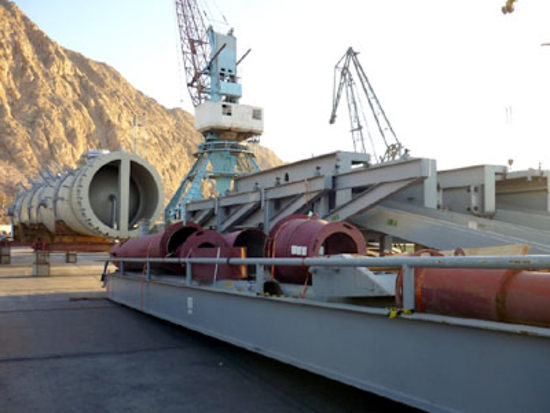 Addressing the Caspian-European Integration Business Club in Baku (Trend, Today.Az, February 29), Azerbaijan's Industry and Energy Minister Natig Aliyev announced that negotiations on a Turkmenistan-Azerbaijan gas pipeline are advancing, as part of the EU-backed Southern Corridor to Europe. For its part, Azerbaijan is holding meetings on a regular basis with the European Commission and the Turkmen government on the trans-Caspian pipeline for Turkmen gas to Europe.

Two framework agreements, political and commercial respectively, are being drafted for the trans-Caspian project. The first, to be signed by Presidents Ilham Aliyev and Gurbanguly Berdimuhammedov as well as European Commission President Jose Manuel Barroso, will confirm the two states' and the European Union's political backing for the this strategic project within the Southern Gas Corridor to Europe. The second draft is for an inter-governmental, Turkmen-Azerbaijani framework agreement, to be co-signed by the European Commission, setting a legal basis for building and operating a trans-Caspian pipeline and subsequent sale-and-purchase agreements on Turkmen gas.

Natig Aliyev reaffirmed Azerbaijan's position that the un-finalized legal status of the Caspian Sea is no legal obstacle to the proposed pipeline. This is a bilateral project to be implemented within the two countries' own national sectors. The European Commission for its part confirms that negotiations with Baku and Ashgabat continue in tripartite meetings on a trans-Caspian pipeline to connect with the Southern Corridor (Today.Az, March 2).

The Southern Corridor concept, proposed in 2009, is now acquiring a clearer, more convincing shape. The Corridor's centerpiece, the Nabucco project, has failed in the form proposed. The Azerbaijani-Turkish project, Trans-Anatolia gas pipeline (TANAP), signed in December 2011, has practically replaced the Nabucco project on Turkey's territory (between the Georgian and the Bulgarian borders). TANAP is taking over the functions of Nabucco's Turkish section.

The Turkish government also regards TANAP as the optimal solution. In connection with Turkmen President Berdimuhammedov's Ankara visit, Turkish Energy Minister Taner Yildiz remarked that TANAP "will greatly simplify the process of exporting Azerbaijani gas to Europe" and can connect with a new version of the Nabucco pipeline, from Turkey's western border into EU territory. According to Yildiz, "a possible tie-up between the[se] two projects is on the agenda and is already being discussed" (Platts, February 28).

Formally, the newcomer TANAP is not a component of the Southern Corridor. In practical terms, however, TANAP has become de facto a segment of the Southern Corridor to Europe. It is, moreover, the Corridor's most viable segment, on four counts: self-financed (mostly by Azerbaijan as majority shareholder), guaranteed with first-stage gas supplies (also from Azerbaijan), and scalable up to 30 billion cubic meters per year, accommodating Turkmen gas volumes as these become available. Practically, Azerbaijan has cut the Gordian knot on the Southern Corridor, by offering what Nabucco and Europe had not managed to secure: gas reserves, investment funding and capacities for Turkmen gas.

The trans-Anatolian and trans-Caspian pipelines are projects in synergy. From Ashgabat's perspective also, TANAP becomes the post-Nabucco outlet for Turkmen gas to European countries. Ashgabat shares Baku's view that this bilateral project can be legally implemented, without necessitating other Caspian countries' consent. During his Ankara visit, Berdimuhammedov mentioned Turkmenistan's offshore gas fields for sourcing the trans-Caspian pipeline (Anatolia news agency, February 28).

With TANAP as a prospective outlet, Turkmenistan can advance the construction of its East-West pipeline overland, from the gas fields in Turkmenistan's east to the Caspian shore. Commissioned in 2010, the East-West pipeline is planned to run for almost 1,000 kilometers, with seven compressor stations, for an annual capacity of 30 bcm, and construction costs of more than $2 billion from Turkmenistan's own budget. Turkmengaz and Turkmenneftegaz-Construction are the general contractors on this project. Work has marked time thus far while subcontracting certain parts of the construction work. The overland pipeline is planned to link up with the proposed 300 kilometer pipeline on the Caspian seabed.

In combination, the trans-Caspian and TANAP projects can turn Azerbaijan into a key provider of energy security to Europe. Azerbaijan is assuming a triple role as energy supplier country, transit country and – in the latest development – as an investor country beyond its own borders. Sound management of Azerbaijan's oil revenues is enabling the country to invest in massive projects, now advancing from the oil sector into the gas sector. Baku proposes to finance up to 80 percent of TANAP's construction costs (estimated at $5 billion to $6 billion).

Azerbaijan is adopting a selective approach to investing in energy projects on other countries' territories. In his report on the third year of Azerbaijan's regional development program (1News.Az, February 29), President Ilham Aliyev defines this approach as focusing on nations friendly to Azerbaijan. Indeed Baku's foremost investment destination is Turkey, with almost $10 billion earmarked for the petrochemical sector and related projects, and now the proposal to finance the lion's share of TANAP.