Promises and Pitfalls of Tajikistan's Latest Repatriation Program for Islamic State Families from Syria
Publication: Terrorism Monitor Volume: 20 Issue: 19
By: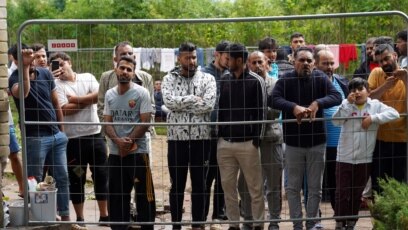 On July 25, Tajikistan repatriated 146 of its citizens from Syria, including 42 women and 104 children, who were stranded in the al-Hol and Roj refugee camps. The authorities stated that the operation's main goal was "to save the Tajik children from hopelessness and their return from the war-torn country to peaceful life in their native state (Khovar, July 25)." Nothing is known about their fate since arriving in Tajikistan except that they were placed in a sanatorium for recovery.
This initiative became the country's first operation that brought back adults who traveled to Syria and Iraq to join the Islamic State (IS). Previously, Tajikistan repatriated only children from Iraqi prisons in April 2019. There are reportedly more than 500 Tajikistani citizens, including 286 women and children, still stranded in Syrian refugee camps controlled by Kurdish forces (Asia Plus, July 25). With the Tajik government's promise to get all of them home, much attention and pressure has been focused on the outcomes of the government's approach to prosecution, rehabilitation, and the reintegration (PRR) of returnees.
This article explores the prospects for the PRR of these returnees based on an analysis of Tajikistan's prior approaches in dealing with returnees from conflict zones in Syria and Iraq. It discusses both the advantages Tajikistan possesses and the obstacles standing in the way of turning this repatriation operation into a long-term success.
Takeaways from Rehabilitating and Reintegrating Women and Children Returnees
Women returnees have often allegedly followed their husbands who joined Islamic State (IS) and took their children with them. They were among the 2,000 Tajikistani citizens who left for Syria and Iraq, according to the government (Radio Ozodi, July 25). Most of the men died in battles or returned home on their own whereas the women and children ended up in prisons and refugee camps. The government responded to this issue by planning repatriation operations and issuing amnesties to citizens who turned themselves in to the authorities upon their arrival home. Thus, to understand what awaits the newly repatriated women and children in Tajikistan, it is necessary to analyze the outcomes of the program that was applied to the previously repatriated children and self-returnees.
On April 30, 2019, Tajikistan repatriated 84 children (belonging to 47 families) from Iraq, who were held with their mothers in prisons (Avesta, May 1, 2019). After undergoing an initial rehabilitation program, which addressed their immediate physical and psychological needs, the authorities placed these children at different specialized child care facilities across Tajikistan. The decision to disperse them assumed that overcoming the horrors of war would be faster and easier in a setting where they were not reminded of those horrors by fellow repatriates. These children still continue to undergo rehabilitation without any clear dates on when they will be able to reunite with their other family members who have expressed their willingness to take them. The government treats all the children solely as victims and, therefore, none of them faced prosecution.
Two main takeaways can be determined from their rehabilitation and reintegration. First, it will require significant time. It has been more than three years since their return home, and the authorities insist that they remain in specialized care facilities and assert their families cannot provide the necessary specialized support. However, some reports suggest they are kept away from society out of fear of their spreading violent extremist ideas, and the majority of families have refused to accept the children out of fear of attracting unwarranted attention and harassment from security services (Asia Plus, September 12). No detailed information exists on what kind of socio-psychological support repatriated children are receiving or on how long they will remain under supervision. The newly arrived children repatriates may face a similar fate of seclusion and uncertainty as the 2019 group.
Ambiguous Pardons and Prosecutions of Self-returnees  
Another group of returnees are so-called "self-returnees," adults who returned from Syria and Iraq on their own and took advantage of pardons, which are issued to everyone who returns to Tajikistan from conflict zones and surrenders to the authorities. After initially labeling returning foreign fighters major threats to national security, in 2015, the government of Tajikistan arranged a pardon for them by amending the article 401 (1) of the Criminal Code and pardoning individuals who voluntarily ceased their criminal activities (asiaplustj.info, October 4, 2019). According to the Ministry of Interior, at least 600 individuals who have returned to Tajikistan from Syria and Iraq received pardons [1].
Not much is known about the fate of these self-returnees either. The authorities claim that not all of them receive amnesty due to their failure to pass risk assessment screening. However, there is no information on what percentage of self-returnees failed to pass the risk assessment and ended up in prisons after surrendering upon return to Tajikistan. The ones who fall under amnesty allegedly have undergone a full and successful rehabilitation and reintegration program. This is doubtful, however, considering they do not receive any support from the state and fall victim to stigma and discrimination in their communities. The number of foreign fighters engaged in recidivism, which is indicative of the failure of this approach, is at least 30 individuals (News.tj, May 2, 2018).
There are two takeaways from the PRR of adult self-returnees. First, the decision to issue pardons was popular among Tajikistani foreign fighters who did not engage in serious crimes and feared prosecution at home, which they deem disproportionate to the actions they have committed. It is likely that there is a sizable portion of Tajiks who regret leaving for conflict zones and some may have had minimal engagement with terrorist organizations even while abroad. Second, the most self-returnees can hope for with regards to their PRR is to receive a pardon instead of serving prison sentences. The government has abstained from providing them with any serious support and civil society does not seem to have access, means or the desire to work with them. Managing mental trauma, stigma and discrimination, employment and educational opportunities, and constant surveillance and harassment from the security services falls on the shoulders of self-returnees. If the authorities apply a similar approach to the newly repatriated women and children, the prospects of success for their PRR are not high.
Accumulated Knowledge and Experience
Tajikistan is now much better equipped to deal with the new group of repatriates than the prior groups. There are several factors that, therefore, provide a favorable starting position for the authorities. First, Tajikistan has accumulated practical knowledge, experience, and capacity in this sphere from dealing with children repatriates and adult self-returnees. In June 2021, the government adopted a guiding document for the PRR of foreign fighters and their families called "The National Program on Countering Extremism and Terrorism for 2021-2025." Its implementation plan was dedicated to activities and actions "in the field of rehabilitation and integration of persons with an extremist or terrorist past." [2] This highlights Tajikistan's progress on institutional, legal, and organizational levels.
In addition, the authorities have had a chance to learn from the achievements and mistakes of neighboring countries, Kazakhstan and Uzbekistan, which have repatriated and reintegrated hundreds of women and children (Terrorism Monitor, October 7, 2021). Uzbekistan has employed the method of social absorption by quickly releasing repatriates back to a normal life in their familiar home communities, whereas Kazakhstan has emphasized ideological deradicalization as part of its program. Tajikistan has seen the results yielded by these different approaches and may utilize that knowledge to gain an edge and make better informed decisions on its program.
At the same time, there are still two major obstacles the government needs to address in order to ensure the successful reintegration of its newly repatriated citizens and those who will return in the next operations. The larger one is adopting a whole-of-society approach that includes all national and local stakeholders. Thus far, the Tajik government has monopolized the issue of PRR and ignored local and international non-state actors that could engage with repatriates. There are significant untapped resources available to the government from civil society but it appears the government is not cooperating with such organizations.
The lack of capacity among both decision-making authorities and front-line workers in the country's PRR program is related to Tajikistan's shortage of qualified social workers, psychiatrists, psychologists, educators, and psychotherapists (Asia Plus, September 12). The issue of lack of knowledge and skills is applicable also to mid- and high-level officials who are responsible for strategic planning, conceptualization and coordination of the PRR program. This will burden Tajikistan's efforts to rehabilitate and reintegrate returnees if civil society remains uninvolved.
Conclusion
Tajikistan faces a new and yet similar challenge of PRR for repatriates from conflict zones in Syria and Iraq. The government understands that traveling to conflict zones does not automatically make someone a threat to national security and that disproportionate punishments may do more harm than good. In addition, there is ample knowledge to make better informed decisions and a comprehensive plan to follow. Whatever awaits the newly repatriated women and children, Tajikistan should have at least a basic framework to develop and implement a more effective and successful reintegration program than during the first repatriation operation in 2019.
Notes:
[1] Author's interview with anonymous official, January 10.
[2] Ibid.