Propaganda and Repression Turn Against Their Creators in Russia
Publication: Eurasia Daily Monitor Volume: 20 Issue: 119
By: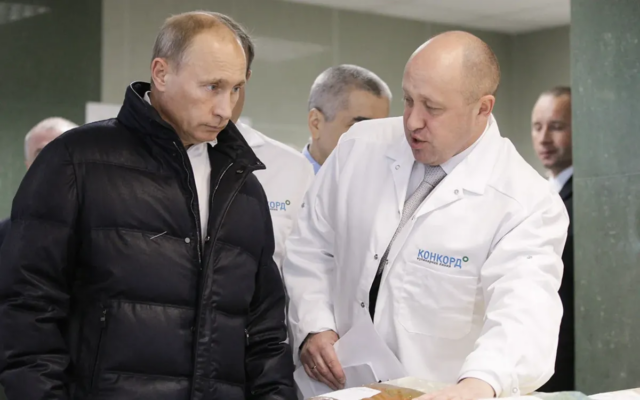 Conflicts continue to mount among the various "Kremlin towers," and lately a curious trend has become discernible: Those methods previously used by the Russian authorities against dissidents have begun to turn against their creators.
Thus, in mid-July 2023, former Federal Security Service (FSB) colonel and the administrator of the Telegram channel "Kremlin Laundress," Mikhail Polyakov, was arrested and accused of extorting money from influential politicians and businesspeople (RBC, July 14). The next day, a Russian court ruled that he should remain in pre-trial detention for two months. According to media reports, he faces up to 15 years in prison (Fontanka.ru, July 15). The "Kremlin Laundress" channel administered by Polyakov is known not only for fighting "enemies and Russophobes" (Т.me/kremlinprachka, July 13) but also for publishing odious anti-Semitic texts about the "Jewish-Masonic World Government" that provoked the war in Ukraine (Т.me/kremlinprachka, April 23, 2022).
Moreover, former Russian Ministry of Internal Affairs official, now well-known propagandist Sergey Karnaukhov notes that Polyakov was the head of the FSB's Service to Protect the Constitutional System and Combat Terrorism in Moscow. In this capacity, he "worked against political extremism and waged an aggressive fight against the non-systemic opposition," including the "criminal gang of Navalny" (T.me/russica2, July 14). Put more simply, Polyakov was responsible for repressing dissidents; now, he finds himself behind bars. In Russia, this case is reminiscent of the "Great Terror" during Soviet times when many NKVD (People's Commissariat for Internal Affairs) officers who had participated in Stalin's repressions were later subdued themselves (Kommersant, June 22, 2020).
In truth, Polyakov's example is not the only instance in which the Russian system has turned against its servants. Around the same time as Polyakov's arrest, a propaganda film dedicated to Yevgeny Prigozhin titled "Death Is Our Business" appeared on Russian network Ren.TV (Ren.tv, July 15). The airing of this program is all the more significant, as it appeared after the post-mutiny "conciliatory" meeting between Russian President Vladimir Putin and Prigozhin in the Kremlin was made public (RIA Novosti, July 10).
Nonetheless, the film has an extremely negative tone. In it, Prigozhin is called "a traitor and criminal" and accused of torture, sadism, cruelty, concealing and embezzling official funds, as well as lying about "shell hunger." The movie's creators also reminded the founder of the Wagner Group of the ongoing hunt for his former fighters (Meduza, May 18), the kidnapping of Russian Army Lieutenant-Colonel Roman Venevitin (ВВС Russian Service, June 5) and the extra-judicial executions of "traitors" with a sledgehammer (ВВС Russian Service, November 17, 2022). Finally, they accused him of wanting to betray his homeland and flee abroad under a false name.
The program was made in the style of films "exposing" the Russian opposition, which first began to appear in 2012. The initial product of this propaganda series was called "The Anatomy of a Protest" and, according to independent media, was produced by none other than Yevgeny Prigozhin (Novayagazeta.ru, April 8, 2012). Now, the technologies of kompromat successfully used for years by the creator of the "troll factory" have indeed backfired on him.
Along with these internal conflicts and the continuing discord in the Russian Armed Forces (see EDM, July 13), Moscow also has problems with those it considers close allies. In particular, Turkish President  Recep Tayyip Erdogan, contrary to agreements with the Kremlin, returned to Ukraine the commanders of the Azov regiment who found themselves in Turkey following a prisoner exchange—an action characterized by Russian propaganda as a "stab in the back" (Тsargrad.tv, July 12).
A few days later, Russia found itself embroiled in a dispute with Iran. Tehran officially protested the statement signed by Russia following strategic talks with the Gulf Cooperation Council on July 10. Iran's indignation stemmed from Moscow's support for the efforts of the United Arab Emirates to find a peaceful solution to the territorial dispute with Tehran concerning three islands in the Strait of Hormuz (Izvestiya, July 15; see EDM, July 20). According to Russian observers, this spat has caused the Iranian press to begin questioning the reliability of Tehran's alliance with Moscow and call for the Iranian government to condemn Russian actions in Ukraine (Tlgrm.ru, July 12).
Even some African states, which, in the words of Kremlin propagandists, yearn "to escape from neo-colonial dependence" under Moscow's guidance, in practice, continue to conduct business more closely with the West than with Russia. Even the experts of the Valdai Discussion Club admit that the first Russia-Africa Summit resulted in agreements amounting to only $12.5 billion, while the US-Africa Summit reached agreements totaling $55 billion and the African-EU summit resulted in a $168 billion investment package (Valdaiclub.com, April 24).
A new report released by Valdai experts in mid-July 2023 also notes that Russian companies have disappointed their African partners by failing to learn how to operate effectively on the continent (Valdaiclub.com, July 18). In turn, African countries have not lived up to Moscow's political expectations. For example, 30 African countries voted in favor of the United Nations resolution on the territorial integrity of Ukraine without a single one opposed (Valdaiclub.com, April 24).
Nevertheless, it is dubious to think that Russian society will take notice of the constantly shifting paradigms and redefining of yesterday's "friends" and "heroes" as "enemies" both inside and outside the country. Such a radical change in narratives has been practiced before without causing mass dissonance among domestic consumers of the propaganda. For example, in 2011, a series of films appeared on Russian screens titled "The Godfather," which highlighted the alleged crimes of Belarusian President Alyaksandr Lukashenka (YouTube, March 29, 2017). However, this did not change the majority of Russian society from accepting the Belarusian leader as Moscow's closest ally.
Now, amid the stresses of war, sociologists increasingly note the habit of Russians to take everything at face value without critically analyzing the information presented to them (Re: Russia, March 14). Still, the intensification of the domestic struggles and inconsistencies with allies will likely weaken Russia's position, which could become a window of opportunity for Ukraine and the West to exploit.