Ukrainian Resistance Adapts to Key Role in Counteroffensive
Publication: Eurasia Daily Monitor Volume: 20 Issue: 119
By: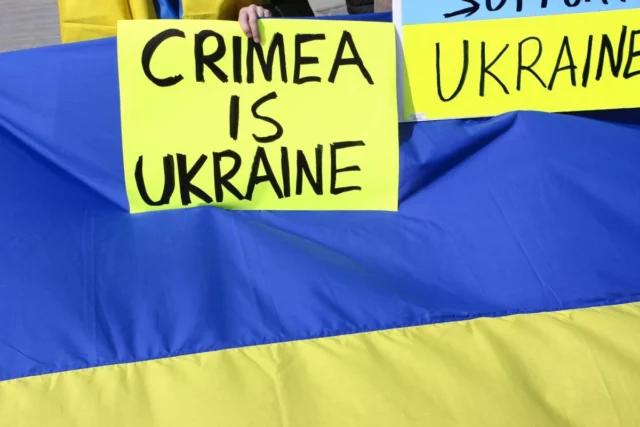 On July 19, the Ukrainian Armed Forces conducted a strike on a Russian ammunition depot in Crimea. Later, Major General Kyrylo Budanov, head of the Defense Intelligence Unit of Ukraine, confirmed the strike, calling it a "successful operation." In his comments, he also thanked the "Ukrainian patriots" in Crimea for the additional intelligence and confirmation videos that were critical to the operation (T.me/kirilbudanov, July 19). Previously, Ukrainian intelligence and other branches of the armed forces had repeatedly urged those Ukrainians in the temporarily occupied territories to help in liberating these regions by providing information on enemy forces via specifically designated Telegram channels (Ukrinform, June 14; T.me/operativnoZSU, June 29).
Beyond providing intelligence to the army, some partisans have engaged in more active operations. For example, on June 25, Russian police killed Tigran Ogannisyan and Mykyta Khanganov, two teenagers living in the city of Berdyansk in occupied Zaporizhzhia region. Before their death, they claimed that they had killed two Russian law enforcement officers (Ukrainska Pravda, June 25). Later, Russian media stated that both had been pro-Ukrainian partisans who had already been arrested by the Federal Security Service (FSB) for alleged railway sabotage back in 2022. The boys' parents remain adamant that the investigation and charges were fabricated and politically motivated. According to locals, one of their former teachers, Oleg Dryanev, reported the teenagers due to their position on the war (Ukrainska Pravda, June 27).
This episode demonstrates the variety of threats that the Ukrainian resistance encounters in the occupied territories: FSB operatives, pro-Russian neighbors, constant security checks, counterintelligence measures and a sprawling system of repression. The Russian authorities often report on arrests of pro-Ukrainian activists, immediately blaming them for acts of espionage or sabotage—though, at times, these arrests are politically motivated and used to prosecute Ukrainians or stage videos for psychological effects that are then amplified by pro-Russian media and bloggers (T.me/vrogov, June 18).
This new reality has forced the Ukrainian resistance to become less active and more cautious, opting for mostly non-violent actions. According to an analytical study conducted by the National Resistance Center of Ukraine, Russian occupation forces have established a well-developed network of local law enforcement agencies, including police officers, public prosecutors and FSB agents, to ensure full control and repression of any suspicious activity (Sprotyv.mod.gov.ua, July 13). Most of the leaders of these local organizations have come from Russia, as most local citizens have refused to work for the occupation administrations or have been replaced.
Some of those who did choose to collaborate with the Russian authorities have been killed or injured by partisan attacks. Yevhen Kuzmin, a former Ukrainian police officer who agreed to work for the Russians, was blown up in his car in February 2023 (Lb.ua, February 3). Alexander Mischenko, who collaborated with occupation law enforcement, was killed after an explosion near his house in Melitopol (Ukrinform, April 27). And Vladimir Epifanov, an advisor to the so-called "deputy prime minister" of the occupied Zaporizhzhia region, died after his car was blown up in Simferopol, Crimea (Ukrinform, June 19). Such actions came as a surprise for the Kremlin, especially in Crimea, as many in Moscow had been convinced that the local population was largely pro-Russian.
Meanwhile, the Crimean Tatar guerilla group, "Atesh" ("Fire"), has remained quite active since the beginning of Ukraine's counteroffensive. It has claimed responsibility for several recent attacks, including blowing up two Russian military fuel trucks (T.me/atesh_ua, July 18) and several military checkpoints and barracks. The group has also conducted a series of "assassinations" on high-level occupation authorities and continue to provide Ukrainian forces with critical intelligence (see EDM, May 16).
While acts of sabotage have decreased to some extent due to the strengthening control of the Russian occupation administrations, Ukraine's new long-range high-precision weapons, such as British Storm Shadows and French SCALPs, have also led to a change in strategy, as these munitions allow Ukrainian forces to strike targets far behind the frontlines without having to rely on partisan sabotage groups. In this, Ukrainian partisans have become critical sources of information in providing target coordinates before strikes are launched on enemy positions and then assessing the damage following these operations. The Russian occupation authorities are beginning to take notice of the Ukrainian resistance's role here, and they are trying to cut off communication lines for these partisans. For example, after the recent missile strikes in Luhansk, the Russian authorities switched off the Internet in an attempt to prevent any transmission of data (Interfax, May 13).
Indeed, Ukrainian partisans are adjusting to a more repressive environment on the ground by assisting through more non-violent methods. This comes in many different forms, such as marking territory with graffiti or ribbons, as the "Yellow Ribbon" movement does (T.me/yellowribbon_ua, July 16). They also disseminate leaflets to counter Russian propaganda products and collect such publications, burning them along with Russian newspapers or flags (T.me/yellowribbon_ua, July 17). Atesh, and organizations like it, continue to recruit more partisans, teaching them how to report intelligence in the most secure and inconspicuous ways (T.me/atesh_ua, July 11). Perhaps more dangerous for the Kremlin, partisan activity also seeks to conduct sabotage at industrial facilities in the occupied territories.
All these actions create uncomfortable conditions for Russian occupants, damaging their morale and creating problems for Russian logistics in supplying troops on the ground. And as Ukrainian forces move deeper into the occupied regions, the Kremlin can expect even more challenges. According to Crimean Tatar leader Mustafa Dzemilev, around 1,000 members of the resistance stand ready to take up arms in occupied Crimea as soon as the Ukrainian army arrives (Ukrainianworldcongress.org, July 25). Thus, the biggest battles for the Ukrainian resistance still lie ahead.