Ukraine Launches Sabotage Operations on Occupied Territories and Inside Russia
Publication: Eurasia Daily Monitor Volume: 20 Issue: 79
By: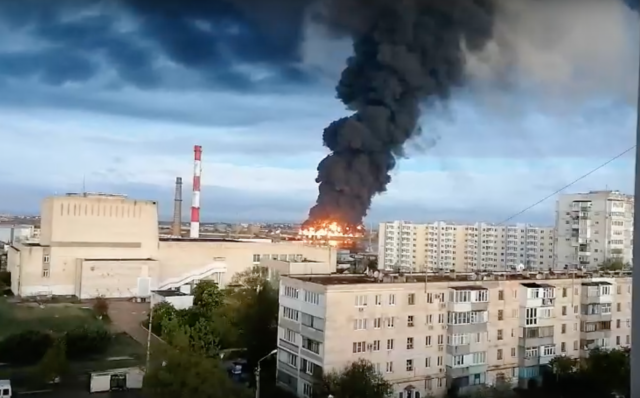 While the Ukrainian Armed Forces actively prepare for their much-anticipated counteroffensive, which is expected to occur as soon as this summer according to Ukrainian Prime Minister Denys Shmyhal (Hromadske.ua, April 12), Kyiv has launched unprecedented sabotage operations in close cooperation with the Ukrainian resistance within those territories occupied by Russia, including Crimea.
On May 6, an explosive device was detonated under the car of war-mongering Russian blogger Zakhar Prilepin, who is widely known as a strong supporter of the Kremlin's narratives regarding the necessity of the invasion to "denazify" Ukraine (Interfax, May 6). Yet, while Moscow has accused the Ukrainian State Security Service (SBU) of carrying out the assassination attempt, a spokesman for the SBU stated that he "can neither confirm nor deny" its involvement. He also added, "Death is the only prospect that we can offer the occupiers" (Korrespondent.net, May 6). For his part, the chief of the Main Directorate of Intelligence of the Ukrainian Ministry of Defense, Kyrylo Budanov, declared that the Ukrainian special services "have killed Russians and will continue to kill them anywhere in the world until Ukraine achieves complete victory" (Liga.net, May 6).
In Melitopol and the surrounding area, a key region as part of the "land bridge" connecting Crimea to Ukraine's occupied eastern territories, a series of attacks have been launched by the Ukrainian resistance against officials that collaborated with the Russian administration once the region was occupied. Among the victims of these attacks were Andrei Boyko, "head of the sport department" (Obozrevatel.com, November 11, 2022); Roman Dzyuba, a well-known collaborator and principal of a local school that donated its premises for the illegal "referendums" conducted in September 2022 (Apostrophe.ua, September 30, 2022); Maksim Zubarev, head of the so-called "Akimov administration" in occupied Zaporizhzhia oblast (Focus.ua, April, 3); Oleksandr Mischenko, a deputy head of the local police department in Melitopol; and Ivan Tkach, head of the "military-civil administration" in Zaporizhzhia. According to Ukrainian media, Tkach had been instrumental in establishing transport links for Russian forces in occupied Crimea, as well as in individual cities of the so-called Donetsk and Luhansk "people's republic" (Focus.ua, March 14).
The Ukrainian resistance has taken responsibility for most of these sabotage operations and has published videos warning other officials who cooperate with the Russians that for "all traitors to Ukraine … there is only one destination—the morgue" (Ukrainska Pravda, April 27). According to Ivan Fedorov, the Ukrainian mayor of Melitopol, the local partisan movement includes tens of thousands of people, with hundreds of them taking part in active resistance operations. Fedorov further claimed, "The resistance force and the guerrillas are being trained. They gain experience, so their work becomes more efficient and of high quality" (Unian, September 23, 2022).
In response to the myriad of assassination attempts, Moscow introduced additional security measures, including tighter curfews, for the occupied territories. In the meantime, many senior officials, including Zaporizhizhia collaborator Yevgeny Balitsky, were relocated to Crimea out of fear for their safety (New Voice of Ukraine, August 31, 2022). Simultaneously, Russia has tightened the conditions for the "passportization" of citizens in the occupied territories, with the threat that those who do not take a Russian passport before July 1 will be deported and recognized as foreigners. As of April 2023, less than 10 percent of the population remaining in these territories had accepted a Russian passport, according to Fedorov (061.ua, April 28).
Overall, the pro-Ukrainian resistance extends far beyond Zaporizhizhia region. In September 2022, local Ukrainian and Crimean Tatar activists created a military partisan movement called "Atesh" ("Fire"), with the primary goal to liberate all Ukrainian territories, Crimea included (Mil.in.ua, February 23). According to the movement's Telegram channel, since November 2022, members of the organization have launched a series of sabotage operations against Russia military units—for example, assassinating 30 Russian servicemen in hospitals around the Crimean capital of Simferopol (New Voice of Ukraine, November 13, 2022; T.me/atesh_ua, accessed May 16). On February 10, Atesh claimed responsibility for a car bomb that resulted in the deaths of two Russian soldiers and the hospitalization of two others in occupied Nova Kakhovka in Kherson region (Euromaidan Press, February 15). In March 2023, the organization claimed to have killed the deputy head of the military administration of Nova Kakhovka in a bomb attack (Slobedenpecat.mk, March 16). And on April 23, Atesh operators took responsibility for blowing up a Russian National Guard (Rosgvardiya) checkpoint near Oleshky, resulting in multiple deaths (Ukrinform, April 24).
According to Atesh, as of November 2022, the movement had about 800 active members, with some being mobilized to the front within the regular Russian army as well as others who are active in Crimea (Euromaidan Press, February 15). Gradually, Atesh agents have been drafted into the Russian army, training some Russian troops to "wreck their own equipment" to survive the war. Additionally, these agents gather intelligence and pass on that information to the Ukrainian Armed Forces (Krymr.com, May 2).
Moreover, such attacks have not taken place solely on Ukrainian territory. On May 1, unknown persons blew up a power line in Gatchinsky district near St. Petersburg. According to the governor of Leningrad oblast, Aleksandr Drozdenko, a criminal case regarding the alleged sabotage has been initiated, as Russian law enforcement found another charge with a fuse nearby (Sanktpeterburg.bezformata.com, May 1). Meanwhile, 20 rail cars carrying petroleum products and lumber were derailed due to explosions on a section of railway tracks in Bryansk region. The governor of the region, Aleksandr Bogomaz, claimed that an unidentified explosive device had "detonated" near the Snezhetskaya railway station causing the derailment (Liga.net, May 2). Similar "accidents" have occurred in other Russian regions that share a border with Ukraine, including the Belgorod and Kursk regions, with one blast derailing almost 80 wagons allegedly carrying fuel and other provisions for military purposes.
While Ukrainian officials do not draw any direct links to these sabotage operations, former advisor to the Office of the President of Ukraine, Oleksiy Arestovich, recently claimed that the acts of resistance in Crimea, Bryansk, Kursk, Belgorod and other regions have helped Ukrainian forces as they gear up for their impending counteroffensive and will be invaluable during its active phase (T.me/O_Arestovich, accessed May 16).
According to Budanov, in a recent interview with Forbes.ua, most of the explosions and fires that have been regularly breaking out in Russia are no coincidence. He asserted that "signaling equipment on the railways burns several times every day [and] on different highways constantly for two or three hours, sometimes for five or six hours [and] traffic is suspended on the entire section. It is clear that [this infrastructure] does not burn on its own." Budanov also hinted that some Russians closely cooperate with Ukrainian side for the purpose of gaining financial benefits (Forbes.ua, February 22).
Thus, despite assurances from Moscow that these sabotage operations will not have a significant impact on the Russian military machine and cannot cause serious economic damage, these activities bring serious political consequences for the Kremlin, as Russian officials struggle to explain why they cannot guarantee the security of the regions along the border with Ukraine. Indeed, not only Russian troops but also civilians in these areas are growing increasingly worried about their safety ahead of the looming Ukrainian counteroffensive.