Gagauz Election Outcome Creates Problems for Moldova and the West
Publication: Eurasia Daily Monitor Volume: 20 Issue: 79
By: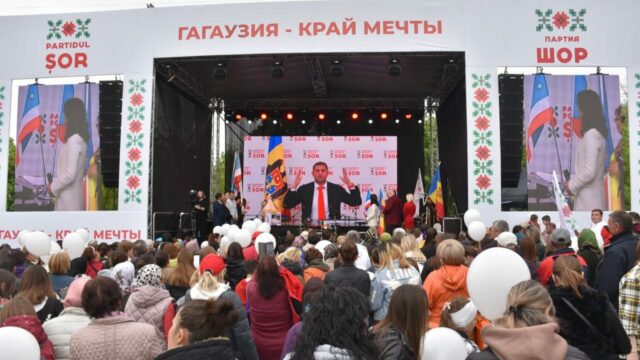 Both candidates in the second round of the May 14 elections for the head of the Gagauz autonomy in Moldova were pro-Russian; and consequently, it was inevitable that a pro-Moscow figure would receive the most votes. But as the one who did, Yevgenia Gutsul of the Shor Party, has especially close ties to the politically ambitious Moldovan oligarch, Ilan Shor, who fled Moldova in 2019 and has been living in Israel, as well as to senior Russian politicians in Moscow, Sunday's voting is unlikely to be the end of the electoral story, let alone of the critical role for the Gagauz in Moldovan politics. On the one hand, Chisinau is actively seeking to convict the Shor Party on violations of Moldovan electoral law and thus deprive Gutsul of the chance to occupy the office of Gagauz bashkan, a position of real influence because whoever holds this office automatically becomes a member of the Moldovan government. And on the other, the Moldovan authorities, which already moved against Gutsul's party with raids a week before the election, may target her directly for voter fraud and force a new round of elections, in which the 37-year-old hitherto unknown politician will not be allowed to take part (see EDM, May 9; Kommersant; Dw.com/ru, May 15).
What happens next is thus uncertain with predictions of Moldovan and Russian analysts ranging from moves by Chisinau to suppress the autonomy altogether to a drive by the Gagauz to declare independence or union with Russia. Yet, neither of these extreme predictions is likely to come to pass. Chisinau recognizes that repression of the Gagauz would complicate its efforts to integrate with the West by raising questions about how it handles minorities, something the European Union and North Atlantic Treaty Organization (NATO) care very much about. And the Orthodox Christian Turkic Gagauz, who number only a few more than 100,000 and who occupy only a little more than 5 percent of Moldova's territory, would face serious problems in achieving independence unless Moscow were to directly intervene. And this is something that could spark a far broader east-west conflict than the one the two sides are currently engaged in but would be extremely difficult for the Kremlin given the complications it faces in Ukraine. Indeed, an effort in the early 1990s by the Gagauz to be independent ended with an accord with Chisinau in 1994.
In the first round of voting on April 30, all eight candidates for Gagauz bashkan were pro-Russian, a reflection of the attitudes of the Gagauz population, which has historically looked to Russia to defend its autonomy and language, and of the fact that Moldova's pro-Western Party of Action and Solidarity (PAS) did not field a candidate. But the two who won out in that round, Gutsul and Grigory Uzun, who was backed by the Socialist Party of former Moldovan President Igor Dodon, presented particular challenges to PAS and its policies. Gutsul seems to be the more problematic as she represented not only domestic opposition, as did Uzun, but also activists both in Moscow and in Israel, where Shor lives and who is prepared to invest massively in Gagauzia to make use of that region as a base for his drive to eventually take power in Chisinau. In the second round of voting, Gutsul outpolled Uzun 27,376 to 24,913, with 54.5 percent of the electorate taking part, down 3.3 percent from the first round (Nezavisimaya gazeta, May 15).
While some Moscow commentators have rushed to suggest that Gutsul's victory is a great triumph for Russia, one that will slow, if not stop, Chisinau's drive to the West, others are more cautious, arguing that it is "still too soon" to celebrate a victory. In the short term, they point out, Moldovan courts may annul Gutsul's victory and force new elections either directly or by banning the Shor Party that stands behind her; and in the medium and longer term, Chisinau, which receives massive aid from the West, may make it clear to the Gagauz that they will see little of that largesse unless they adopt a more cooperative attitude on integration with Europe (RIA Novosti, May 14; Kommersant; Nezavisimaya gazeta, May 15).
One pro-Russian commentator, Dmitry Soin, who earlier worked in Transnistria's "State Security Ministry," says that Chisinau will most likely use the courts to keep Gutsul from taking office but that any heavy-handed actions will lead more Gagauz to think about pursuing independence—something that Moscow could support. At the very least, he suggests, this risk is making Moldovan President Maia Sandu "nervous" in advance of her planned Grand National Assembly for Europe on May 21, where Soin says she will celebrate Chisinau's break with the Commonwealth of Independent States in recent weeks and point to a future in which Moldova will be more closely aligned or even unified with Romania and become part of the EU and NATO. Moscow opposes all these moves and will do whatever it can to torpedo them—most likely by playing up problems in Gagauzia and the ways in which these can be used to affect both Moldovan politics at-large and the attitudes of Chisinau's potential Western partners (Moskovskij komsomolets, May 15).
Meanwhile, another Moldovan commentator, Aleksandr Korniyenko, sums up the situation this way. He says that the Gagauz vote and Chisinau's actions, coupled with Moscow's and even the West's reaction to it means that "the situation in Gagauzia is becoming unpredictable for Chisinau." And this unpredictability means that the Moldovan authorities have to proceed more cautiously than they otherwise would on their turn to the West—exactly what Moscow wants and the Kremlin will continue to support the Gagauz both directly and via Shor to produce this result. But at the same time, Korniyenko and other commentators say this very unpredictability works against other actors in this drama as well (Dw.com/ru; Baltnews.com, May 15; Politnavigator.net, May 16).
As a result, what today appears to be a Russian "victory" could rapidly turn into something else; and in kaleidoscopic fashion, such a sequence of events initiated by an election in the Gagauz autonomy could trigger a conflagration far larger than almost anyone is considering at the moment.