PROTESTS IN CRIMEA, INCITEMENT FROM MOSCOW, PARALYSIS IN KYIV THWART MILITARY EXERCISES
Publication: Eurasia Daily Monitor Volume: 3 Issue: 115
By: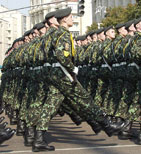 Kyiv authorities mishandled legal, political, and security aspects of the Sea Breeze and Tight Knot planned exercises, giving the local pro-Russia forces and Moscow an unexpected opportunity to derail this track of Ukraine-U.S. and Ukraine-NATO relations. By starting preparations for the exercises under deadline pressure without parliamentary authorization, official Kyiv allowed the protesters to seize and misuse the legal high ground. Kyiv did not seem to anticipate local resistance in the Crimea, a known stronghold of pro-Russia sentiment; and it failed to cope with the disorders over a two-week period before giving up.
At NATO headquarters in Brussels on June 8, Ukrainian Defense Minister Anatoliy Hrytsenko said that the two exercises were being postponed, not canceled. But the National Security and Defense Council's newly appointed Acting Secretary, Volodymyr Horbulin, implied in his June 9 briefing in Kyiv that postponement amounted to cancellation. Anti-Western, mainly Russian protesters were interdicting the movement of U.S. military personnel and equipment in Crimea's Feodosiya area, supported by deputies from the Party of Regions and egged on by television broadcasts from Moscow and Russian Duma deputies. The holding of Sea Breeze-2006 had become politically impossible, and the situation in the Crimea was radicalizing the actions of the Party of Regions in eastern Ukraine and in Kyiv.
Some 250 U.S. Marine reservists, who had landed on May 27-28 to prepare the Sea Breeze exercise, left aboard two U.S. military transport planes from Simferopol on June 11 and 12. Originally tasked to upgrade the Staryy Krym training range near Feodosiya, the American group was stopped en route by protesters, was then denied hotel accommodation, and had to spend two weeks under military protection in a Ukrainian naval hostel. They faced vociferous round-the-clock pickets recruited from the usual mix of Sovietophile pensioners and young Russian nationalists, with a sprinkling of pseudo-Cossacks (this organization is not indigenous to the Crimea), all mobilized by local chapters of pro-Russian parties in Ukraine. Similar groups blocked the U.S. military equipment in the port of Feodosiya's customs area after the ship that had unloaded it, the Advantage, left Ukraine's territorial waters. Official Kyiv's attempts to deny that that the equipment included weapons and that the landing necessitated parliamentary approval sounded unconvincing and added grist to the protesters' mill (Interfax-Ukraine, UNIAN, BBC-monitored Ukrainian television broadcasts, June 1-11).
A few locals did display a friendly attitude toward the Americans, but the well-orchestrated anti-U.S. spectacle captured the airwaves and defined the events. The Ukrainian authorities' disarray prompted a Kyiv editorialist to observe that the area had become not only "NATO-free" by the Crimean legislature's resolution, but also "government-free" through the Kyiv government's ineffectiveness (Zerkalo Nedeli, June 3-9).
When the U.S. group left, the heads of Crimea's legislature and government showed up at Simferopol airport to tell the senior Marine officers that official Kyiv had inflamed the local situation by trying to hold Sea Breeze without legal approval, instead of working with the parliament and informing the local public in advance about the exercise. These Crimean leaders expressed hope that lessons would be drawn and military cooperation would continue, based on the law and on open information (Channel Five TV [Kyiv], June 11). This message — somewhat paralleling that sent by Party of Regions leader Viktor Yanukovych to NATO Secretary-General Jaap de Hoop Scheffer four days earlier — seems to imply that radicals had exploited the situation to outflank the established leaders and that the latter might still be open to a deal after a cooling-off period.
Sea Breeze, held almost every year since 1997 in the Crimea, is a bilateral Ukraine-U.S. exercise, in which other countries participate in the framework of NATO's Partnership for Peace program. Fifteen countries had accepted invitations to send troops or observers this year. Tight Knot, a bilateral Ukrainian-British tactical aviation exercise, was to be held for the first time. Its start had been scheduled for June 14 in the Mykolayiv oblast, where Ukrainian-British ground force exercises had been held in previous years. The city of Mykolayiv also became the scene of anti-"NATO" pickets last week, though on a relatively small scale; the city council proclaimed Mykolayiv a "NATO-free zone" as well, advising the British personnel to stay out of sight; and radical-leftist protesters were pitching a tent camp outside the gate to the Kulbakine airfield (Interfax-Ukraine, Channel Five TV [Kyiv], June 3, 10).
These and other joint exercises held or planned in Ukraine are not NATO undertakings, but they involve troops from key NATO countries. These exercises are crucial to Ukraine for achieving interoperability with allied forces and validating Ukraine's membership aspirations. Failure to hold those long-planned exercises — particularly when such failure stems from a breakdown of governance — jeopardizes Kyiv's and its Western supporters' goal to obtain a NATO Membership Action Plan for Ukraine this year.