Putin Courting Azerbaijan While Deep-Freezing the Karabakh Conflict
Publication: Eurasia Daily Monitor Volume: 10 Issue: 151
By: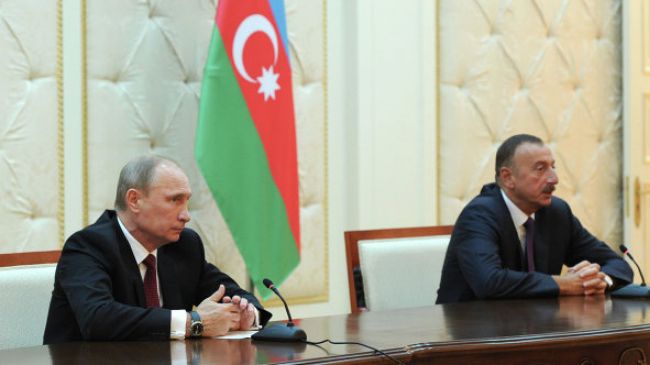 Russian President Vladimir Putin paid a one-day working visit to Azerbaijan on August 13, his first visit to that country since 2006. Two warships of Russia's Caspian Flotilla anchored in the port of Baku on August 12, demonstrating military muscle (as in 2006) as an accompaniment to Putin's visit. On this occasion, however, Putin's attitude was friendly, respectful of Azerbaijan, impressed by Baku's modernization since his preceding visit, and unstintingly acknowledging the country's successful development.
Under its president, Ilham Aliyev, Azerbaijan is shaping the terms of this bilateral relationship in no smaller measure than Russia. The Kremlin has found that it must adjust to a balanced relationship with Azerbaijan, based on mutual interests where these converge. Where these differ, Moscow has learned to accept and defer to Azerbaijan's interests, which Baku has, in its trademark way, firmly but quietly defended.
Following Putin's return to Russia's presidency in 2012, Baku turned down Moscow's proposals to renew the lease on Russia's Gabala radar, which expired in December 2012. This caused Russia to abandon its last military installation in Azerbaijan (see EDM, September 6, 2012). In May 2013, Azerbaijan terminated the 1996 agreement on using the Baku-Novorossiysk oil pipeline with its excessively high tariffs. The Russian side had to go along with the agreement's termination and possible re-negotiation of its terms. Also in May 2013, Azerbaijan awarded zero points to Russia's contestant in the Eurovision song festival, which Azerbaijan had won in the previous year. Moscow felt politically offended in 2013, but decided to avoid umbrage on relations with Azerbaijan. On the issue that matters the most to Baku, however, Russia remains the last-resort protector of Armenia's occupation of Azerbaijani territories (see below).
In Baku, Putin and his chief foreign policy adviser, Yuri Ushakov, hailed the growth of Russia-Azerbaijan trade, contrasting it with the overall downturn in Russia-Europe trade. According to Moscow's data, Russia-Azerbaijan trade turnover amounted to $ 3.4 billion in 2012, an increase of 11 percent year-on-year. That growth rate has accelerated substantially during 2013 thus far (News.az, August 13).
Russia-Azerbaijan trade is not led by the oil and gas sector. Russian arms sales to Azerbaijan account for a growing share of the bilateral trade turnover. This may, at least partly, explain Putin and Ushakov's assertion that Russia-Azerbaijan trade grew by as much as 40 percent during the current year's first half.
In June 2013, Russia delivered to Azerbaijan a large batch of military hardware, said to include nearly 100 T-90 tanks, as well as Smersh and TOS-1A multiple rocket launchers, and Msta-A and Vena artillery cannons (Zaur Shiriyev in Today's Zaman, June 13). This batch comprised more advanced weaponry, compared with previous Russian arms deliveries to Azerbaijan. According to President Aliyev during Putin's visit, Russia has sold approximately $4 billion worth of arms and military equipment to Azerbaijan thus far, placing Azerbaijan among Russia's major customers in this trade. Aliyev is quoted as expressing confidence that this trend would continue (Interfax, August 13).
Russia sells arms to Azerbaijan at market prices for profit. At the same time, Russia supplies arms to its impoverished ally, Armenia, at discounted prices or gratis. This dual approach enables Moscow to some extent to calibrate the military balance in-theater between Azerbaijan and Armenia, and indirectly to influence the course of negotiations on the Armenia-Azerbaijan conflict. In this regard, Moscow holds a lever that the other mediators do not. Meanwhile, Azerbaijan procures more advanced military equipment from other suppliers, including Israel and incipiently Turkey. It also plans to develop military production in Azerbaijan itself. By contrast, Armenia is fully dependent on Russian handouts of military equipment.
President Aliyev called attention to Armenia's occupation of Azerbaijani territories during the meeting with Putin and their concluding press conference. In an implicit overture to Yerevan, Aliyev remarked that ending that occupation would open the way for cooperation among the region's countries. Putin gave an evasive, perfunctory reply.
Putin has, in practice, suspended Russia's mediation in the negotiations to settle the Armenia-Azerbaijan conflict. Russia has held a quasi-monopoly in that regard for the last 13 years, thanks to Western default. Dmitry Medvedev had taken personal charge as mediator-in-chief during his presidency, by delegation from Western powers. He hosted a series of trilateral meetings, the last one in January 2012, with the presidents of Azerbaijan and Armenia. In the spring of 2012, Putin returned to the presidency and promptly discontinued that activity.
Clearly, Putin prefers to maintain and exploit the deadlock. He seems confident that Western diplomacy will remain passive. Were the United States and/or the European Union to take on a more active role in these negotiations, Russia would probably react by at least going through the motions of convening trilateral negotiations again. Absent Western involvement, however, Russia finds that suspending all negotiations is even better for Moscow than monopolizing the chair.