Putin Entices Turkey with Grander Version of South Stream
Publication: Eurasia Daily Monitor Volume: 6 Issue: 153
By: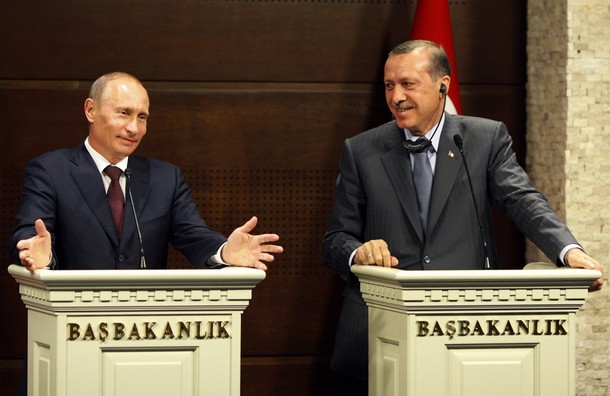 On August 6 in Ankara the Russian Prime Minister, Vladimir Putin, with a delegation of government ministers and state corporations' executives, announced vast plans for energy cooperation with Turkey (EDM, August 7). The Russian offers seem designed primarily for political effect in Europe, and secondarily for drawing Turkey into a closer strategic alignment with Russia. They express Moscow's intentions to enlist Turkish cooperation in thwarting the European Union's Southern Gas Corridor project. Putin's offers reflect that intent, but without commensurate capabilities.
Bold and spectacular at first sight, and innovating in some ways from previous policy, Moscow's offers are not backed by actually available gas and oil resources or financing. The agreements are non-binding and preliminary, in the nature of memorandums of understanding and protocols of intent. They appear unlikely to be implemented in the form or to the extent announced at Putin's joint news conference with Turkish Prime Minister Recep Tayyip Erdogan (Interfax, western news agencies, April 6).
Under a protocol on cooperation in the gas sector, Russia would use Turkey's exclusive economic zone in the Black Sea to lay the South Stream pipeline on the seabed between Russia and Bulgaria, en route to Europe. This marks the first time that Russia officially and publicly proposed to build South Stream's underwater section through Turkey's exclusive economic zone, rather than Ukraine's (see below). By November 2009, Turkey will authorize Gazprom to proceed with seismic and surveying work in the Turkish zone. By November 2010, Turkey will give its preliminary consent to Gazprom and the latter's partner, Italian ENI, to start construction work on the pipeline.
The protocol limits Turkey's role to that of ensuring passage. Turkey would neither participate in the South Stream company nor be entitled to buy gas volumes from the pipeline. However, these options are also not precluded. Turkish Energy Minister Taner Yildiz said that Ankara will await the results of research on the seabed before deciding whether to seek inclusion in the project as a partner or to simply provide passage. According to Turkish officials, the South Stream feasibility study will commence after the results of the seabed research become available. This proposition seems logical and, by the same token, inconsistent with the notion of authorizing construction work already by November 2010 (Anatolia news agency, August 4).
This seems academic in the absence of Russian gas and financing. Under the current version, South Stream would be designed to carry 63 billion cubic meters (bcm) of Russian gas annually to Europe; with the Black Sea underwater section (Russia-Bulgaria via the Turkish zone) estimated to cost $8.6 billion. Putin unveiled those figures to Erdogan at their meeting in Sochi in May, along with an unofficial proposal to use the Turkish economic zone, rather than the Ukrainian zone.
In the absence of even a pre-feasibility study, Moscow's offers and figures seem arbitrary, particularly when compared with its previous versions. In 2007-2008 it offered 31 bcm annually in future aggregate deliveries to all putative customers of South Stream; in February 2009 Gazprom increased the offer without explanation to 45 bcm per year; and in May at the Sochi meeting it raised the ante to 63 bcm, even as Russia faced the prospect of gas shortfalls after 2010 (EDM, May 28, 29). The overbidding is politically motivated: first, to discourage the E.U.'s Nabucco project by making it look redundant; and second, to threaten Ukraine with a massive shift in the gas transit volume, away from Ukraine's overland pipelines into the proposed South Stream.
Financing is also clearly unattainable for a project of this size. Gazprom's February 2009 cost estimate for South Stream (without a feasibility study) was $19 billion to $24 billion; and its May estimate was slightly higher (including $8.6 billion for the seabed section). The proposed increase in the design capacity from 45 bcm to 63 bcm added to the costs. At the Ankara meeting, Russian-friendly sources cited cost estimates in the range of $25 billion to $28 billion (RIA Novosti, August 7; Deutsche Welle, August 9). The project is simply un-bankable at such costs. The plan to lay the pipeline through the Turkish zone, where the sea is deeper than in the Ukrainian zone and the geology more complicated, could increase the costs even further. Such costs would have to be passed on to European consumers, if Russia could ultimately deliver the financing and the gas.
South Stream has no gas resources dedicated to it from Russia or other countries, although Russia presumably hopes to redirect Turkmen gas into South Stream. In this regard, South Stream differs markedly from the Baltic seabed pipeline project Nord Stream. The latter has some reserves pre-allocated to it from future Russian production, at specific fields and under certain time-tables, at least in planning. At the Ankara event, however, the Russian delegation was unable to specify South Stream's resource base. Handouts prepared by the Russian side for this event mentioned hypothetical "gas [volumes] from the Russian pipeline system, from the Caspian region, and Central Asia" for sourcing South Stream (Interfax, August 7). The only certainty here is Gazprom's hope to continue monopolizing Turkmen gas – an increasingly distant hope, given Ashgabat's ongoing diversification efforts.