Putin, Gazprom Bluffing to Hungarians on South Stream
Publication: Eurasia Daily Monitor Volume: 6 Issue: 49
By: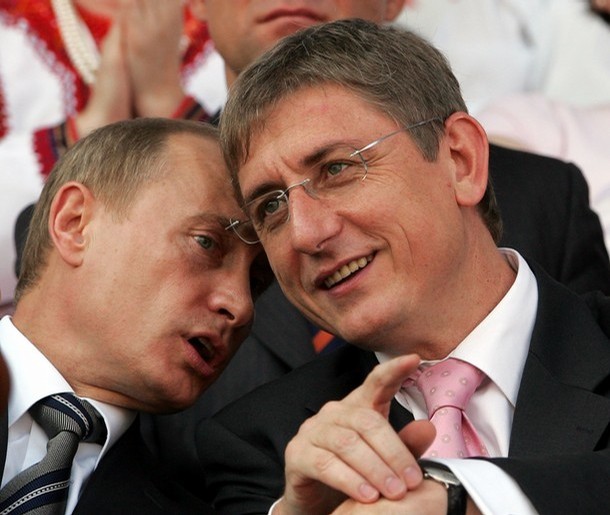 On March 10 in Moscow, Gazprom and Hungary's Development Bank signed the initial documents for a joint venture to implement Gazprom's South Stream pipeline project on Hungarian territory. The respective chairmen, Alexei Miller and Janos Eros, signed the documents in the presence of Prime Ministers Vladimir Putin and Ferenc Gyurcsany.
On the same occasion, Putin and Gyurcsany witnessed the signing of an agreement to build a gas storage site in Hungary by Gazprom and MOL. The privately owned Hungarian MOL is a participant in the Western-backed Nabucco project, rival to South Stream. The storage site project is separate from the South Stream project; and the storage site business plan in no way depends on whether South Stream materializes or not (see EDM, March 12).
The Hungarian government signed on to South Stream in early 2008, but Gazprom's project has failed to advance in any practical respect since then. The March 10 joint venture signing ceremony looked like a public relations event staged by the Russian side to simulate progress and counter the growing international skepticism about the South Stream project. The ceremony undoubtedly sought to counter the impact of Gazprom's own Vice President Aleksandr Medvedev's recent briefing to investors in Moscow, when Medvedev's attempts to resurrect South Stream implicitly revealed the project's clinical death (see EDM [two articles], February 12).
Under the March 10 agreement, Gazprom and the Hungarian Development Bank are setting up a 50-50 percent joint venture to build and operate the South Stream project's Hungarian section. The venture is due to be legally established in Hungary within the next two months. Under the overall concept, South Stream's northern branch would run from Bulgaria to Serbia, Hungary, and Austria, with possible branch-off sections into Slovenia and northern Italy under discussion, and occasional enticements held out for Romania to join.
According to Putin and Miller at the signing ceremony, the Hungarian section's economic and financial feasibility studies should be completed before the end of the current year. The Hungarian section's throughput capacity should be no less than 10 billion cubic meters per year and may be increased beyond that level.
Furthermore, according to Putin and Miller, the overall South Stream project (including its southern branch, to run from Bulgaria to Greece and southern Italy) should be completed by the exact target date of December 31, 2015. They claim to estimate the overall costs at only €10 billion or even less, taking into account the now-falling prices of construction materials. Russia has "no problems with financing" South Stream. "No problems with the sources of gas" either: "We have enough [natural gas] to satisfy our growing needs as well as our European customers' needs for the next 100 years," Putin asserted on this occasion. Echoed, "There are no problems with financing now and there will be no such problems in the future—Gazprom will further increase South Stream's capacity" (Interfax, Itar-Tass, March 10).
With all this seemingly unlimited optimism, Putin added a warning to Europe. In the hypothetical event that South Stream is not implemented after all, Russia would then liquefy its gas and sell it at higher prices than the pipeline-delivered gas. In that case, "Europe would lose out in the international economic competition" (RIA Novosti, March 10). Putin's warning is almost certainly intended also for German industrialists who rely on future gas deliveries from the Nord Stream project.
The Putin-Miller public posture is a far cry from Aleksandr Medvedev' private, gloomy presentation to investors, which made its way to the press and was never denied or refuted by Gazprom (see EDM [two articles], February 12). On that occasion Medvedev raised South Stream's overall cost estimate to the range of €19 billion to €24 billion (still not including certain pipeline sections under discussion, including the hypothetical branch-offs from Hungary, beyond the original plan). Medvedev also resorted to bluff by promising to increase South Stream's overall capacity to 47 billion cubic meters annually, instead of the originally planned 31 billion cubic meters. But he stopped short of identifying the gas resources behind even the original, let alone the augmented volume.
Unlike Nord Stream, for which Russia has earmarked at least declaratively certain gas resources within certain time-frames, South Stream has no known gas resources behind it even declaratively. Meanwhile, Moscow has backtracked on its earlier promise to allocate 10 billion cubic meters of gas annually for the Serbian section of the South Stream project; Moscow has recently reduced that figure by half. And last month, Gazprom and the Russian government turned down Croatia's request for a small increase in gas supplies to that country, from 1.1 to 1.5 billion cubic meters, although Russia has also offered to let Croatia join South Stream.