Putin, Gazprom Seek to Refloat Shtokman Gas Project
Publication: Eurasia Daily Monitor Volume: 9 Issue: 121
By: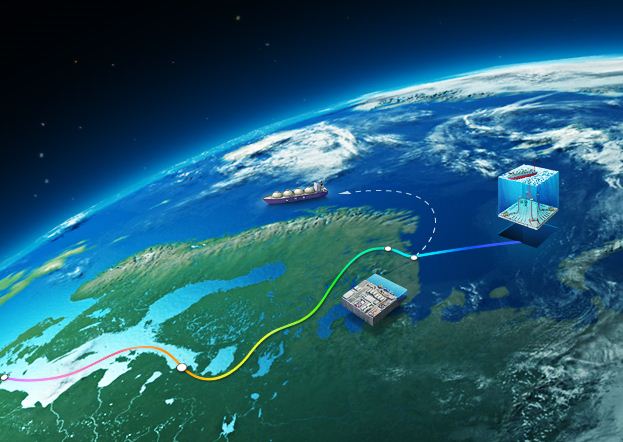 Gazprom's Shtokman offshore gas project in the Barents Sea faces its third reconfiguration in a decade. The project – a joint venture of Gazprom with French Total and Norwegian Statoil – has yet to start in practice at the supergiant deposit in the Russian Arctic. Russian President Vladimir Putin and Gazprom are now staking their hopes on Shell to rescue the Shtokman project. The shareholders' agreement has technically expired. It was expected to be changed and prolonged with Shell at the St. Petersburg International Economic Forum (see EDM, June 25), but this has not happened (Interfax, June 22, 25).
With confirmed reserves of four trillion cubic meters of natural gas, Shtokman is ranked as one of the richest deposits worldwide. However, inordinately high investment costs would correspondingly raise the sale price of its product to uncompetitive levels. The seabed field is located in the High North, 650 kilometers offshore from Murmansk. Gazprom estimated the capital investment at $30 billion when launching the project with Total and Statoil five years ago. That figure can only have grown between then and now. Commercial production was due to have started in 2013, but the project seems hardly more advanced now than it was in 2007-2008 in terms of practical implementation.
Initially, the Kremlin and Gazprom had intended to go it alone at Shtokman. President Putin announced (or confirmed) that decision in 2005. One year later, Putin offered to export the lion's share of Shtokman's first-phase gas to Germany. At that point, Shtokman was the designated source for the second line of Gazprom's Nord Stream pipeline to Germany. (That second line's construction is planned to start during the current year, without a clearly identified supply source for its 27.5 billion-cubic-meter design capacity, even as Nord Stream's first line of the same capacity is being underutilized).
The Kremlin soon concluded that development of Shtokman was beyond Gazprom's means. Gazprom signed a framework agreement with Total and Statoil in 2007 and formed the Shtokman Development AG project company with them in 2008. Departing from the model of production sharing agreements, the Kremlin introduced a special investment vehicle arrangement, reducing its two partners to a status of service contractors in this project. A fully owned subsidiary of Gazprom holds the license to Shtokman resources. Gazprom, Total and Statoil hold stakes of 51 percent, 25 percent and 24 percent, respectively, in the Shtokman Development company. The project company's main task is to build the offshore infrastructure for the first phase of production. Expected to start by 2013, commercial production was to reach 24 bcm per year in the first phase, a staggering 71 bcm annually in the second phase, and potentially 95 bcm per year in a third phase.
Under those plans, 50 percent of the production volume was to be exported by pipelines (including Nord Stream) to Europe, and another 50 percent in the form liquefied natural gas (LNG) mainly to the United States. Left behind by the LNG revolution, Russia hoped to catch up by acquiring Western technology from its partners in Shtokman. However, the shale gas revolution left Russia behind again. By 2010, with shale gas over-saturating the US market, Shtokman lost that raison d'etre.
With Shtokman's commercial prospects fading, Total has partnered (again under Putin's personal auspices) with Russian Novatek for an LNG project on the Yamal peninsula, which, if implemented, could target East Asian markets. But the offshore Yamal is almost as challenging, and its investment and transportation costs of almost equally doubtful commerciality, as those at Shtokman. For its part, Statoil has found massive gas deposits since 2010 in Norwegian waters; and anticipates further discoveries in areas adjudicated to Norway following the bilateral delimitation agreement with Russia in the Arctic Ocean.
Unsurprisingly, therefore, activity has stagnated at the Shtokman project. The framework agreement has expired in March of this year and has only been prolonged to June 31, 2012. The partners have spent approximately $1.5 billion thus far, mostly for building two semisubmersible offshore platforms, which, however, have ended up in the Far East on Sakhalin Island, according to the Russian press (Kommersant, June 22; Vedomosti, June 25, 26).
During the St. Petersburg forum just held, Putin and Gazprom CEO Aleksei Miller continued insisting that 100 percent of Shtokman's future production be earmarked for export as LNG (except 1.7 bcm annually for gasification of the Murmansk oblast). Putin and Miller also held out massive tax breaks for Shtokman partners, including prospectively Shell. Whether Shell fully agrees with liquefaction of the entire production – and if so, from what production level – is not yet clear. However, CEO Peter Voser is cited as offering Shell's technology to lift Gazprom to a leading exporter's position on LNG markets on the basis of the Shtokman project. Voser is citing Shell's "positive experience" with Gazprom at the LNG project Sakhalin-2, which supplies East Asian countries (Interfax, June 22, 25).
Led by Shell, Sakhalin-2 became Russia's first LNG export project, on stream since 2007. Shell's "positive experience," however, includes being forced to sell part of its majority stake as well as its operating rights to Gazprom, under the threat of multibillion-dollar fines and closure of the project. Shell's then-CEO, Jeroen van der Veen, stood up at the 2007 St. Petersburg Economic Forum to praise Putin's "wisdom" for that solution. At least it allowed Shell to stay in business in Russia.