PUTIN LEANING ON NAZARBAYEV TO THWART WESTBOUND ENERGY PROJECTS
Publication: Eurasia Daily Monitor Volume: 3 Issue: 101
By: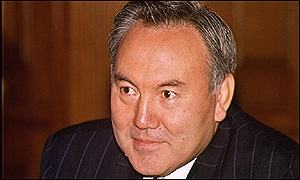 Russian President Vladimir Putin used the May 20 meeting in Sochi with his Kazakh counterpart, Nursultan Nazarbayev, to ensure that Russia remains the route for the great bulk of Kazakhstan's oil and gas exports and nip trans-Caspian pipeline projects in the bud. Putin's move counters recent efforts by the United States, the European Union, Azerbaijan, Georgia, and other countries to enlist Kazakhstan's participation in energy supply and transport routes directly to international markets (see EDM, May 22).
The Kremlin wants Kazakhstan to minimize its participation in west-bound transport projects, expand the capacity of Kazakhstan's existing energy transit routes bound for Russia, and ensure that the output of oil and gas fields due to come on stream in Kazakhstan is routed via Russia as well.
Indications of Russian pressure on Kazakhstan were evident in the run-up to the Sochi meeting. In remarks delivered on May 19 in Berlin, Kazakhstan's Minister of Foreign Affairs Kasymzhomart Tokayev asserted that construction of a gas pipeline on the Caspian seabed would require the consent of all five riparian countries. He claimed, moreover, that a five-sided convention on the Caspian Sea's legal status must be signed prior to the start of a pipeline project (Interfax, May 19).
This thesis marks a retreat from Astana's, and Tokayev's own, official position in 2005 that Caspian countries have the sovereign right to lay pipelines and cables in their own sectors of the Caspian seabed. Tokayev's now-amended position is in line with that of Russia and Iran. While Tokayev was commenting on proposed gas pipelines, that position equally applies to proposed oil pipelines. On May 22, Iran's ambassador in Almaty, Mehmon Parast, publicly reasserted that thesis with reference to trans-Caspian oil and gas pipelines (Interfax, May 22).
In their Sochi meeting, Putin and Nazarbayev apparently agreed in principle to launch joint programs for gas field development and extraction in Kazakhstan and supplies of gas to Russia. They tasked Russian and Kazakh experts to estimate the volumes that, Putin declared, are "by and large comparable to extraction at large Russian deposits," and claimed to have reached a mutually satisfactory agreement on prices. At the concluding briefing, Putin did almost all of the talking on this matter — an indication that the initiative was his to pull Kazakhstan along and that Nazarbayev was not necessarily pleased with or committed to a deal whereby Russia would, in effect, pre-empt Kazakhstan's gas output as it seeks to do in Turkmenistan.
The presidents clearly agreed to expand gas supplies from Kazakhstan's super-giant Karachaganak field to the Gazprom-owned Orenburg gas processing plant in Russia near the two countries' border. The Orenburg plant processed more than 7 billion cubic meters of gas from Karachaganak in 2005 and expects to double that volume this year. Under the agreement of intent just reached in Sochi, deliveries to Orenburg would continue to increase as part of the third phase of expansion of field operations at Karachaganak and the second stage of processing capacity construction at Orenburg. This second-stage capacity is to take the form of a parity joint venture of Kazakhstan's oil and gas state company KazMunayGaz with Gazprom.
Putin and Nazarbayev also discussed possible export routes for Kazakh oil out of Russia's Black Sea port at Novorossiysk, the terminus of the Caspian Pipeline Consortium's (CPC) line from Tengiz and other Kazakh oilfields. The CPC pipeline's capacity is supposed to be enlarged from nearly 30 million tons annually at present to 67 million tons annually during several stages. However, the projected additional volumes could not clear the already overcrowded Bosporus Straits by supertanker.
Consequently, Putin and Nazarbayev examined four possible solutions for those volumes to reach the Mediterranean:
a) a pipeline across Anatolia from Samsun to Ceyhan;
b) a pipeline from Bulgaria's Black Sea coast, across Thrace to the Greek Aegean coast;
c) a refinery on Turkey's Black Sea coast, so as to market the refined products in the region, obviating the need for supertanker shipments of crude oil; and
d) sending some volumes of Kazakh oil westward across the Caspian Sea into the Baku-Ceyhan pipeline, instead of northward overland to Novorossiysk.
Moscow will favor almost any solution that minimizes the volume available for the Baku-Ceyhan pipeline. Moscow also resists the proposals to send Kazakh oil from Novorossiysk to nearby Odessa for use in Ukraine or pumping into the Odessa-Brody pipeline (which is planned to be extended to Poland). The United States and the European Union favor this option. Unsurprisingly, however, it was not listed among those that Putin discussed with Nazarbayev.
(Khabar, Interfax, May 22)