PUTIN MAKES FOREIGN POLICY ABROAD, MEDVEDEV CHAIRS SECURITY COUNCIL AT HOME
Publication: Eurasia Daily Monitor Volume: 5 Issue: 104
By: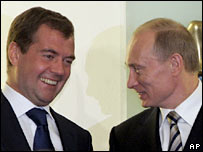 It has been almost a month since Russia embarked on its experiment in governance which features a previously all-powerful president serving "under" his successor as prime minister. However, the question of who really is in charge, President Medvedev or Prime Minister Putin, remains unanswered; and the events of the past week only added to the ambiguity.
On the one hand, Putin was greeted in France virtually as a head of state. He had dinner with French President Nicolas Sarkozy at the Elysee Palace on May 29, after meeting his French counterpart Francois Fillon, and then met with former President Jacques Chirac, who heaped praise on Putin (International Herald Tribune, May 30). In addition, Russian Ambassador to the United States Yuri Ushakov has been recalled to Moscow, where the veteran diplomat will reportedly serve as deputy to Sergei Sobyanin, the prime minister's chief of staff, and be assigned the task of coordinating the government's foreign policy (www.newsru.com, June 2; Kommersant, May 31).
This, the Moscow Times noted, "could indicate a shifting of power from the Kremlin to the White House," given that Russia's constitution puts the president in charge of foreign policy (Moscow Times, June 2). Indeed, while in France, Putin held forth on various foreign policy issues, telling Le Monde that "nothing indicates" Iran is trying to use its nuclear program to develop weapons, accusing the United States of behaving like "a frightening monster abroad" and denouncing the expansion of NATO, particularly to include Ukraine and Georgia (Associated Press, Bloomberg, May 31). In his interview with the French newspaper, Putin also responded to questions about Russia's new ruling diarchy. While declaring that Russia remains a "presidential republic" and that Medvedev, as president, "without question has the final word," Putin added, referring to his leadership of the United Russia party: "But otherwise the essential point is this: I simultaneously lead a party that occupies the leading role in our political life and that has a stable majority in parliament" (AFP, May 31).
Yet while Putin was in France demonstrating foreign policy prerogatives unprecedented for a Russian Prime Minister, Medvedev was not dormant at home. On May 31 he chaired a meeting of the Security Council, the Kremlin advisory body. The meeting was reportedly attended by, among others, Kremlin chief of staff Sergei Naryshkin, Foreign Minister Sergei Lavrov, Defense Minister Anatoly Serdyukov, Federal Security Service (FSB) Director Aleksandr Bortnikov, Foreign Intelligence Service (SVR) Director Mikhail Fradkov, State Duma Speaker Boris Gryzlov and Federation Council Speaker Sergei Mironov.
As www.gazeta.ru noted, the Security Council meeting was the first one that Putin had missed in eight years (as prime minister, he remains a permanent council member). President Vladimir Lysenko of the Institute of Contemporary Politics told the website that Medvedev's convening a Security Council meeting during Putin's absence was a display of independence and evidence of a "positive trend." "That Medvedev today held this session independently for the first time and was not about to wait for Putin, who had gone to France, shows that he is resolved to take power into his own hands and to boost increasingly such institutions as the Security Council and make it even more efficient and more functional," Lysenko said (www.gazeta.ru, May 31).
A number of observers have noted that the Security Council has played a less-than-significant role in decision-making in recent years, and some interpreted Nikolai Patrushev's recent transfer from the post of FSB director to that of Security Council secretary as a demotion. One observer, for example, called the council "something of a retirement home for high-level officials" (Moscow Times, May 19) and a sign that the power of Patrushev and other reputed siloviki hardliners is waning. Still, if competition between the president and prime minister is indeed intensifying, Medvedev could raise the Security Council's profile as a kind of counterweight to Putin's creation last month of a decision-making "presidium" inside the cabinet (RIA Novosti, May 15). The presidium includes Foreign Minister Sergei Lavrov, Interior Minister Rashid Nurgaliyev and Defense Minister Anatoly Serdyukov, who are also Security Council permanent members and hold posts that have traditionally been strictly subordinated to the president.
The continuing ambiguity over who is really in charge is also being expressed in media coverage of President Medvedev and Prime Minister Putin. On the one hand, according to Medialogia, a media analysis firm in Moscow, Medvedev was mentioned one and a half times more often than Putin on Russia's national television channels last week, with the "index of informational favorability," which Medialogia defines by assessing the favorability of the reports and the degree of influence of the media that carries them–twice as high for Medvedev. On the other hand, as Yevgeny Kiselyov noted on his TV/radio program "Vlast," the reports that the national TV channels broadcast about Putin last week were more detailed and longer and no less "positive and benevolent" than those devoted to Medvedev. In any case, a "very pronounced balance" is being observed in TV coverage of the two leaders, Kiselyov said ("Vlast," RTVi television and Ekho Moskvy radio, May 31).
Meanwhile, a survey by the VTsIOM polling agency conducted on May 17 and 18 found that one out of ten Russians surveyed thinks that Prime Minister Vladimir Putin is still the country's president (Moscow Times, May 30).