RUSSIA DEPLOYS RAILWAY TROOPS TO ABKHAZIA
Publication: Eurasia Daily Monitor Volume: 5 Issue: 105
By: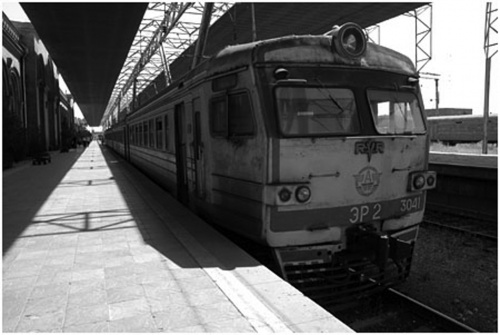 On May 30 and 31 Russia's Defense Ministry sent railway troops into Abkhazia without informing Georgia, much less requesting its consent. The move involves some 400 personnel, mostly from the ministry's Railway Troops and some from the military engineering troops. This deployment marks another move in Russia's now-overt annexation and militarization of Abkhazia through "peacekeeping" and other types of troops. President Dmitry Medvedev is apparently continuing his predecessor Vladimir Putin's policy in this regard.
The Russian Defense Ministry's communiqué (Interfax, May 31) justifies the railway troops' deployment by citing Putin's April 16 presidential decree, which authorizes a wide range of unilateral Russian moves in Abkhazia and South Ossetia. It also cites a request from Abkhaz authorities to rebuild sections of the railway. Neither the decree nor the request has any standing in international law, however. The communiqué claims that these troops are unarmed, an unverifiable claim, given that the columns of heavy transport vehicles covered their cargos while moving to the deployment area.
The Russians clearly intend to use this railroad at least in part for military purposes. Deployment of railway troops is often a precursor to offensive military moves or an indication of building up the infrastructure for long-term occupation of the territory. Railway troops are a peculiar, Soviet-bequeathed military institution, subordinated to the government as the Federal Railway Troops Service until 2004 and then incorporated into the Defense Ministry.
The railroad running the length of Abkhazia, from the Russian border on the Psou River to the ceasefire line on the Inguri River, was severely damaged during the 1992-1993 Russian military intervention. Georgian State Railways is the legal owner of this line. Russia unilaterally reopened the Psou-Sokhumi section in 2005 for both civilian and military transport.
The declared mission of the newly deployed troops is to restore and upgrade the Sokhumi-Ochamchire section (Itar-Tass, Interfax, May 31). The Russians almost certainly intend to do so next on the Ochamchire-Inguri section. This would enable Russia to transport more tanks, artillery, and other hardware at locations throughout Abkhazia, down to the ceasefire line along the Inguri River.
Restoration of the railway to Ochamchire may also reflect Russian intentions to reactivate the naval base there. The former Soviet submarine base in that deep-water bay looks particularly attractive to Russian planners, given the 2017 deadline on the Russian navy's lease in Ukraine's Sevastopol and the constraints of space and weather in Russia's Novorossiysk naval base.
Russia deployed more than 1,000 additional "peacekeeping" troops with heavy weaponry to Abkhazia in late April and early May, without notifying Georgia or any international authority. That force included paratroopers, tanks, howitzers, and anti-aircraft batteries, in multiple violations of internationally accepted peacekeeping norms. That unlawful move raised the number of Russian "peacekeepers" to 3,000. The railway troops come on top of that figure. Moscow's excuse in this case is not "peacekeeping," but economic and "humanitarian" assistance to "Russian citizens" there.
Russia's deployment of armor and artillery in recent weeks to Abkhazia compounds its violations of the Treaty on Conventional Forces in Europe (CFE). The Russian military had all along stockpiled such "unaccounted-for treaty-limited equipment" in Abkhazia and is now adding to it. A rebuilt rail line can also help reactivate the Gudauta base with its large storage capacity, where Russia retains a garrison in further breach of the CFE Treaty package.
According to interviews with the de facto Abkhaz leaders in the Russian and Western media (Interfax, AP, May 31), the railroad will be used in part for carrying building materials from Abkhazia to nearby Sochi in Russia, the 2014 Winter Olympics site. In March Russia's Regional Development Minister Dmitry Kozak announced that Russia would use construction materials and manpower from Abkhazia for the Sochi Olympics projects. In May Russia's Krasnodar Territory governor Aleksandr Tkachev signed an agreement with Abkhaz authorities on transporting millions of tons of building materials (apparently stone and wood) from Abkhazia to Sochi (Kommersant, June 2). If this is done, the Sochi Olympics will be tainted through close association with Russia's seizure of territory by force from a neighboring country.
The timing of Russia's deployment adds insult to the West. The deployment coincided exactly with the May 30-31 trip by fifteen ambassadors of European Union countries from Tbilisi to Sokhumi in an unprecedented peace initiative. It also seems timed to demonstrate Russia's sense of impunity ahead of EU High Representative for the Common Foreign and Security Policy Javier Solana's June 5 visit to Tbilisi and Georgian President Mikheil Saakashvili's June 7 meeting with Medvedev in St. Petersburg.
Russian Security Council Deputy Secretary Yurii Zubakov held talks in Tbilisi on May 29 to prepare the agenda of the Medvedev-Saakashvili meeting, the first between the two presidents. Zubakov's Tbilisi visit was also of a get-acquainted character. He handles the Kremlin's negotiations with Moldova on Transnistria and may have been designated for a similar role on the conflicts in Georgia.
The situation in Abkhazia is an inter-state conflict conducted by Russia on Georgian territory. Moscow's move toward direct official relations with the secessionist authorities, takeover of the Georgian-owned railroad, air operations in Georgian airspace over Abkhazia, and growing military deployment are the latest steps highlighting the inter-state nature of this conflict. In this situation, Russia's "peacekeeping" and "mediating" role looks more farcical than ever.