Putin Moves Russia From Authoritarianism to Totalitarianism
Publication: Eurasia Daily Monitor Volume: 8 Issue: 106
By: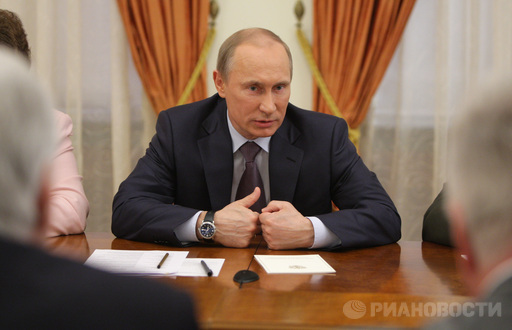 A group of 14 acclaimed Russian intellectuals, including human rights activists, artists, film directors, writers and aides of the late President Boris Yeltsin have published an open statement condemning the present regime for "completely destroying the institution of democratic elections in Russia." Election results are shamelessly falsified by the authorities, while opposition parties and activists are "unconstitutionally" denied registration to run in elections under cooked up pretexts. As a result, subjects of the Russian state are disfranchised from the political system rendering it illegitimate. The statement describes as "vicious" the so called "vertical of power"—a system of personalized authoritarian rule the prime minister and leader of the ruling United Russia Vladimir Putin has been building since 1999. This "vertical of power" has created a rubberstamp misrepresentative parliament, a "paralyzed Dmitry Medvedev presidency" and dysfunctional regional and municipal authorities.
Russia has plunged into an "evolving political crisis," the only possible remedy is a speedy restoration of democratic elections. If the coming Duma elections next December and the presidential elections in March 2012 are again not free or fair, the legitimacy of the entire Russian state will be called into question. The statement concludes: "Attempts to sustain the present unconstitutional order may lead to serious social and political upheavals very soon." Medvedev and Putin will be fully responsible for the "vacuum of power in Russia and the catastrophic aftereffects" (Ekho Moskvy, May 30).
In separate comments to journalists the authors of the statement were more outspoken. Yeltsin's political aide, Georgy Satarov, believes the "unprecedented ineffectiveness of Putin's vertical of power is the direct result of its illegitimacy." Reforms have failed in Russia and will fail again; corruption and nepotism are openly rampant because the lower levels of the bureaucracy, law enforcement and security services know they are the sole foundation of Putin's rule (Novaya Gazeta, June 1). Soviet-era movie star Natalya Fateeva told Interfax: "The people in power believe they will rule forever and are immortal. They are nuts" (Interfax, May 31).
The Kremlin press service announced Medvedev will not comment on the statement, "because the president has the right to remain silent" (Interfax, May 30). Most likely Medvedev does not have much to say anyway. When renowned intellectuals (not leaders of any particular political trend or party) utterly disavow the foundations of the regime's legality, its days may be numbered. Discontent and anger are growing in Russia under the surface of assumed stability, fed by rampant corruption, social inequality and the inefficiency of its rulers. Leaders of the Russian tandem—Putin and Medvedev—clearly feel the pressure and are trying to find remedies.
Medvedev has publicly demanded that Putin's government rescind the drastic hike in payroll taxes that was introduced from January 2011 to fund increases in payouts to pensioners, introduced in the last two years to boost Putin's popularity. The payroll tax increase has angered business, especially small and medium sized companies. The drastic growth of spending on defense and pension payouts has created a budget deficit that high oil prices cannot cover. The government has been dragging its feet, and this week officials have told the Kremlin only a tiny section of small businesses may receive payroll tax exemptions and proposed returning to the question in 2013. If Medvedev fails to deliver a popular public promise and discipline the government that is legally subordinate to him, this may be the end of his political career (Vedomosti, June 1).
Meanwhile, Putin has overtaken the news headlines by announcing the formation of an All-Russia people's front (ONF, or Obzherossiysky Narodni Front)—an amalgamation of masses of different regional and national public organizations around the ruling United Russia party. This week, Putin's press service announced: "About 16 All-Russian organizations, 429 regional, interregional and local groups have joined the ONF and more are welcome" (RIA Novosti, June 1). Strict Russian election rules allow only registered parties to field candidates in elections and forbid election blocks. The ONF will run in Duma elections next December under the mantle of United Russia—up to 15 percent of the party election list are allowed to be nonparty members.

It was announced that the ONF is open to all who agree with Putin's vision of the future of Russia, and "all will be absolutely equal partners" (Interfax, May 16). Trade and professional unions are joining the ONF, as well as entire municipalities. United Russia has announced that the entire population of Khabarovsk—a large city of over half a million on the border with China in the Russian Far East—has joined the ONF (RIA Novosti, June 1). In an unruly aggregation of thousands of groups large and small the declared "equality of all" will in effect mean they all unequivocally endorse Putin – the great leader and sole decision maker.
The Russian electoral system has been specifically tailored since 1999 to produce any required result whatever. Vote rigging may be 30 percent at some voting stations or 100 percent at others (Kommersant, May 31). The ONF is not needed per se to drum up election results for United Russia next December—they will be produced as required anyway. Independent opinion polling group Levada-center reports that the most popular reply of the Russian citizens (26.1 percent): the ONF "is another stillborn bureaucratic entity" (Kommersant, May 19).
During the Cold War Putin served in East Germany as a KGB resident. Unlike the former USSR, which was a strictly one-party state, the former GDR, as well as communist-ruled Poland, Hungary and Czechoslovakia where so-called "peoples democracies"—ruled by people's fronts—fictitious multiparty organizations in which the communists had junior partners intended to give a totalitarian dictatorship a nicer look. With the new ONF, Putin is apparently trying to reproduce the GDR of his younger years in today's Russia, turning himself into the ultimate representative of all social groups, the entire Russian nation and all national minorities as well. In responding to growing discontent Putin is moving from authoritarianism to totalitarianism.