Putin Reentering Korea Conflict in Big Way
Publication: Eurasia Daily Monitor Volume: 15 Issue: 94
By: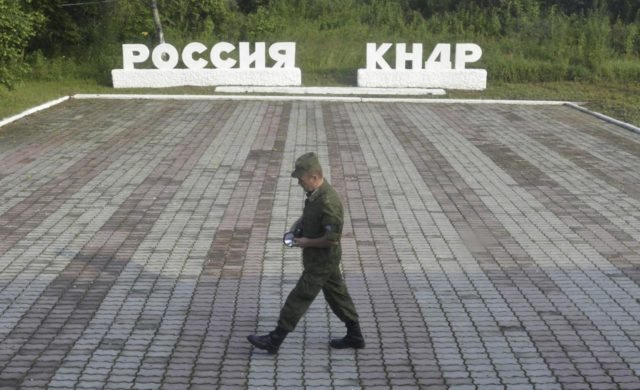 Some, especially in the West, have argued that United States President Donald Trump has effectively sidelined Russia from the rapidly evolving Korean situation by his rapprochement with North Korea's dictator, Kim Jong-un, at the recent summit in Singapore. But such suggestions cloud years of Russian activity. For one thing, they fail to take into consideration past Russian actions, including assistance to Pyongyang's nuclear and missile programs over the last decade and help in allowing North Korea to evade international trade sanctions (Newsland.com, December 28, 2017; Ekho Moskvy, December 30, 2017; Kommersant, January 26, 2018; Kasparov.ru, December 30, 2017, January 26, 2018). Moreover, assertions of the Kremlin having been sidelined over Korea miss at least two recent, potentially game-changing moves: the announcement that Moscow plans to build a new natural gas pipeline through North Korea as well as diplomatic preparations for a visit by Kim to Russia and one by Vladimir Putin to Pyongyang later this year.
Russian news agencies are reporting that Seoul has asked Russia's Gazprom to resume talks involving North Korea about the construction of a Russian gas pipeline through the two Koreas. The South Korean government has long been interested in purchasing Russian gas via a north–south pipeline. Indeed, the two sides agreed on a planned route already in 2011, but tensions between the two Koreas put everything on hold. Now, however, the recent warming of relations between Seoul and Pyongyang as well as Trump's meeting with Kim, Seoul believes, have opened new possibilities (Politikus.ru, June 16).
The projected pipeline would extend 1,100 kilometers, from the Russian border near Vladivostok southward. Some 700 kilometers of it would be on the territory of North Korea. Both countries on the peninsula would benefit from the supply of Russian gas even though South Korea has taken the lead in pushing for the project. Russian observers believe that this project, if realized, would have three positive consequences from Moscow's point of view. First of all, it would reduce the attractiveness of US-supplied liquefied natural gas (LNG) in the South. Russian gas would be cheaper and, because it would be supplied by pipeline rather than ship, more reliable as well. Second, it would thus diminish the influence of the US while expanding Russia's own sway not only in each of the Koreas but also in the Asia-Pacific region more generally. And third, it would bind the two Koreas more closely together while giving Pyongyang new economic leverage over the South, thus further reducing the chances for regime change in the North, which Moscow vehemently opposes (Politikus.ru, June 16).
The proposed pipeline is part of a much broader Russian effort to expand economic ties and thus political influence with the two Koreas. Moscow and Seoul recently signed what they call "the Nine Bridges" initiative, calling for expanded trade and investment between Russia and South Korea. And last month, Moscow signed an agreement with Pyongyang intended to expand bilateral trade (including some that is banned under the current international sanctions regime) and investment as well.
These developments have mostly passed under the radar screen of the West, but now they are likely to attract new attention because of an even more dramatic move by Russia yesterday (June 18). Korey Kazbek Taysayev, a Duma (lower chamber of the Russian parliament) deputy from the Communist Party, announced that Vladimir Putin may make a visit to North Korea in the near future, after one by Federation Council (upper chamber) speaker Valentina Matviyenko does so on September 9. "Putin's visit to North Korea could occur," he suggests, "after Matiyenko's, that is, not earlier than the fall." Indeed, it could link up with a planned Duma delegation visit to Pyongyang on October 12 (Lenta, June 18).
This flurry of diplomatic and political activity follows a June 1 meeting in Pyongyang between Kim Jong-un and Russian Foreign Minister Sergei Lavrov, during which the two announced agreement on a meeting between Kim and Putin at some point in the future. Additionally, Lavrov invited Kim to visit Russia, possibly during the next Eastern Economic Forum meeting in Vladivostok, on September 11–13. That Russian city is just north of the North Korean border, and Kim could easily reach it by train, his preferred method of travel.
Moscow's moves on both the pipeline and political meetings represent, first and foremost, an effort by Putin to rebuild Russian influence on the Korean peninsula. He is trying to shore up ties to Pyongyang by developing yet another card to play in any upcoming negotiations about denuclearization or cooperation with the South and the US. At the same time, he is expanding Moscow's relations with Seoul, while the influence of Washington appears to be ebbing.
A broader lesson can be perceived here as well. In many places around the globe—including the two Koreas—Putin can and will respond both to ensure that Moscow has a seat at the table and to frustrate any unilateralism by Washington, however powerful the US may be and however weak Russia's hand still is.