Azerbaijan's Acquisitions of New Missile Systems From Belarus and Israel: The Domestic and Regional Context
Publication: Eurasia Daily Monitor Volume: 15 Issue: 94
By: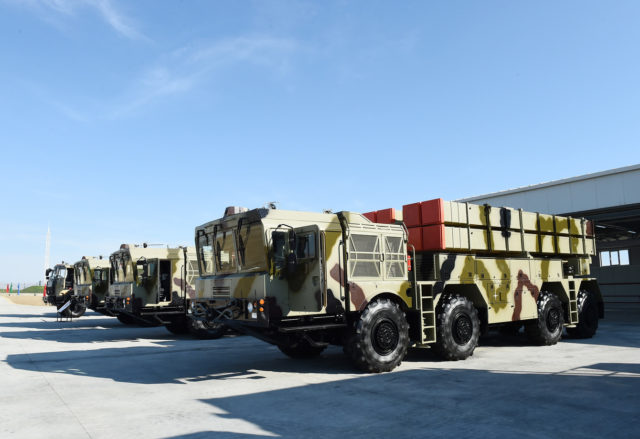 On June 11, Azerbaijan unveiled its newly-acquired Polonez multiple-launch rocket systems (MLRS, with a range of 300 kilometers) and LORA ballistic missile complexes (400 km), purchased from Belarus and Israel, respectively. Both weapons systems are designed to target major military bases and operational facilities located deep in enemy territory (Mod.gov.az, June 11). The announcement came amidst news of heightened tensions along the border between Armenia and the Azerbaijani exclave of Nakhchivan, which together have raised fears in Armenia about the security of the country's western flank (see EDM, June 4, 14).
The public display of the Polonez MLRS coincided with a number of notable events: the 25th anniversary of the establishment of diplomatic relations between independent Belarus and Azerbaijan, a visit of the Armenian Air Defense Forces' representatives to Minsk, a meeting of the Collective Security Treaty Organization's (CSTO) Foreign Ministers Council in Almaty, as well as the visit of Azerbaijani President Ilham Aliyev to Moscow for the 2018 World Cup, where he was formally introduced to Armenian Prime Minister Nikol Pashinyan (1news.az, News.am, Azatutyun.am, June 11; Worldnewsalert.org, June 14).
Although Armenian media earlier reported that Minsk would not sell the Polonez to Baku because of Yerevan's objection (1in.am, February 7), actually the deal had already been reached during Azerbaijani Defense Minister Zakir Hasanov's visit to Belarus in October 2017 (see EDM, December 12, 2017). The Polonez MLRS is installed on a Belarusian-made truck chassis; but the system uses Chinese A200-type rockets, marketed by China's Poly Technologies Company. Therefore, logically, Chinese authorization would have been necessary to transfer this missile system to Azerbaijan (Mod.gov.az, April 29, 2018; Belvpo.com, August 25, 2017).
In April, as the so-called "Velvet Revolution" in Armenia was reaching a boiling point (which would culminate in the parliament's election of Pashinyan as new prime minister, on May 8), the Russian daily Kommersant predicted that Azerbaijan would procure the Polonez specifically to counter Armenia's arsenal of Russian-supplied Iskander-E short-range ballistic missiles (Kommersant, April 18, 2018). Therefore, while meeting with Belarusian President Alyaksandr Lukashenka during the Eurasian Economic Council's session in Sochi, on May 14, Pashinyan tried to discourage Belarus from selling these weapons to Azerbaijan (News.am, May 15). But two days later, in Baku, Defense Minister Hasanov received a delegation of the Belarusian State Military-Industrial Committee to discuss bilateral military-technical cooperation (Mod.gov.az, May 16).
In fact, Minsk initially pursued the Polonez MRLS project in response to Moscow's refusal to offer Iskanders to Belarus, despite delivering them to Armenia (Kommersant, April 18; Naviny.by, April 22). This month, in an interview with Vzglad.az, Belarusian military expert Sergei Martselev suggested that Azerbaijan may actually have been a co-investor in the Polonez's development (Vzglyad.az, June 12).
Both the Polonez and the LORA are comparable to the United States' M142-HIMARS and MGM-140 ATACMS rocket artillery systems as well as the Russian Iskander-E ballistic missile system. The similarities stem from a number of technical characteristics: fire accuracy, invisibility to air-defense systems, warhead mounting flexibility and satellite navigation systems. However, the Polonez, unlike the Iskander, carries more ammunition onboard, which allows each individual battery to deliver a significantly larger number of missiles to the target. Meanwhile, the LORA is fired on a shaped (flattened) flight trajectory with an unspecified supersonic velocity. This artillery missile behavior, when combined with Azerbaijan's long-range radars and integrated air-defense networks—similar to the Anti-Access/Area Denial (A2/AD) strategies of Russia and China—could give Baku's forces the upper hand on the battlefield. The LORA will be difficult to counter, even for Armenia's well-equipped air-defense network (Military-today.com, accessed June 12, 2018; Armiya.az, February 3, 2018; Armiya.az, Defence-blog.com, June 11, 2018; Thedrive.com, June 21, 2017).
By adding the Polonez and LORA complexes to its artillery and air-defense arsenal—already well-equipped with various advanced Russian, Israeli and Turkish firepower assets—Azerbaijan is pursuing a symmetrical response to Armenia's offensive missile capability (see EDM, December 12, 2017; Sputnik.by, June 11, 2018). But even if their missile arsenals are at parity, varying levels of command and control could prejudge the outcome of a potential full-scale war. In an interview with RIA Novosti, last year, Azerbaijan's Defense Minister Hasanov again raised the question of who really owns and would be in control of the Armenian Iskanders in a conflict situation—Yerevan or Moscow (RIA Novosti, July 13, 2017). Whereas, more recently, military analyst Alexander Khramchikhin argued, "How specifically this system will be used depends on the tactical and strategic situation" during a war (1news.az, June 14, 2018).
Although, Azerbaijan's indigenous defense industry can meet certain demands of the Armed Forces, it lacks the high-technology base to domestically produce conventional long-range artillery assets; they are therefore imported from abroad (see EDM, May 21). Azerbaijan publicly announced the procurement of Israel's LORA, instead of the expected purchase of the Israeli Iron Dome missile defense systems—i.e. an "offensive response" instead of a "defensive approach" to neutralize Armenia's long-range offensive capabilities created by the Iskanders (see EDM, September 25, 2017; October 5, 2016). Israel has successfully employed the Iron Dome system during several operations. However, due to its "target oversensitivity," this expensive system can react even to automatic gunfire (Times of Israel, March 26), which is prevalent along the contact line between Azerbaijani and Armenian armed forces.
Azerbaijan's foreign military deals, including the recent purchases of the Polonez and LORA missile systems, demonstrate Baku's strategy of seeking more diverse defense partners—something Armenia has been much less successful at achieving. Meanwhile, Yerevan's expectations that membership in the CSTO would result in some level of deference to or acknowledgement of Armenia's interests by its alliance partners have largely been frustrated. That reality ultimately attests to Yerevan's maximalist interests within the alliance, which the CSTO has been unable or unwilling to respond to. Instead of supporting Armenia's position, CSTO allies Belarus and Russia have both opted to gradually boost their military-technical cooperation with Azerbaijan. So far, the new government in Yerevan has chosen not to raise this issue too strongly in public statements. Nevertheless, Armenia may try to challenge the CSTO's internal dynamics with new radical steps in order to derail Azerbaijan's foreign defense partnerships in the future.