Azerbaijan Shows off Polonez, LORA Missiles From Belarus, Israel
Publication: Eurasia Daily Monitor Volume: 15 Issue: 92
By: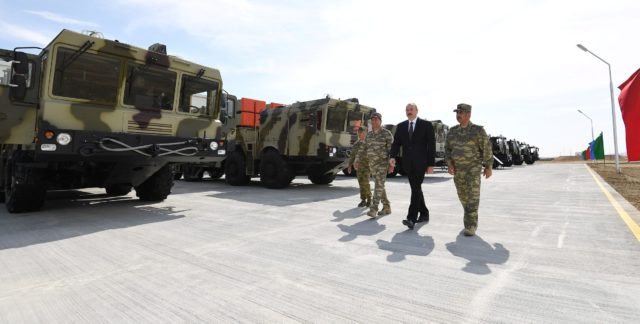 On June 11, Azerbaijani President Ilham Aliyev showed off the Belarusian-produced Polonez multiple-launch rocket system (MLRS) and the Israeli-made LORA tactical ballistic missile system (President.az, June 11). The delivery of these rocket and missile systems from Belarus and Israel have military, political and psychological implications for both Armenia and Azerbaijan, particularly in the context of the Karabakh conflict.
Militarily, the rationale behind Baku's acquisition of the Polonez and LORA systems is to rectify the imbalance between Armenia and Azerbaijan in terms of their missile capabilities. Indeed, it is regarded as Baku's response to Yerevan having obtained Iskander tactical ballistic missiles from Russia several years ago (Komsomolskaya Pravda, June 11; Kommersant, April 18). The Iskanders tilted the balance of forces somewhat in Armenia's favor by providing Yerevan with the capability to hit strategic facilities deep inside Azerbaijani territory. Now, the Polonez and LORA systems advance Azerbaijan's own capacity to strike deep into Armenia, hence reestablishing missile parity between the two regional rivals. Although neither the Polonez nor LORA system is a precise alternative to the Iskander, when combined with Russian S-300 and Israeli Barak-8 air-defense systems available in the Azerbaijani arsenal, they represent an effective counterweight (see EDM, January 30, 2017, December 12, 2017; Regnum, June 12).
Politically, the Belarusian and Israeli missile system purchases represent a diplomatic defeat for Yerevan and a win for Baku. Reportedly, former Armenian president and prime minister Serzh Sargsyan's government had managed to block the delivery of Polonez systems to Azerbaijan for some time (Kp.by, February 1; News.am, Armeniasputnik.am, February 5). And Armenia's current Prime Minister Nikol Pashinyan also raised the issue of the arms sales to Azerbaijan with Belarusian President Alexander Lukashenko in Sochi, Russia, on May 15 (Arminfo, Verelq.am, May 15). But although Belarus and Armenia are formal allies within the Moscow-led Eurasian Economic Union and the Collective Security Treaty Organization (CSTO), Yerevan ultimately failed to block growing arms supplies from Minsk to Baku. Moreover, Belarus manufactures the Polonez systems jointly with China. In principle, therefore, Beijing could have blocked the deal (Eadaily.com, April 19), but it did not. Moreover, despite Armenian lobbying against Israeli arms sales to Azerbaijan, Yerevan failed to impede these purchases as well (Ynetnews.com, March 17, 2018; Armeniasputnik.am, February 16, 2018, Lragir.am, August 30, 2017; Haaretz, April 10, 2016).
The deals with Belarus and Israel diversify the network of Azerbaijan's arms suppliers, whereas Armenia continues to remain heavily dependent on one source—Russia. And while Azerbaijan's capacity to pay for these new advanced weapons systems can be expected to grow—thanks to new revenue streams as the Southern Gas Corridor and other Baku-backed multi-national infrastructure projects come online (see below)—Armenia faces domestic political volatility, economic hardship and regional isolation (Naviny.by, June 11; Regnum, June 12). Furthermore, Azerbaijan is advancing its own domestic arms industry and even exporting ever more of its military items abroad (see EDM, May 21). Engagement in an arms race with Azerbaijan under such circumstances is likely to further overburden Armenia's already strained economic situation. This will cause more headaches for Pashinyan's government as pressure mounts to somehow counter arms sales to Azerbaijan from Israel, Belarus and other foreign suppliers (Asbarez.com, June 12).
Psychologically, the delivery of Polonezes and LORAs to Azerbaijan represent further frustration for Armenian morale (Defence.az, June 12; News.am, June 11). The fact that Armenia has failed to dissuade its formal ally (Belarus) from supplying significant military equipment Azerbaijan undermines any expectations that the country will succeed in dissuading others, such as Israel. It also highlights the fact that other countries, including its closest ally Russia as well as China and Ukraine, have all ignored Armenia's objections and concerns when it comes to arms sales to Azerbaijan. These negative effects on Armenian morale are further amplified by Azerbaijan's significant geopolitical/economic accomplishments in the past year: notably, Baku has either inaugurated or launched several international economic projects, including Caspian-basin oil and natural gas production sharing agreements with BP and other foreign firms, an offshore joint development deal with Iran, as well as a number of major pipeline, logistical and transit infrastructure projects (Bp.com, April 26, 2018; Neftegaz.ru, September 14, 2017; Avim.org.tr, May 25, 2018; President.az, June 12, 2018; Azernews, January 9, 2018; see EDM November 9, 2017). Moreover, Turkey has announced it will commence construction on a 224-kilometer railway line in late 2018 or early 2019, which will connect to Nakhchivan—Azerbaijan's large exclave sandwiched between Iran, Turkey and Armenia (Kha.com.tr, Paralel.az, June 6; see EDM, June 12). Finally, recent media reports revealed that the Azerbaijani army has reclaimed several important heights, totaling 11,000 hectares, on the border between Nakhchivan and Armenia. Yerevan initially sought to hide and then downplay the incident, which caused panic among residents of nearby Armenian villages. Armenian forces had kept control over this area since 1992 (Turan.az, June 9; JAMnews, June 10; Lragir.am, June 11; OC Media, Musavat, June 12).
Azerbaijan justifies its massive military spending and constant upgrades of its weapons arsenal by the country's bitter experience of 1991–1993, when it lost control of roughly 20 percent of its internationally recognized territory. A strong army is necessary but probably not sufficient in the era of "hybrid" wars. Therefore, in addition to advancing its military capabilities, Azerbaijan will likely need to effectively synergize its tools of soft and hard power. Particular emphasis may go toward engaging public opinion and the popular political mood within the Republic of Armenia, the breakaway region of Karabakh and the Armenian diaspora. From the Azerbaijani perspective, a potential benefit of the "Velvet Revolution"—which erupted in Yerevan this spring, leading to a change in government (see EDM, April 23, May 10)—is that it may unintentionally contribute to the gradual reshaping of Armenian society's views and understanding of the Karabakh conflict, as well as expectations of its settlement. In this context, a shrewd use of soft power to engage with Armenian public opinion may significantly enhance or compliment the important technological upgrades Azerbaijan has been making to its military.