Factors Contributing to Azerbaijan's Growing Domestic Military Industry
Publication: Eurasia Daily Monitor Volume: 15 Issue: 77
By: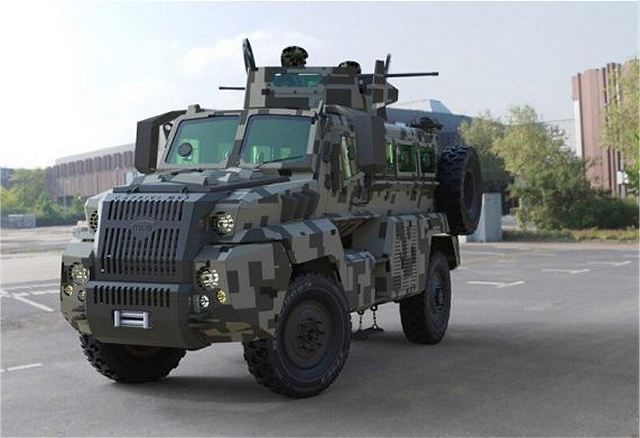 Azerbaijan's Defense Industry (DI) Minister Yaver Jamalov said, on April 27, that 89 percent of domestic DI output during the first quarter of 2018 was made up of special-purpose defense products, some of which are exported to more than ten countries. He added that this export volume has doubled compared to 2017 (Mdi.gov.az, April 27).
The Ministry of Defense Industry of Azerbaijan (MoDIAR)—created in 2005, on the initiative of President Ilham Aliyev—prioritizes the reorganization of Soviet-era defense producers and the modernization of old equipment through joint industry or licensed production with foreign companies. The ultimate goals are to replace military-technical import dependence with local production; ensure the domestic defense sector's ability to fully meet the needs of the Azerbaijani military; and promote arms exports (Apa.az, January 19, 2018; April 22, 2014; December 17, 2009; and Vpk.name, September 11, 2014).
The MoDIAR, either on its own or in cooperation with foreign companies (from Israel, Turkey, South Africa, Russia, Serbia, Canada and Ukraine), has already been able to showcase a number of successful indigenously manufactured defense products (Energycorridors.wordpress.com, accessed May 21, 2018; Azerbaijan-news.az, December 17, 2017; Azeridefence.com, September 15, 2015; January 1, 2012). And MoDIAR's ongoing efforts include the modification of long-distance, radio-wave-resistant, assault drones; development of electromagnetic weapons to destroy the enemy's communication equipment; long-range ballistic missiles; guided aviation missiles/bombs; new armored vehicles; long-range sniper rifles; as well as anti-drone devices (Armiya.az, April 22; Azeridefence.com, October 16, 2017; Apa.az, December 17, 2017).
Moreover, in cooperation with foreign partners (South Africa, Israel, Belarus), the MoDIAR has worked on modernizing some of Azerbaijan's most outdated military hardware—notably, combat vehicles, helicopters, aircraft, tanks and anti-aircraft missile systems. The collaborative modernization has rendered this hardware more battle-worthy for the requirements of modern war (Arms-expo.ru, September 19, 2013; Apa.az, November 12, 25, 2013; Azeridefence.com, January 1, 2012; EDM, December 12, 2017; Armstrade.org, February 5, 2014).
Success in boosting the quality of certain Azerbaijani defense products—in particular, small arms, sniper rifles, optical/electronic devices, drones, grenades and mortars, as well as armored personnel carriers—encouraged the MoDIAR to expand their export from traditional customers (Turkey, Georgia, Russia, Belarus) to the United States and countries in Africa, the Middle East, Asia and Europe. Baku currently also has plans to seek additional export opportunities in other Commonwealth of Independent States (CIS) countries (Mdi.gov.az, December 17, 2017; Azeridefence.com, October 16, 2017, January 1, 2012; Armiya.az, April 22; Defenceiq.com, July 27, 2017).
Azerbaijan's continued drive to expand indigenous DI capacity can be tied to at least eight important foreign, regional and domestic factors.
International restrictions: Although the United Nations' arms embargo on Azerbaijan (and Armenia due to their conflict over Karabakh) was lifted, the embargos of a number of member states of the Organization for Security and Cooperation in Europe (OSCE) remain in force (Sipri.org, October 2, 4, 2012). This hampers Azerbaijan's ability to procure necessary defensive weapons from some of the world's most technologically advanced arms producers. Meanwhile, Armenia has sought to discourage its ally Belarus from selling weapons to Azerbaijan. The new Armenian prime minister, Nikol Pashinyan, discussed this issue with Belarusian President Alyaxandr Lukashenka during a recent meeting of the Eurasian Economic Council, in Sochi (News.am, May 15). Belarus and Armenia are both members of the Russia-led Collective Security Treaty Organization (CSTO) military alliance and the Eurasian Economic Union (EEU).
Battlefield supremacy: The MoDIAR's efforts to properly equip the Azerbaijani military are strongly shaped by local geographical conditions in the Karabakh zone, particularly considerations of a weapons system's feasibility in combat operations there (Apa.az, February 25, 2011). According to Minister Jamalov, during the serious uptick in violence in April 2016, Azerbaijani forces successfully used domestically produced weapons to destroy the enemy's manpower, fortifications and equipment (Novosti.az, December 17, 2017). Azerbaijan's Defense Minister Zakir Hasanov said that outfitting the frontline military/intelligence units with new types of weapons, equipment and vehicles provided operational maneuverability and superiority in obtaining accurate information on the enemy's activities (President.az, June 23, 2017). Azerbaijan heavily utilized sophisticated drones, jointly developed with Israel, for specific ground-combat missions to liquidate the enemy's personnel, a howitzer battery, air defenses, and a military airfield (Istiglal.com, May 19, 2017; see EDM, May 11, 2016; September 25, 2017). Therefore, Baku is prioritizing the development of not only reconnaissance/surveillance, but also assault drones (Apa.az, May 10, 2017).
Self-sufficiency: The indigenization of its DI has broadened Azerbaijan's import autonomy, self-reliance, purchase flexibility and resilience vis-à-vis outside bidders, and more thoroughly tailored import requirements. That said, the country's reliance on external suppliers for conventional military assets (tanks, helicopters, aircraft, air defense) still remains (see EDM, December 12, 2017).
Economic factors: Expanded domestic arms manufacturing promises positive economic implications for Azerbaijan's budget revenues and defense allocations as well as new job opportunities (President.az, June 23, 2017). Falling oil prices had negatively affected Azerbaijan's defense spending, though gradual price increases are finally reversing this trend. Military spending in the 2018 State Budget was set at 2.73 billion manat ($1.6 billion)—a 3.7 percent rise compared to 2017 (EurasiaNet, January 5).
Joint defense industry (JDI) cooperation: JDIs, unlike national defense-industrial ownership, allow for outsourcing the partners' experiences. Baku's active policy of pursuing joint ventures and licensed production to develop modern weapons with Israel, Turkey, South Africa and Russia has facilitated the wider import of technology from these countries (Armstrade.org, September 2016).
National intellectual capital: The Azerbaijan Technical University has created a special faculty in order to train highly qualified defense-sector personnel (Vesti.az, June 9, 2011). Additionally, the MoDIAR regularly recruits knowledgeable local experts with previous military experience (Apa.az, April 22, 2014).
International recognition: The sale of domestically built weaponry enables Baku to gain additional market share in the global arms trade. This recognition as an arms exporter—in addition to its role as an important energy supplier—boosts Baku's political credibility and strategic alignment with foreign partners. Indeed, a number of countries have already requested to study Azerbaijan's DI strategy (President.az, June 23, 2017).
Armenia factor: The key drivers behind Azerbaijan's efforts to boost domestic DI are, naturally, its security concerns related to Armenian forces and the latter's growing sophistication thanks to Russian-provided weapons and credits. Armenia's own DI recently unveiled new surveillance/attack drones and other high-tech devices, though it is still premature to comment at length on their actual operational capabilities (Razm.info, March 29).
The government in Baku has judged that changing regional security conditions necessitate more defense investment to underpin national security. And Azerbaijan's developing DI seeks to answer this challenge by pursuing strategic independence to ensure sovereign defense capability.