Putin Tours Latin America, but His Fate Is Decided in Ukraine
Publication: Eurasia Daily Monitor Volume: 11 Issue: 127
By: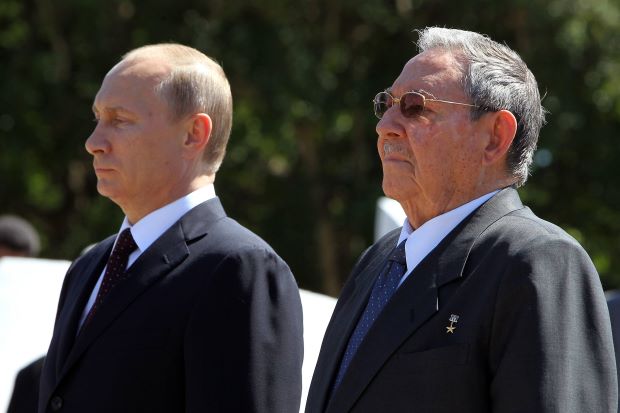 The upcoming BRICS (a loose political-economic grouping of the large emerging economies of Brazil, Russia, India, China and South Africa) summit, scheduled to take place in Fortaleza, Brazil, on July 15–17, provided an occasion for President Vladimir Putin to make a lengthy tour around Latin America, starting from Cuba last Friday and making a short unscheduled detour to Nicaragua on Saturday. Meetings with the Castro brothers as well as with Daniel Ortega did little to restore Putin's international prestige, but they allowed him to make a grand gesture of writing off Cuba's debt amounting to no less than $35 billion (Nezavisimaya Gazeta, July 8; Slon.ru, July 11). The next destination was Argentina, which can perhaps serve as a useful illustration of a protracted economic disaster aggravated by entrenched populism (Kommersant-Dengi, April 28). Putin is hardly receptive to such lessons and has to play down his trademark counter-revolutionary rhetoric, emphasizing instead the determination to stand firm against US hegemony and interventionism. This discourse certainly resonates in Latin America; but the BRICS summit is focused on economic dynamism. And Russia's anemic economic growth makes Moscow's claims for a major role on the international arena questionable (Gazeta.ru, July 10).
Whatever anti-US topics Putin might take up, it is the Ukrainian crisis that shapes the context of his discussions with Latin American leaders, even if to Cristina Kirchner and Dilma Rousseff (presidents of Argentina and Brazil, respectively) places like Slovyansk appear quite exotic (Polit.ru, July 12). The Ukrainian government forces' recent capture of this symbolically important stronghold was a heavy blow to the separatists, who are increasingly divided into hostile war bands but continue to fortify and loot the regional capitals of Donetsk and Luhansk (Lenta.ru, July 10). The Ukrainian army advances slowly and seeks to avoid artillery bombardments of densely populated areas, but it faces insurgents armed with heavy weapons that keep coming from Russia (RBC Daily, July 11). President Petro Poroshenko is under pressure from many European quarters to accept a new ceasefire, but he likely understands that every pause plays into the rebels' hands. And so he sticks to the plan for military operations while trying to engage local elites—rather than Russian "volunteers"—into negotiations (Kommersant, July 11).
Putin may find comfort in the fact that the latest list of politicians banned from travelling to the European Union targets only separatists from eastern Ukraine, but he knows that heavy-hitting sanctions against the Russian financial sector have been prepared—and the ban on Russian participation in the Farnborough air show (where Rosoboroneksport regularly showcases its products and works out trade deals each year) served as a poignant reminder of that fact (Newsru.com, July 12). Russians increasingly see the Western sanctions as aimed not at a limited circle of Kremlin insiders but at the whole country, though Russians still tend to believe that the impact of sanctions may revive the country's domestic industrial base (Levada.ru, July 8). Putin also likely wants to believe that, and he has issued a number of executive orders for promoting re-industrialization. Nevertheless, such prospects look bleak, and so he has opted to quietly cancel his annual budget address to the State Duma, while busy producing ultra-patriotic legislation (RBC Daily, July 8).
It is becoming increasingly contradictory for the Kremlin to keep boosting domestic jingoist mobilization while back-pedaling from the brink of war with Ukraine. But there is no way of knowing how the disappointment in the cause of protecting the "Russian Donbas" might backfire against the champions of this cause who withdrew when it became too risky (Slon.ru, July 11). What is clear, however, is that the costs of the "re-conquest" of Crimea keep rising while second thoughts about the value of this "prize" are starting to creep in (Vedomosti, July 11). Moreover, the high volume of capital flight from Russia, estimated at $75 billion in the first half of 2014, and compared to the $63 billion "exported" over the whole of 2013, makes even extra-slow economic growth an optimistic assumption (Novye Izvestiya, July 11). The government contemplates increasing the sales tax and value-added tax, but this is certain to stifle business activity even further (Forbes.ru, July 10). And the proposal to increase health care payments for those employed in the expanding "shadow economy" will also undoubtedly add to social tensions (Slon.ru, July 11).
Putin cannot order these tedious problems to disappear and can only take a break from them by traveling abroad, finding comfort in the evidence found across Latin America that economic hardships do not necessarily endanger the existence of populist and authoritarian regimes. What is less comforting is the discovery that global public attitude toward Russia has turned sharply negative during the past year. Even in Brazil, 59 percent of respondents to the Pew Research poll now express an unfavorable opinion of Russia, against 52 percent who held that view a year ago (Kommersant, July 10). This shift is even more pronounced in Europe (in Germany, the unfavorable score has reached 79 percent), and Putin is desperately trying to find "soft power" instruments—from the export of corruption to spy scandals—that could improve Russia's compromised international image (Kommersant, July 10). Foreign Minister Sergei Lavrov claims ad nauseam that Moscow is committed to a "peaceful solution" in eastern Ukraine. But no amount of hypocrisy aimed at European pacifism is likely to alter the fact that the war—which politicians of various persuasions prefer not to call by its name—is fueled by Russian interference.
The issue in this war is not when the blue-and-yellow flag will be raised over Donetsk and Luhansk but where the hysteric anti-Ukrainian and anti-Western propaganda will lead Russia and how this country can possibly raise itself from the quagmire of authoritarian degradation. The weakness of Russia's petro-economy, domestic outrage over scandalous social inequality, and the cowardice of its corrupt elites are all too obvious and preclude the sustainability of the "patriotic" momentum. The depth of the rift between Russia and Ukraine, created by localized but highly charged hostilities, is such that a return to normalcy of manageable trade wars and routine quarrels about "values" is not just far-fetched, but now a truly impossible proposition. Russia cannot hope to regain its status as a troublesome but legitimate inhabitant of the all-European house, as was conceptualized by the late Eduard Shevardnadze. He had broken with Mikhail Gorbachev over the threat of a self-destructive dictatorship, which has indeed arrived 25 years later—and may still inflict great damage before its inevitable collapse.