Putin Tries to Exploit Anti-Trumpism to Advance His Economic Agenda
Publication: Eurasia Daily Monitor Volume: 15 Issue: 82
By: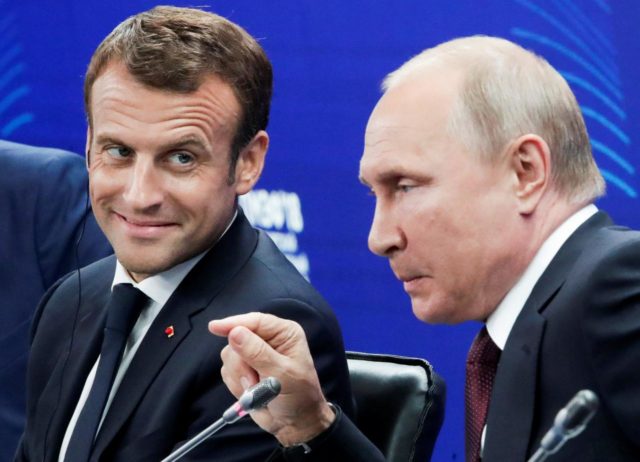 The annual St. Petersburg International Economic Forum (May 24–26) managed to attract more high-level foreign guests than could be expected considering Russia's stagnant economy and relative lack of interest from international investors. Arguably, the organizers should have expressed gratitude for this success to United States President Donald Trump. One issue that attending French President Emmanuel Macron, Japanese Prime Minister Shinzo Abe and Chinese Vice President Wang Qishan all found uncontroversial was angst about Trump's awkward and maverick leadership in global affairs (Republic.ru, May 26). Russian President Vladimir Putin, who traditionally guides the debates at this Forum, sought to draw the maximum possible traction from this consensus (Kommersant, May 26). His main argument was that the Western sanctions against Russia were a feature of the breakdown of global rules for economic relations as well as a manifestation of unfair protectionism, which distorts the normal flow of goods in world markets (RBC, May 25).
This sophistry, which tapped into the deepening pool of concerns about US threats to enforce prohibitive tariffs and unleash trade wars, attempted to exonerate Russia from any blame for violating basic norms of international behavior. Putin, for that matter, has again denied responsibility for the destruction of the MH17 flight over Donbas on July 17, 2014, despite the solid conclusion produced by the Joint Investigation Team, which is accepted as a basis for legal and political action by the governments of Australia and the Netherlands (New Times, May 25). Russia officially treats this conclusion as a product of insignificant non-governmental activism led by the online analytical outfit Bellingcat; nevertheless, Moscow has to take into account the firm support for this investigation from the North Atlantic Treaty Organization (NATO) (Novaya Gazeta, May 26). Another set of Putin's denials concerned the attempt by Russian special services to use chemical weapons on British soil to punish Colonel Sergei Skripal and his daughter Yulia (Rossiiskaya Gazeta, May 25). This resolute stance might appear effective, but it actually reinforces the deepening international mistrust in every official statement issued by the Kremlin. Consequently, the issue of restoring trust, which Macron placed a strong emphasis on in his remarks, becomes bereft of any meaningful content (RIA Novosti, May 25).
The issue that Putin found easy to exploit was the US withdrawal from the Joint Comprehensive Plan of Action (JCPOA) on the Iranian nuclear program, which was as disappointing for the Europeans as it was disagreeable for the Chinese and Japanese (Russiancouncil.ru, May 25). Russia showed a readiness to join forces with the European Union in defying the US reintroduction of sanctions against Iran, arguing that the JCPOA can be executed without the participation of its main guarantor (Gazeta.ru, May 25). The problem with this argument is that the Europeans see Iran's intervention in the Syrian war as a major security issue, while Russia depends upon the "brotherhood-in-arms" with Iran for sustaining its own intervention (Nezavisimaya Gazeta, May 23). Putin's premature declaration of "victory" in Syria last year (see EDM, November 27, 2017) invited deep troubles for the Russian operation. And recent news of casualties among Russian military advisors overlapped with new information about the clash between a motley force of pro–Bashar al-Assad troops and US special forces last February, with heavy casualties among Russian mercenaries (Ezhednevny Zhurnal, May 28).
It is even more difficult for Moscow to play on the anxieties around the possible summit between the US and North Korea, tentatively still scheduled for June 12 in Singapore (Russiancouncil.ru, May 25). The St. Petersburg Forum coincided with Trump's announcement of the cancelation of the summit (Carnegie.ru, May 25). It was South Korean President Moon Jae-in who single-handedly rescued the meeting of the two mavericks and may even join them as a key go-between (Newsru.com, May 28). Putin found little common ground in discussing this problem with Abe. But what is likely truly worrisome for the Kremlin leader is that he has little if any clue about where China really stands on the prospect of a denuclearized Korean peninsula (Nezavisimaya Gazeta, May 28).
Whatever the twists and turns in current political affairs, Russia's economic weakness—particularly bleak in comparison to the strong growth in China and India—cannot be hidden by the usual pomp in St. Petersburg (Forbes.ru, May 24). Nobody expected much from the new Russian government led by the old Prime Minister Dmitry Medvedev. Yet, the complete absence of any reform ideas and obvious disagreements about key guidelines for achieving even modest growth were disappointing (RBC, May 24). Though declaring ambitious goals, Putin actually appears only concerned about maintaining a balance between multiple vying clans in his court (New Times, May 28). This balance is achieved primarily by distributing financial flows from the state budget; the government is made responsible for collecting revenues and simultaneously takes the blame for painful cuts in social programs (Snob.ru, May 21). Any attempt to curtail the predatory appetites of Putin's cronies means asking for trouble. Illustratively, German Gref, the head of Sberbank, was forced to fire his analysts who spotlighted the corrupt schemes enriching the president's close associate, billionaire Gennady Timchenko (Moscow Echo, May 25). This minor fact is more convincing for most investors than any high-level reassurances, so the exodus continues (Nezavisimaya Gazeta, May 24). The only way Moscow is still able to make business deals is by granting huge payoffs. Thus, Turkish President Recep Tayyip Erdoğan proudly announced the direct payment from Russia of $1 billion as a bonus for agreeing to the construction of the second trunk of the Turk Stream natural gas pipeline—at Gazprom's expense (Bfm.ru, May 27).
Putin may fancy himself a master of playing on disagreements between his adversaries, but his gross mismanagement of Russia's economy gives strong warning to every counterpart. He is no longer able to turn corruption into a political asset by manipulating the flows of "dirty money"; and Washington, despite all the questions about the dubious Russian connections, is actually leading in the international fight against Russian corruption. In many global quarters, Putin can see frustration with Trump's incoherent and egoistic policies, but his attempts to tap into these feelings yield few fruits because it is too clear for every potential "agent of influence" that enlisting Russia into a coalition-of-the-upset means compromising the cause. Talking with Moscow often seems useful at first glance; but in the process, Paris, Tokyo and even Beijing are reminded that Russia remains stagnant, malevolent and toxic (see EDM, May 12).