World Cup 2018 and Russia's Air-Defense Bubbles
Publication: Eurasia Daily Monitor Volume: 15 Issue: 82
By: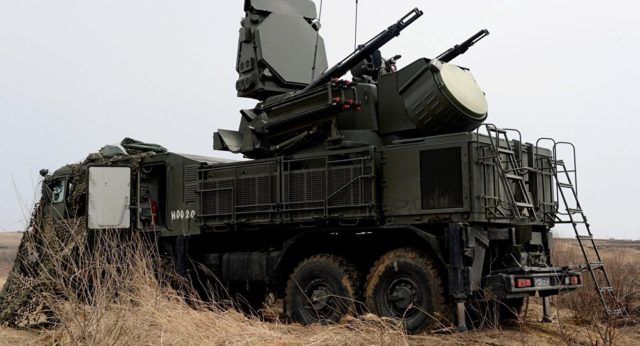 Russia's air-defense capabilities received heightened international scrutiny due to the conflicts in Ukraine and Syria as well as Moscow's efforts to form anti-access/area denial (A2/AD) bubbles in several strategically important areas. This was especially highlighted in Syria, as Moscow tried to offer greater force and infrastructure protection for its bases and military deployments in the country. Notably, numerous Russian air-defense systems were deployed to safeguard Russia's airbase near Latakia and its naval logistics facility in Tartus as well as to offer protection during operations to assist the Syrian Arab Army. Defense experts have repeatedly questioned the capabilities offered by these systems due to their lack of engagement during multiple air strikes on Syrian regime targets conducted by the United States and its allies. Many official and expert comments in Moscow pointedly presented the message that these air-defense systems are reliable and robust and that they can protect against high-technology strikes (Voyenno Promyshlennyy Kuryer, May 15). A true evaluation of these assets' capabilities will be important because air defenses will form part of Russia's overall massive security arrangements for the 2018 World Cup, which it will host this summer (see EDM, April 24), including closing its airspace in key locations and deploying air-defense units (360.tv.ru, May 29).
Like the large and effective security operation for the 2014 Sochi Winter Olympics, involving Russia's military and internal security forces, the 2018 World Cup will demand close coordination between multiple agencies. The scale of the security operation is exponentially greater as the event runs from June 14 to July 15, in twelve venues spread across Russia in eleven cities, including Moscow, St. Petersburg, Sochi and Yekaterinburg (360.tv.ru, May 29).
Though most of the details are classified, an interesting insight into some aspects of the air-defense dimension of the World Cup security operation emerged in recent military exercises. For example, on the evening of May 16, locals in St. Petersburg noted the presence of two Pantsir-S1 self-propelled anti-aircraft missile gun complexes close to the yacht club area of the city. Speculation in online social networks suggested this was carried out in connection with protecting against air attacks during the World Cup. On May 17, the press service of the Western Military District (MD) confirmed air-defense training in the area and did not deny the linkage with the preparations for the security operation during the soccer championship. Indeed, such reporting emphasizes the peculiar capabilities of the Pantsir-S1 not only against conventional strikes but a range of potential non-state-actor capacities. The complex has a reported target kill radius of up to 20 kilometers using missiles and 4 kilometers using gunfire; its target kill altitude is from 5 meters to 15 kilometers using missiles and up to 3 kilometers with gunfire, striking against targets ranging from satellites to unmanned aerial vehicles (UAV) and quadcopters (Komsomolskaya Pravda, Topspb.tv, May 18; Vechernyaya Moskva, May 8).
An additional prophylactic measure in place in St. Petersburg—and likely replicated in the other host cities—is a ban on flights without coordination in a 110-kilometer zone originating from the spire of the Admiralty; this extends to private flights and helicopters as well as quadcopters. Apparently, the threat of air attack against any of the World Cup venues by non-state actors is being taken seriously (Komsomolskaya Pravda, May 18). Clearly, given Russian approaches to air defense and A2/AD, the Pantsir-S1 will be one of many systems deployed in protection of the sports venues. For example, during recent air-defense exercises in the Eastern MD, the Pantsir-S1 was used in close proximity and in coordination with the advanced S-400 air-defense system (Topwar.ru, May 18).
The array of air-defense systems in use to create effective "bubbles" to defend against air attack on any of the World Cup venues are much more likely to focus on short- and medium-range assets. Curiously, this was borne out in recent articles by Russian specialists considering another high-profile target in the country demanding defense against possible attacks from the sky: the newly opened 19-kilometer Kerch Strait Bridge, which connects occupied Crimea to mainland Russia. Unsurprisingly, most of this analysis proposes variations of a layered zonal defense against possible aerial threats to the bridge, especially focusing on UAV or swarm attacks (Voyenno Promyshlennyy Kuryer, March 27; Arsenal Otechestva, No. 5, 2017, pp 58–62).
In an article in Vozdushno Kosmicheskaya Sfera, retired air-defense Lieutenant General Aleksandr Luzan suggests that optimal systems to protect the Kerch Bridge are short- and medium-range air-defense assets. Luzan notes the importance of offering layered and zonal air-defense protection for the bridge extending to ground-based electromagnetic pulse generators. But in terms of specific air-defense assets, he advocates mixing the Buk-M2 and Tor-M2 systems to offer medium- and short-range capabilities against a range of targets, including UAVs. Luzan concludes: "The proposed system of active protection of the Crimean bridge is oriented toward the use of series-produced armament, and its creation does not require great outlays. Most likely, the expenditures will be considerably less than the possible averted damage" (Vozdushno Kosmicheskaya Sfera, April 2).
Luzan also notes progress in Russia's defense industry to develop effective anti-swarm attack countermeasures. The coordinated use of electronic warfare (EW) and air-defense assets thwarted a swarm attack against Russian military bases in Syria in January (see EDM, January 11, 16). But Luzan refers to progress in disabling the electronics of enemy UAVs using a nanosecond electromagnetic pulse. In this context, specialists from the United Instrument Making Corporation (OPK), announced that Russia has already created an anti-swarm weapon, and Luzan believes this concerns ground electromagnetic pulse generators (GEMI), which can functionally kill a drone's onboard electronics (Vozdushno Kosmicheskaya Sfera, April 2).
From these specialist discussions regarding the protection of the Kerch Bridge, it is possible to glean additional features of the probable Russian air-defense measures that will be in place to provide adequate protection for the World Cup venues from air attacks by non-state actors. But in some of the expert analyses, there are glimpses of the extent to which Russia's air-defense capabilities and R&D focus on high-technology adversaries. The air-defense element of the security operation for the 2018 World Cup is a small but vital component in avoiding the event being marred by terrorist actions. Meanwhile, Moscow's experiments with air-defense systems, EW and building A2/AD capability will continue to afford a range of options against more advanced adversaries.