Putin's Banking Ally Sergei Pugachev Accused of Fraud
Publication: Eurasia Daily Monitor Volume: 6 Issue: 70
By: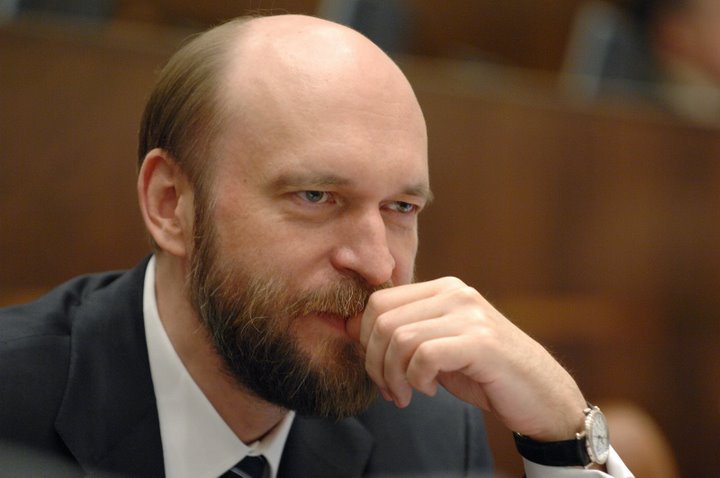 On February 11, 2009, Argumenti i Fakti, a tame but still high-profile Moscow based weekly, held a press conference on the Federation Council's (the upper house in the Russian Parliament) coming reform. This ordinary event would have gone unnoticed, if it were not for a major political scandal, exposed by two mid-level Russian analysts. They produced documentary evidence that the banker Sergei Pugachev, a Federation Council member (Senator in Russian parlance) from the East Siberian Republic of Tuva had forged his biography to conceal two criminal convictions, and faked his three university diplomas.
In fact, fraud is an essential element of Russian life to such an extent, that the incumbent political system may easily be classified as "Fraudism." In Moscow, anyone can easily buy a university diploma (from both real and fictitious universities), labor book, or an ID card at the nearest metro station. A doctoral degree or a prestigious university diploma would have to be obtained through scholarly channels and costs more. Officials, exposed as frauds, are commonplace within Russia. A typical case was that of Alexander Donskoi, Mayor of the major Russian northern city of Archangelsk, imprisoned for 18 months in December 2006 for having his diplomas faked (www.newsru.com, December 15, 2006). In 2004, Ukraine's Prime Minister and Presidential contender Victor Yanukovych was forced to admit that he, too, had a criminal record. Yanukovych did not go that far to admit that his university and doctoral diplomas were faked or bought, but denoting his scholarly title as "professor" in the official biography made him an object of ridicule within the country and cost him a lot of votes.
However, the Pugachev case stands out from this general pattern of corruption. As one of those who came to the Russian capital from St. Petersburg, Pugachev has been firmly known among the political elite as a member of Putin's inner circle. In the spirit of that circle, Pugachev portrayed himself as a firm Orthodox believer, and had strong financial and business ties to the hierarchy of the Russian Orthodox Church.
To secure his political position, Pugachev acquired the post of Senator representing Tuva. "It's interesting that several years ago Pugachev indeed was unassailable," according to the journalist Leonid Radzikhovsky (Tribuna, March 25). Apparently, this is no longer the case. It is quite extraordinary to have the Argumenti i Fakti press center made available to publicly voice such revelations about such a powerful figure as Pugachev. It is even more extraordinary that these revelations should also be so thoroughly substantiated with documents supplied by the Interior Ministry (MVD) and other Federal Services, and immediately made public.
On February 18, Duma deputy from the Communist Party Konstantin Shirshov, sent a formal deputy query to Sergei Mironov, Federation Council Chair (and another Putin confidant from St. Petersburg), demanding a full inquiry into Senator Pugachev's misconduct (www.compromar.ru, February 18). On March 2, two fellow Communist Duma Deputies joined Shirshov in an open letter to President Dmitry Medvedev, calling his attention to this "paradoxical situation," and effective attempts on Pugachev's part to silence the media and prevent any public discussion of the issue. The Deputies asked President Medvedev to ensure a full and public account of the case (Vedomosti, March 3).
Pugachev had threatened to take legal action in 2003 against Gleb Pavlovsky, an ideologist in Putin's inner circle, when the latter publicly accused Pugachev of driving a wedge between the two main groups of Putin loyalists (the Siloviki and the Financiers), yet he has chosen not to respond in this latest episode. The reason, however, might lie in the rumors circulating in Moscow's corridors of power that this represents a "feeler" by the Medvedev camp, which is still small, against Putin all-powerful loyalists, but increasingly annoyed and compromised by the badly mismanaged systemic crisis.
"More people are increasingly unhappy with Putin's line of turning this country into a type of a motor rifle regiment," one senior Russian official and prominent political figure told EDM. "Having Putin's confidant Pugachev exposed as a fraud serves the purpose of opposing this line." Though his version sounds dramatic -and even plausible to those unaware of this individual's business connections -an alternative explanation might be found in the business interests of a disparate group of individuals.
On March 27, the Federal Protection Service (FSO, the successor of the KGB's Ninth Directorate, responsible for protection of top dignitaries) confirmed that they denied a Pugachev-controlled company the long planned historical building renovation project near Red Square worth $360 million. Apparently, the FSO Head General Yevgeni Murov, who also comes from St. Petersburg, is closer to Putin than Pugachev -and he is more positively disposed to other business partners (www.rospres.com, March 27). In this context, the Pugachev plight might serve as a striking example of using the endemic culture of fraud within contemporary Russia as a business rather than a political weapon, where bankers, officials, and supposedly "opposition" communist deputies have all found common cause.