Putin's Belarus Conundrum
Publication: Eurasia Daily Monitor Volume: 17 Issue: 120
By: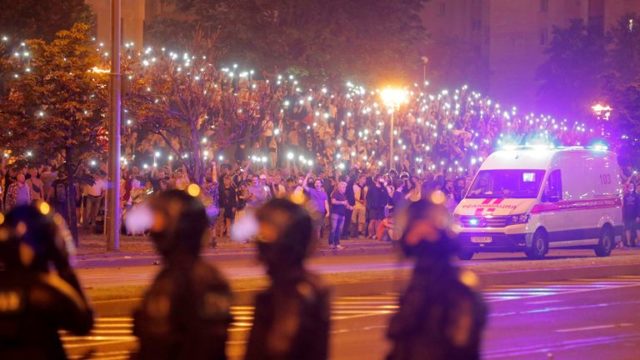 In the midst of the political crisis that has engulfed Belarus since its August 9 presidential elections, the Russian state propaganda machine finds itself in an unusual position. The official Russian media outlets have been trying to play the role of the mainstream press, presenting more-or-less balanced reports that quote both Belarusian government sources and their opponents. It was officially announced in Minsk that the incumbent, Alyaksandr Lukashenka, was reelected with over 80 percent of the vote. This result has not been recognized by the opposition, leading to ongoing street protests in Minsk and other Belarusian cities. The protests are being decisively suppressed by riot police. Various news reports indicate that thousands of protesters have been arrested and/or beaten by Lukashenka's special police, which has employed water cannons, tear gas, rubber bullets and, apparently, sometimes live ammunition and shotguns. Journalists reporting on the violence, including Russian ones, have been targeted by Belarusian law enforcement (Interfax, Kommersant, August 13).
Valery Tsepkalo—a Belarusian politician, diplomat, corporate executive and entrepreneur, who attempted to run against Lukashenka but was refused registration and fled to Moscow—claims that the Belarusian opposition has ample evidence the election was rigged and that Lukashenka, in fact, lost. Footage of the demonstrations in the streets of Minsk and other Belarusian cities never shows any Lukashenka supporters—only riot police. Tsepkalo told Kommersant, "We were surprised [Russian President Vladimir] Putin promptly congratulated Lukashenka on his victory. We had hoped Moscow would be more neutral." Apparently Tsepkalo and other Belarusian opposition figures were receiving information from Russian sources that Moscow wants to see the fall of the Lukashenka regime. In recent weeks, Tsepkalo has relocated to Kyiv and has been visiting other regional capitals to organize international support for the Belarusian opposition (Kommersant, August 12). A correspondent with the independent Russian internet news site Znak, Nikita Telizhenko, was arrested in Minsk on August 10, beaten up in a police precinct and, eventually, expelled to Moscow after an intervention from the Russian embassy. Telizhenko writes that, while in custody, he witnessed severe beatings and torture of citizens and arrested protesters by the Belarusian special police. One Belarusian officer allegedly told Telizhenko, "If riots begin, we were given orders to shoot to kill. We will not allow Belarus to become part of Russia." Apparently, these police officers have been instructed that the Belarusian opposition is trying to organize a "second Ukraine" or Maidan revolution, at Moscow's bidding (Znak, August 12)
Russian state TV anchors are visibly uncomfortable reporting on Lukashenka's crackdown, but they are diligently hewing to what appears to be the official Kremlin stance on the Belarusian post-election crisis: remaining neutral, as neither side seems to be Russia's friend or proxy. Some commentators see this situation as a genuine Russian defeat, since Moscow is perceived as an enemy by both sides in the Belarusian standoff. They predict that the protests will fizzle out and Lukashenka will weather the storm; but then, other Russian allied (proxy) states, like Kazakhstan or Serbia, will suddenly view Moscow as inept and powerless (Moskovsky Komsomolets, August 12). Other independent pro-Kremlin narratives emphasize that Moscow has maneuvered itself into a strategically advantageous position: Lukashenka's perceived brutality will force Brussels and Washington to back off from trying to build bridges to Minsk and, perhaps, to reluctantly reimpose sanctions. At that point, Lukashenka will have no other options left but to mend fences with Putin (Vzglyad, August 13).
Lukashenka has ruled Belarus for 26 years, and on August 9, he officially won his sixth consecutive presidential term. On paper, Russia is Lukashenka's friend and ally. In 1999, the two countries signed and duly ratified a treaty to form the Union State of Russia and Belarus—a federation with a common head of state, legislature, flag, coat of arms, anthem, constitution, army, citizenship and currency. None of these goals were ever achieved, to Moscow's annoyance. Lukashenka ran his 2020 reelection campaign as a strong national leader, rejecting the notion that Belarus would ever surrender its independence and declaring his opposition to Russian dominance. In recent months, he repeatedly accused Moscow of attempting to destabilize Belarus and undermine his reelection. On July 29, the Belarusian KGB and OMON special police forces arrested 33 unarmed Russian military contractors, accusing them of being members of the notorious private military company (Chastnaya Voennaya Companiya— ChVK) Wagner Group. The men were allegedly sent to Belarus to incite violence and facilitate a revolution (see EDM, July 30). Lukashenka had been alluding to "forces in Russia" planning to overthrow him using "hybrid" warfare methods; but after August 9, as real violence engulfed the streets of Belarusian cities, Lukashenka's accusations have been redirected to the West, namely Poland, Czechia (Czech Republic) and the United Kingdom (Kommersant, August 13). Lukashenka may, indeed, be preparing to ingratiate himself back into Putin's good graces: efforts to resolve the rift caused by the arrest of the Russian mercenaries are underway, and the men may be extradited to Russian "sometime soon" (Interfax, August 12)
The Kremlin balks at any street opposition movements taking power, seeing them always as a vanguard of a Western regime-changing "hybrid" intervention. At the same time, Lukashenka is not trusted in Moscow and is seen as a leader who will never realize Putin's dream of a Union State. This puts Russia in a conundrum: both supporting Lukashenka or opposing him could be a mistake. The Kremlin is possibly hoping to walk a fine line, allowing Lukashenka to be weakened by Western sanctions and internal disruptions so that, perhaps in a year's time, he may be persuaded to quit and leave Minsk with a "severance package" and personal immunity guarantees, thus leaving Belarus to Putin (Moskovsky Komsomolets, August 11). Of course, all mainstream assumptions in the Russian capital are that, soon, Lukashenka's security services will prevail and the opposition will collapse. This assumption may prove false if a more massive resistance emerges, spurned by Belarusian rage at acute police violence. Such rage could transform into politically motivated action, thus sending the regime into uncontrolled disintegration. At that point, the Kremlin will face a new conundrum: whether to sit by and see Putin's Union State dream finally evaporate or decisively move in to take over.