Putin's Cutbacks in Health Care Send Russian Mortality Rates Back Up
Publication: Eurasia Daily Monitor Volume: 11 Issue: 177
By: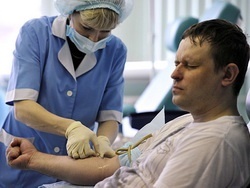 Russia has now fallen to 51st place among the countries of the world in terms of the effectiveness of its medical system, behind Azerbaijan and Belarus. This decline reflects Vladimir Putin's budgetary priorities, and it has boosted Russia's mortality rate this year to 13.3 deaths per thousand, up from 13 last year. That may seem like a small number, but it works out to more than 50,000 premature deaths, annually, and makes it ever more unlikely that Russia will be able to escape from its demographic decline anytime soon.
Russia's relatively high level of mortality has several causes, but the main one behind the recent rise has to do with declining access to free medical care and needed medicines, Russian experts say. Today, 40 percent of the basic medical facilities in the Russian Federation have fewer doctors than they are supposed to have, and many are meeting demand for their services only by working multiple shifts. The total number of doctors has declined by 8 percent over the last two years, and the future is bleak: two-thirds of all doctors are above pension age and may soon take retirement, further undermining access to medical care (dal.by, September 30).
In Moscow, which is relatively better supplied with doctors than the rest of the country, there are so few therapists and pediatricians that the average waiting time for a visit by a patient is four to five days for the former and three days for the latter. That is "four times longer" than people in Europe have to wait, where appointments are typically made the same day or the next.
Moreover, Russian doctors say, the number of hospital beds in the country is declining at a precipitous rate. Over the last two years, their total has fallen by 6 percent for the country as a whole and 20 percent in the city of Moscow. Officials say that there was an excess of hospital beds in Soviet times and that now hospitals are working "more effectively." But that, Russian doctors say, is "the wrong comparison." The issue is how much demand there is for medical services and how well the medical system serves it. Because of longstanding Russian health problems arising out of alcoholism and environmental factors, the demand for hospital beds in Russia is an order of magnitude greater than that in Europe. And that is compounded by the fact that Russian hospitals do not treat people relatively briefly and then transfer them to rehabilitation centers, as is the case in Europe, but rather continue to treat them at the same hospital facility. That is because there are too few specialists and spaces in such rehab clinics.
But there is also the problem of the quality of care. In Russia, it is simply lower than in Europe, and in some ways it has fallen further behind than it was at the end of Soviet times. At present, medical professionals in Russia violate established norms in a third of all cases and incorrectly treat every sixth person who turns to them for help. Those figures compare to every 20th patient in Europe. Evidence of this continues to pile up. Deaths from heart attacks in Russian hospitals occur at a rate three times greater than in Europe. Septic shock and other complications from infection occur at a rate three to four times the European standard.
Russian doctors are in part to blame: they are not keeping up with medical advances. In the West, the average doctor spends not less than 50 hours a year in training, but in Russia, few even approach that number. The system simply is not set up to accommodate this critical medical need.
Moreover, medical computer simulators of the type that exist in Western countries are unavailable in Russia. At the Harvard Medical School, for example, these simulators point out errors that surgeons and anesthesiologists may be making and thus induce them to correct their procedures. Doctors welcome this even if they are made uncomfortable by the process, and Russian doctors would as well. But that takes money, and there is ever less of it in the Russian medical system.
But even if Moscow were to flood the situation with money, something that is unlikely to happen anytime soon, there would still be problems, Russian medical officials say. To a large extent, Russian doctors have been relying on the training they received in Soviet times, and those who graduated from Soviet institutions are now approaching retirement. Currently taking their places are those who received the often hit-and-miss training in the 1990s and 2000s—many Russian doctors at the time received training in institutions not linked to clinics. These trends, thus, combine to reduce the quality of care on offer.
More government cuts are ahead, officials say, and that will mean not only an increasing deficit of doctors and hospital beds but also the collapse of trust between patients and doctors. As medical professionals in Russia note, such a situation points "not simply to stagnation but to the beginning of collapse" (dal.by, September 30).