Putin's Valdai Platitudes Obscure Worsening Domestic Situation
Publication: Eurasia Daily Monitor Volume: 18 Issue: 161
By: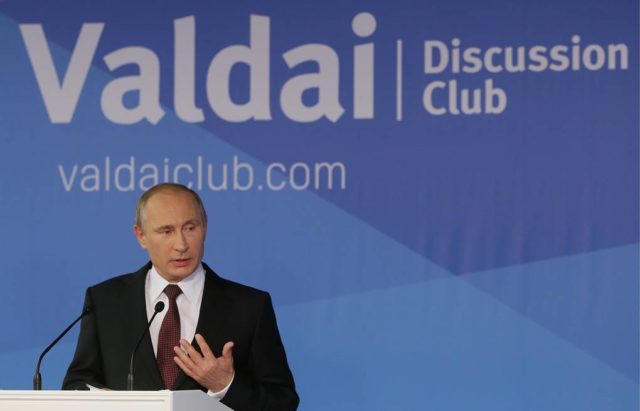 The annual meeting of the Valdai Club last week (October 18–21) was less pompous than usual, and many foreign guests attended virtually; but Russian President Vladimir Putin opted to make a personal appearance, so the mediators of the much-anticipated session were compelled to first undergo a two-week-long quarantine. Putin's long speech consisted mostly of trivia, and his answers to traditionally deferential questions were verbose and elliptic (Kommersant, October 22). The proposition that the "current model of capitalism […] has run its course" is not only banal but also clashes with Russian fostering of the worst features of this model, like rampant corruption. And the Kremlin leader's unequivocal rejection of revolutions and of "so-called social progress" is also well documented; so restating such sentiments before the Valdai audience was nothing new (Ezhednevny Zhurnal, October 22). Meanwhile, Putin's commitment to "healthy" or "reasonable" conservatism is essentially self-serving and signifies a readiness to preserve the antiquated structures of his autocratic regime against the building pressure of a fast-changing world.
The intention of Putin's conservatism, to ensure the "preservation and growth of the population," departs strikingly from the devastating and still deepening humanitarian disaster in Russia caused by government's ineffective response to the COVID-19 pandemic (Kremlin.ru, October 21). The spread of infections and the latest spike in mortality (which are only partly reflected in the official statistics, grim as they are) have necessitated the enforcement of a new strict lockdown—from which the Valdai Club was obviously exempted (Rosbalt, October 21). Putin keeps trying to persuade doubters to take double and triple doses of the officially safe and efficient Russian vaccines, but the long-underfunded healthcare system cannot cope with the complex consequences of the pandemic (Novaya Gazeta, October 19). Severe as this problem is, only about a third of Russians express strong concern about it, while 62 percent are worried primarily about rising consumer prices (Levada.ru, October 21). Putin presented to the loyal Valdai audience the reduction of poverty as his main achievement; however, the real scale of impoverishment is hidden by the carefully doctored data, while the painful impact of inflation has already pushed the Central Bank to raise the key interest rate by 0.75 points to 7.5 percent (RBC, October 22).
The protracted and inescapable economic stagnation degrades Russia's international status, whatever diplomatic maneuvers and power projections are executed by the Kremlin. Putin tries to boost sinking Russian prestige by cultivating bilateral ties with the United States, so he took the opportunity at Valdai to praise the outcome of his June 2021 Geneva summit with President Joseph Biden. The Russian leader expressed only minor regret about "certain regresses" but, overall, approved of Biden's decision to withdraw US troops from Afghanistan (Izvestia, October 22). This respectful attitude marks a sharp contrast with the vicious criticism of the North Atlantic Treaty Organization (NATO)—an alliance "created for confrontation," according to the Kremlin, so dialogue purportedly would make no sense (Rossiiskaya Gazeta, October 22). The scandal regarding Russia closing down its diplomatic mission to NATO HQ is merely a means of demonstrating Moscow's building irritation with the strengthening Transatlantic resolve to contain Russian attempts to use military and "hybrid" force as the main instrument of policy (Forbes.ru, October 18; see EDM, October 21). Ukraine is the main target of these Russian threats and attacks; and every step in expanding ties between Ukraine and NATO brings accusations of a war-triggering "red line" having been crossed (Grani.ru, October 21).
Putin refrained from pressing the issue of a third world war (as he had done on several prior occasions), but he elaborated at great length on the matter of the energy crisis in Europe, in which Russia is only a partial cause but potentially a significant winner (Neftegaz.ru, October 22; see EDM, August 11, October 7, 14; see Jamestown.org, October 22). He promised to increase the deliveries of natural gas to Europe as soon as the Nord Stream Two pipeline is certified; yet his larger goal is to torpedo the whole "green agenda" that has shaped EU energy policy in recent years (Nezavisimaya Gazeta, October 17). To demonstrate the undiminished ability to "weaponize" gas supplies, the Kremlin has chosen vulnerable Moldova, which cannot pay the heavy prices demanded by Gazprom and has had to declare an energy emergency (RBC, October 23). Russia may, indeed, inflict serious damage on the European energy market this coming winter. However, Putin's disparagement of the decision-making process in Brussels is set to backfire because, for the EU, this experience will once again prove the perils of a moderate but exploitable gas dependency upon Russia—and the bloc's energy policy will likely be further adjusted accordingly (Carnegie.ru, October 15).
The only moment in the lengthy Valdai session when Putin showed slight discomfort was when the moderator opened the floor to Dmitry Muratov, introducing him as a newly minted Nobel Peace Prize laureate (Moscow Echo, October 21; see EDM, October 12). Muratov, the founding editor of Novaya Gazeta, had to choose his words carefully but found a way to convey how Russian legislation on "foreign agents" is being abused to suppress free media (Novaya Gazeta, October 23). Putin sternly rejected all such criticism but mentioned that the actual implementation of the legislation might be revised, and some commentators were eager to read these words as a sign of a "softening" of repressions (Kommersant, October 22). Yet the recent surge in demonstrative punishments of dissent—including the harsh interrogation of Sergei Zuyev, the rector of the Moscow School of Social and Economic Sciences, who is now recovering after urgent heart surgery—certainly contradicts all such "assurances" from Putin (Rosbalt, October 22). He may enjoy playing the role of an "enlightened" ruler for a foreign audience, but Russia's repressive machine—the main pillar of his power—has its own logic and drive (Svoboda.org, October 21).
Russia's reversion to harsh autocracy goes hand in hand with its economic degradation, and Putin's attempts to wax philosophical about the crisis of capitalism cannot hide the plain fact that his leadership is steering the country into a dead end. He seemingly cannot grasp the complexity of the trends shaping global development and adding new qualities to geopolitical competition (for that matter, his lengthy, circuitous remarks featured only a few words on China). The intensity of the confrontation with the West is slated to increase further, while the intensity of domestic repressions will likely reach levels set by some of Russia's even more authoritarian neighbors. Ongoing US-Russian dialogue aimed at ensuring Moscow's "stable and predictable" behavior will surely suffer accordingly (see EDM, October 4, 14, 20).