Putin's Visit Reinforces Military, Political Ties with Armenia
Publication: Eurasia Daily Monitor Volume: 10 Issue: 221
By: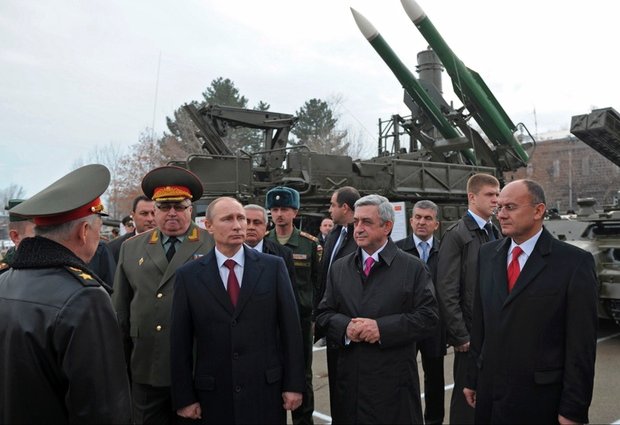 Back-to-back with the European Union's Eastern Partnership summit in Vilnius (see EDM, December 3–5), Russian President Vladimir Putin paid a state visit to Armenia on December 2. Putin's timing was designed to underscore Russia's capacity to induce Armenia to choose Russia and Eurasia over Europe. It was a victory lap that Putin ran in Yerevan.
Armenia had previously negotiated an association agreement and free-trade agreement with the European Union. In September, however, Armenia suddenly announced that it would join Russia's Customs Union and Eurasian Union projects, instead of and in preference to the EU association at hand. President Serzh Sargsyan's decision met with the approval or consent of Armenia's main political forces across the spectrum, with almost no exchange of pro-and-con arguments in Armenia's political arena. The multi-party system failed to fulfill its policy-debating functions. The broad consensus view stressed the need to retain Russia's support to Armenia in the Karabakh conflict (see EDM, September 5, 6, 11, 18).
With no advance notice to the European Union, Armenia's decision repudiated an all-but-completed negotiation with the EU (the documents were practically ready for initialing at the Vilnius summit), in favor of full integration with Russia and an entirely new negotiating process. This process is now ongoing (see accompanying article).
Putin's visit focused on both military and economic aspects of cooperation with Armenia. Economics had been almost absent from the initial public discussions on Armenia's volte-face. Although Armenia had decided ostensibly to join a Russian economic project, namely the Customs Union, Armenia's military-security calculations prevailed, playing in Russia's favor. Putin's visit brought economics again high on the agenda, in parallel with the military factor. The Russian president visited Russia's military base in Armenia, as well as attended a public forum in Gyumri and held further discussions on economics in Yerevan.
Designated as the "102nd military base," with headquarters and the main force in Gyumri, Russia's base in Armenia actually consists of a number of installations in the country. According to Russian media reports citing military sources, in the run-up to and during Putin's visit, the Armenian army transferred several additional military installations in Gyumri and in the city of Yerevan to the Russian army. Several sites at Erebuni airport (near Yerevan) are also being handed over to the Russian military for construction of new hangars and fuel depots. Armenia has approved Russia's request to station an additional 18 combat and transport helicopters with the Russian base in Armenia. The basing arrangements are purely bilateral, although Armenia's forces and the Russian forces based in Armenia are designated as a Collective Security Treaty Organization (CSTO) regional group of forces.
Putin reaffirmed earlier promises to continue supplying Armenia's military with Russian arms and equipment at domestic Russian manufacturers' prices under a bilateral agreement. On Armenia's behalf, Sargsyan expressed "our intention to take practical steps to ensure the mobilization, deployment, and effective use of CSTO joint forces" (Izvestiya, November 26; Interfax, December 2, 3).
The bilateral alliance, signed in 1995, was extended in August 2010 during then-president Dmitry Medvedev's visit to Armenia. The extensions pertain both to the duration of the lease on the Russian "base" (multiple military installations in addition to Gyumri) and the scope of applicability of the alliance treaty. The duration has been prolonged to a total of 49 years, until 2044, with possible prolongations by five years at a time. Protocols added in 2010 stipulate a new Russian commitment—namely, that Russian forces stationed in Armenia shall, jointly with Armenian forces, provide security in the event of military threats to Armenia arising from the territories of Azerbaijan or Georgia. The original Russia-Armenia treaty had mentioned Turkey and Iran in this regard, but no other countries.
Armenia's failure to sign the agreements at the Vilnius summit, followed by Putin's visit, elicited two small protest demonstrations in Yerevan by a few politically non-influential groups, and by several non-governmental organizations (NGO) with no access to decision-making (News.am, November 26, December 2). At the Vilnius summit, some Armenian NGO representatives lamented the absence of significant protests even from most NGOs, let alone significant political parties (see above).
Yerevan made its choice instantly upon Putin's demand. In contrast with Ukraine's government, which vacillated and agonized when postponing the association agreement with the EU, Yerevan showed no hesitation in repudiating the EU outright.
Russia made an offer that the EU could not match and that Armenia could not refuse. Yerevan's choice was a straightforward one. Ultimately motivated by its reliance on Russia to conserve territorial gains at Azerbaijan's expense, Yerevan turned away from Europe and into a Russian-led Eurasian bloc.