Putin's Yamal Offer: a Preliminary Assessment
Publication: Eurasia Daily Monitor Volume: 6 Issue: 177
By: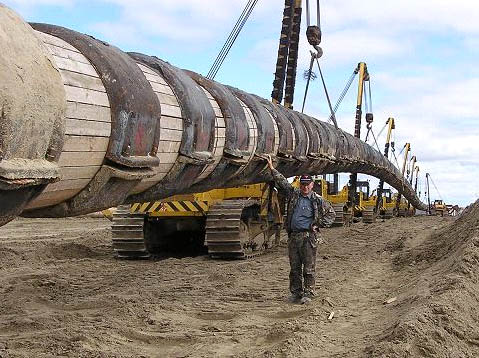 Russian Prime Minister Vladimir Putin's call for Western-assisted development of Yamal gas reserves for export as liquefied natural gas (LNG) (EDM, September 25) holds potential global ramifications. Top managers of no fewer than 10 leading international companies attended the session with Putin in Salekhard on Yamal (Interfax, RIA Novosti, ITAR-TASS, September 24, 25).
The peninsula and surrounding area is said officially to hold some 70 percent of Russia's total known gas reserves. With limited and selective reporting on the event in Russia (while Western media barely noticed it) and seemingly inflated -as well as mutually inconsistent- reserve estimates by various Russian officials, a preliminary assessment of the proposal's implications can only be fragmentary at this point. Yet a number of its implications already stand out.
Russia is embarking on an active search for Western technology and capital with a view to breaking into the global LNG trade. Through LNG it seeks to duplicate at the global level the primacy it enjoys in Europe for pipeline-delivered gas. During the Salekhard session, Gazprom CEO Aleksei Miller and government ministers stated that Russia aims for a share of 20 to 25 percent of globally traded LNG from 2020 onward -a share similar to that achieved by Gazprom in Europe's consumption (at the pre-crisis levels). Thus, Western-assisted LNG production and export could turn Russia and Gazprom from a continental into a global power.
Lacking the technology for extraction, liquefaction, and transportation of Yamal gas -and with Gazprom heavily indebted- Russia is proposing in effect a package deal to leading international companies. These would receive "access" to Yamal gas resources and would in return provide their advanced technologies for the first phase of development, then transfer their technologies outright to Russia for the follow-up phases. They are also expected to earn their entrance to Yamal by swapping European downstream assets for Russian upstream assets. Thus, the Russian proposal is more onerous than the usual, ostensibly symmetric "cross-investment" proposals. In this case it additionally involves Western technology transfers to Russia as a starting premise in negotiations.
Speaking to the Western CEO's, Putin emphasized asset swaps and cross-investment as one means for their firms to receive access to the Yamal project. That procedure would not necessarily be confined to the gas sector. Thus, Putin praised French company Total's CEO Christophe de Margerie for his willingness to sell stakes in Total's European oil refineries to Russian oil companies. Putin announced that Total has been short-listed for participation in the Yamal LNG project.
The other short-listed company for Yamal is Royal Dutch Shell, whose CEO Peter Voser sounded eager during the session with Putin. Russia's only LNG project on stream thus far, Sakhalin II, is mainly a Shell creation. The Kremlin, however, orchestrated threats of multibillion-dollar fines and even closure in order to force Shell to sell part of its majority stake as well as its operating rights to Gazprom in 2006-2007. Gazprom, now holding 51 percent in Sakhalin II, paid around $7 billion for Shell's stake valued at $12 billion. Yet, the Shell CEO at that time, Jeroen van der Veen, stood up at the 2007 St. Petersburg Economic Forum to praise Putin's "wisdom" for that solution to Shell's problems in Russia. Meanwhile, van der Veen was selected by NATO's outgoing Secretary-General for the high-level group to supervise the writing of NATO's new strategic concept. This experience (like that of other companies in Russia) illustrates the extortion risks for Western companies in Russia, if they become engaged beyond a point of no return.
Export destinations for Yamal LNG would be East Asia, North America, and Europe -in that order of priorities- according to Putin and the government ministers in Salekhard. However, this ranking need not be taken at face value. It is probably a negotiating tactic, such as the Kremlin and Gazprom have already used with regard to the Shtokman project. There, Russia is alternating offers to deliver first-phase gas to Germany and other West European countries through the planned Nord Stream pipeline or to North America as LNG.
Russia's Yamal initiative may, if pursued, impact negatively on Shtokman's prospects. Financing such exorbitantly expensive projects simultaneously seems hard to imagine. Meanwhile, Shtokman's daunting challenges are delaying an investment decision. Moscow may well regard Yamal as a substitute option. In Salekhard, Putin wished for "a more active participation of Germans [in Nord Stream]. Whatever the difficulties, I hope to overcome them." He also stated that the Nord Stream pipeline can be supplied from Yamal [rather than Shtokman] "easily, I underline this" (Interfax, September 24). Such remarks seem to imply either erosion in the commitment to Shtokman or another change in the order of export priorities from that project.
Putin's proposal seems to entail a cartel-type arrangement for price setting and market allocation among Yamal LNG stakeholders (EDM, September 25). Most of the Western CEO's at the session (Shell, Total, ConocoPhillips, StatoilHydro, E.ON, ENI, Mitsui and Mitsubishi) sounded circumspect and inquisitive in their responses to Putin, seeking additional information, according to the Russian media.
Putin enjoyed facing uncoordinated Western companies potentially competing against each other for "access" to Russian oil and gas. From Salekhard, on the eve of the German elections, he "convey[ed] best wishes to the German Greens, who are actively fighting against nuclear energy. This increases our opportunities to sell our product [gas]" (Interfax, September 24). Indeed, the Green- and Social-Democrat-imposed decommissioning of nuclear power plants is the single most important factor behind the surge in gas demand. Putin ended the session with this remark: "Sorry, but we are not letting you have lunch. This is only fair under circumstances of the global financial-economic crisis. Let no one accuse us of misspending our bonuses on black caviar and vodka. We shall limit the lunch to water only" (Interfax, September 24).