Racism in Russia and the 2018 World Cup
Publication: Eurasia Daily Monitor Volume: 12 Issue: 77
By: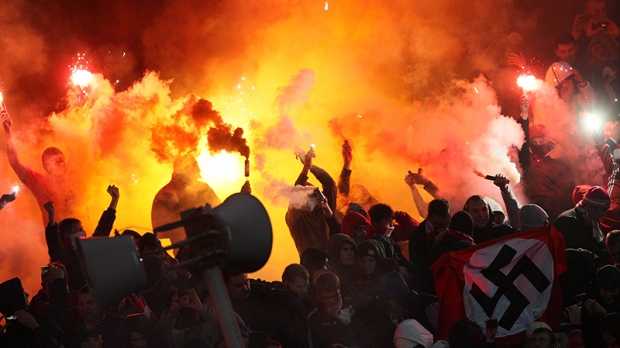 Adolf Hitler's birthday, April 20, is traditionally a time when the Russian Far Right (along with extremist organizations all over the world) "celebrate" by attacking those who are ethnically and culturally different (see EDM, April 29, 2013). The most notable event this year was the dispersal by OMON (Russian riot police) of neo-Nazis in a Moscow nightclub who had gathered to commemorate the birth of their idol. According to reports, police arrested 17 people, including one of the leaders of the "ethno-political" movement Russkiye, Dmitriy Demushkin (Versia.ru, April 21). The police reportedly found pistols and clubs as well as portraits of Hitler among the arrested.
Similarly, in Vologda (about 250 miles northeast of Moscow), vandals marked Hitler's birthday by drawing graffiti on the side of a mosque (Sova-center.ru, April 21). The climate of xenophobia and veneration of Hitler comes at a time when many are questioning the implications of Russia's racist subculture for the 2018 Soccer (Football) World Cup. The event will bring many ethnically and racially distinct fans and players to the country for potentially a period of two months and so poses many risks. In contribution to this debate, Moscow's SOVA center for information and analysis as well as the international FARE organization, which pledges to use the power of soccer to promote equality, released a combined report on the state of racism in the Russian game.
The report, which is available on SOVA's website (Sova-center.ru, March 4), provides analysis of the connections between Russian Far Right groups and soccer fans, statistics on the scale of racist activities, and seven recommendations for the Russian authorities to prevent racism from being a problem at the World Cup. The SOVA report found that during the 2012 and 2013 seasons, neo-Nazi symbols were displayed in the stands by soccer fans on no less than 72 separate occasions. SOVA also notes five attacks on anti-fascists by fans and 15 assaults on people of Caucasian origin. As remedial actions, the report calls for a national action plan "for dealing with discrimination in football in all of its guises," especially at schools and universities. Similarly, the Russian Football Union should "develop a national program to tackle far-right organized groups among football fans" and encourage progressive fan movements. Violators should be dealt with harshly and more "non-Europeans" should be welcomed to the Russian game. Perhaps the two most interesting recommendations ("promoting diversity and tolerance in host cities" and "host city protocols") are those that recognize the broader social origins of racist violence in the Russian Federation. Xenophobia is indeed a widespread social issue in Russia. In a 2014 poll conducted by the Levada Center, 14 percent of survey respondents called for restrictions on "all foreigners," 38 percent called for special restrictions on the residency of people from the Caucasus, and 8 percent demanded special restrictions on Jews (Levada.ru, 2014, p. 144). Making the country safe for the World Cup will require changes in social behavior and not just change among the fan clubs.
Other significant incidents underscore soccer's connections to the Far Right in Russia. First, the Moscow team "Torpedo" was recently fined and forced to play its games without TV broadcasting due to its fans displaying Celtic runes (a Nazi symbol) at a match against Tula's "Arsenal" (Sova-center.ru, April 9). Second, the supporters of St. Petersburg's team "Zenit" infamously published a "manifesto" that called on the club not to hire black or gay players in 2012 (Novostimira, December 12, 2012). Third, the murder of "Spartak Moscow" fan Egor Sviridov by a Caucasian migrant notably precipitated the pogrom on Manezhnaya Square in December 2010 (Grani.ru, December 11, 2010). Members of the "Spartak" supporters' club claimed later that neo-Nazi elements tried to hijack a memorial march for Sviridov and use it to instigate an anti-Caucasian pogrom in the center of Moscow (Richard Arnold, "The Kondopoga Technology," forthcoming). Fourth, Russian soccer fans have frequently "celebrated" Hitler's birthday by carrying out such actions as unveiling a banner at a "Ryazan"-"Arsenal" match that read "Happy Birthday, Grandad," on April 21, 2012 (Sova-center.ru, April 24 2012). Given the incitement of ethnic sentiments by the Russian authorities and persistent chauvinistic propaganda (see EDM, March 20, 2013; April 4, 2014; October 16, 2014), one might expect to increasingly see more such displays. Yet even without further violence, the affiliation of Russian soccer fan clubs with Far Right ideology poses additional problems for the authorities in 2018.
While FIFA (Federation Internationale de Football Association) has been more preoccupied of late with concerns over the 2022 World Cup in Qatar, there are still questions over the 2018 championship games. For example, the persistent fighting in Ukraine threatens the safety of fans all across Russia, but particularly in Rostov, where certain matches will be held at the Levberdon stadium (Fifa.com, accessed April 22). Indeed, following Russia's annexation of Crimea immediately after the Winter Olympics in Sochi, there were calls for the entire World Cup to be taken from Russia as a punishment (Lcmedia.com, March 12 2014). More recently, a bipartisan group of United States Senators asked FIFA to consider moving the World Cup out of Russia because the pomp and circumstance of hosting the games will be used as a massive propaganda victory for Vladimir Putin's regime (Tbo.com, April 1). Losing the Cup at this stage would be a sizeable blow to the legitimacy of the Russian government, particularly as construction work has already begun on a number of new stadiums. The persistent presence of Russia's Nazi subculture and the findings of the March 2015 SOVA report may offer another and more immediate rationale for doing so.