Radicalization of Muslim Migrant Workers Threatens Their Homelands and Russia
Publication: Eurasia Daily Monitor Volume: 20 Issue: 154
By: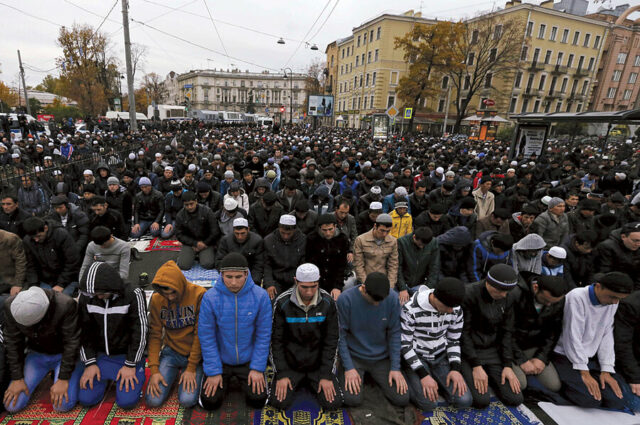 Many Russians, including senior members of the Vladimir Putin regime, fear that the influx of Muslim migrant workers from Central Asia could jeopardize the core of Russian culture and the Russian Federation itself. These migrants make up over 80 percent of the more than ten million immigrants employed in Russia (Kp.ru, July 1, 2022). Some in Russian society believe that this influx threatens public order and ethnic Russian cultural dominance (Svpressa.ru, July 21), could be exploited by Western governments (Nvo.ng.ru, June 23, 2022), and will likely undermine Moscow's influence in Central Asia by sparking Islamist movements once these migrants return home (Ia-centr.ru, September 28). Such fears are growing due to indications that Muslim migrants coming from Central Asia are becoming radicalized by their experiences in Russia (see EDM, May 19, 2016, March 22, 2018). As a result, these workers seem more willing to engage in violence against Russians in defense of an Islamist agenda (see EDM November 9, 2021, February 16; Newizv.ru, September 22).
In public, most Russian officials appear to believe they can control the situation through repressive policies and the expansion of institutions designed to "Russianize" and "Russify" these migrants (see EDM, September 9, 2015; Window on Eurasia, April 1; Tochno.st, September 6). Rising crime rates among immigrants and a recent wave of violence between Russians and Muslim migrants in Moscow's suburbs, however, is changing that sentiment (see EDM, November 9, 2021). A new study conducted by the Russian government about attitudes among immigrants toward Islamism and obeying Russian laws is intensifying this trend (Newizv.ru, 22 September). It has also prompted ever-more radical proposals, including the expulsion of immigrants and Russia's exit from the Commonwealth of Independent States to prevent their return (Vesti.uz, March 28; Svpressa.ru, July 21; T.me/Politinavigator, September 19).
Some of the study's findings are quite striking. Released at the end of September 2023 by the Federal Agency for Ethnic Affairs, it found that 43 percent of Central Asian migrant workers in Russia say they want to live in Russia according to Sharia law, with 24 percent declaring they are ready to take part in public demonstrations in support of that goal (Newizv.ru, 22 September). Over 15 percent, as many as two million people, say they are ready to engage in violence to achieve that end. The survey also found that over 40 percent say they would prefer to live under the laws of their native countries than under the laws of Russia.
Such attitudes serve to exacerbate tensions between the Muslim migrants and the ethnic Russian population. They also serve to spread such convictions to the Muslims of the indigenous nationalities of Russia and to trigger greater Islamic radicalism in their homelands when they return. As such, they are a threat to both Russia and the Central Asian states.
Russian officials are now engaged in discussions about what should be done to change this situation. Putin continues to play down the problem. He argued at the recent Eastern Economic Forum that migrant workers form "only 3.7 percent" of the country's workforce and that any problems with them can be solved by insisting that they learn Russian and by enforcing existing Russian laws with vigor (Nazaccent.ru, October 5). Those more immediately involved with the problem are less hopeful. Igor Barinov, head of the Federal Agency for Ethnic Affairs, says that Moscow must put programs in place to filter migrant workers to ensure those with radical ideas are blocked from entering the country (Stoletie.ru, September 22).
Limiting the number of Muslim migrants, nevertheless, could create serious problems for two primary reasons. First, it would lead to the departure of many migrants from Russia, something that would make it more difficult to co-opt Central Asians for the war against Ukraine (see EDM, February 16). Second, it would almost certainly lead to more clashes between migrants and Russians, with both sides viewing such policies as opening the door for more attacks. Anti-immigrant commentaries are already having that effect on both groups, creating a situation that could quickly spread from immigrant Muslims to those indigenous to Russia (see EDM, November 9, 2021).
This shift would likely have an impact on national security as well. Within Russia, it would presumably lead Moscow officials, such as Nikolai Patrushev, secretary of the Russian Security Council, to suggest that the West was behind such conflicts (Aif.ru, January 10; see EDM, August 10). With regard to Central Asia, ever-more Russians, again led by Patrushev, would see the radicalism of Muslim immigrants within Russia become a trigger for the spread of Islamism in Central Asia. This trend, along with Afghan radicalism and Central Asia's own growing problems, could bring to power governments in Central Asia that would further reduce Moscow's influence in the region, giving a new opening to the West against Russia. The growth of Islamism in Central Asia would also spread to those Muslim groups within Russia (Caa-network.org, May 7, 2021; Ng.ru, March 15, 2022).
Moscow is thus caught between a rock and a hard place. It needs Muslim migrants from Central Asia to account for its own demographic problems, but it can hardly afford to allow radicalism to spread among them. Russia's need for these Muslim migrants is unlikely to go away anytime soon. And, radical sentiments are likely to grow given the Kremlin's increasingly Russian nationalist messaging and its demands that Central Asians play a role in the war effort. Low wages and environmental problems in Central Asia means the number of such migrants moving to Russia is likely to grow. Russian hostility toward these migrants means that radicalism will continue to spread. Russia is now experiencing what some Western European countries have: the radicalization of the second generation of immigrants (Window on Eurasia, April 1).
This reality raises fears in the Kremlin regarding Russia's future. Islamist radicalism played only a minor role in the demise of the Soviet Union. Given current trends, such attitudes among Muslim migrants in Russia could play a significant role in what many believe is the coming rupture of the Russian Federation.