Railway Blockade Wreaks Havoc on Economy of Ukraine's Donbas
Publication: Eurasia Daily Monitor Volume: 14 Issue: 26
By: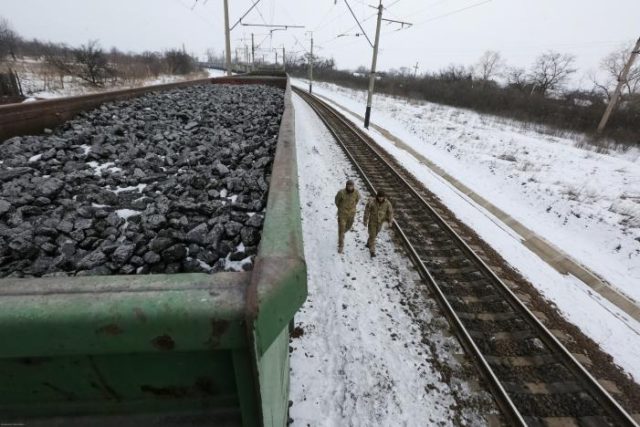 In late January, groups of self-identified veterans and several controversial Ukrainian people's deputies began blocking railways linking the territory of Donbas (provinces of Donetsk and Luhansk) controlled by Moscow-backed militants to areas controlled by the central government. They say that it is wrong to trade with the rebels and that Ukrainian oligarchs enrich themselves from such trade—particularly pointing to coal deliveries from the occupied areas (see EDM, February 24). Over a month has passed, but so far Kyiv has not taken any steps to unblock the railways, while the blockade threatens to wreak havoc not only on the local, but also the national economy.
Ukraine's main high-energy coal (anthracite) and coking coal fields happen to be located in the part of Donbas controlled by Russian and separatist forces. At the same time, most of the thermal power plants and steel mills in the region, which heavily depend on coal, are in the government-held areas across the frontline. The blockade is thus breaking one of the last remaining links between the two parts of a Donbas torn apart by war. As a result, Kyiv is considering scheduled blackouts (UNIAN, February 16), while steel mills, which are the backbone of the Ukrainian economy, are stopping production one by one. In the meantime, miners and metallurgists on the other side of the divide are losing their jobs, thus potentially leaving them open to joining the rebel ranks for pay. Politically, this situation has been turning the locals in eastern Ukraine more off from Kyiv (see below).
Speaking on television, Prime Minister Volodymyr Hroisman said there is no alternative to coal from the Russia-occupied areas. He argued that the coal mines in question are registered in Ukraine and pay taxes to the central government, so it would be unfair to leave them without a market (ICTV, January 30). Meanwhile, Kyiv has been bracing for power shortages if the blockade continues. The government warned that such important industrial provinces as Kharkiv, Dnipropetrovsk, Kyiv and Zaporizhya, as well as Sumy, Chernihiv and Cherkasy could be affected by scheduled blackouts from the end of March (Kmu.gov.ua, February 13). In the middle of February, the state energy company Ukrenergo predicted that if deliveries from the blockaded areas were not resumed, Ukraine's power plants would have enough coal to continue to operate for only 40 days or so (UNIAN, February 13).
The government estimates that in order to be able to do without coal imports from across the frontline, Ukraine would have to invest $560 million each year, over the next three to five years, to adapt power plants to use other kinds of fuel (liga.net, February 14). This would be a heavy burden on Europe's statistically poorest economy. Coal imports from Russia could be a politically costly alternative, Deputy Prime Minister Hennady Zubko warned (ICTV, February 27). In the meantime, Ukraine is increasing its reliance on nuclear energy, whose share of national power generation is approaching 60 percent. The country is also cutting power exports to the European Union and dropping plans to resume exports to Belarus and Moldova (Kmu.gov.ua, February 17).
Among businesses, the power generation, metals and mining companies of Ukraine's richest oligarch, Rinat Akhmetov, have been affected most of all. His Metinvest company announced that the steel mill Yenakiive Steel and Krasnodon Coal Company halted operations. The two are located in the occupied area, but are registered in Kyiv and pay taxes to the central government, said Metinvest (Metinvestholding.com, February 20). Metinvest's two biggest steel mills, Azovstal and Ilyich, both located in the government-held port city of Mariupol (Mariupil), may follow suit (UNIAN, February 17). Other steelworks are also affected, not only by the coal shortage, but also, in the case of those located in the occupied territory, by the shortage of ores extracted in government-held areas. Among them, the steel mill in Alchevsk, Luhansk province, was the first to stop operations in early February. And most recently, the Donetsk steel plant also stopped due to the ore shortage (Interfax, February 27).
President Petro Poroshenko estimated that up to 300,000 people could lose their jobs, and Ukraine could lose $2 billion in foreign currency revenue because of the blockade (Liga.net, February 16). Those are big figures by local standards. Ukraine's labor force was estimated at 18 million last year, and its GDP in 2015 was around $87 billion (Cia.gov, accessed February 28). National industrial output resumed growth in spring 2016, after four years of decline (see EDM, November 2, 2016). This economic turnaround stemmed mainly from renewed increases in output in Ukraine's vital steel industry, itself driven by higher global prices and the (albeit fragile) ceasefire in Donbas. The trend is likely to be reversed this quarter because of the railway blockade. As a result, the national currency may lose more of its value, disrupting the financial system after its relative stabilization last year, again prompting Kyiv to turn to the West for more assistance.