Rebel Leader Calls for Widened War while Top Russian Politico Backs Anti-Rebel Vigilantes
Publication: Eurasia Daily Monitor Volume: 8 Issue: 44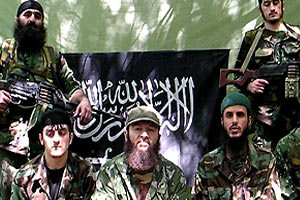 Doku Umarov, the "emir" of the rebel Caucasus Emirate, released a video statement that was posted to YouTube on March 2 (https://www.youtube.com/watch?v=PNNE28XYSAQ&feature=player_embedded). A Russian translation of the video was posted on the rebel Kavkaz Center website on March 3.
In the video, Umarov extols the virtues of jihad in Islam and calls on Muslims across Russia to take up arms against the government. "Spring has already arrived, it is now the end of February; therefore I ask you, brothers, to speed up Jihad, to speed up operations against enemies of Allah," Umarov says, appealing to his forces in the North Caucasus. He also appeals to "brother Muslims who live on the territory of Muslim lands occupied by Rusnya [a derogatory term for Russia] – Idel-Ural, Tatarstan, Bashkorotstan and everywhere in Russia where Muslims live" to join the jihad.
Umarov also states: "Today a total war is going. It was not declared by us against Russia, but Russia declared it against us. When a total war is going, no civilian population remains. If they declared total war on us, then Allah permits us to fight against in them the same way they fight against us" (www.kavkazcenter.com, March 3).
Meanwhile, gunmen in the Dagestan's capital Makhachkala today (March 4) shot and killed Zalkhipri Sheikhov, a former Federal Security Service (FSB) employee who was working as an aide to the head of the federal tax services branch for Dagestan. Sheikhov was shot as he was riding in a car near the headquarters for the Spiritual Board of Muslims of Dagestan (www.kavkaz-uzel.ru, March 4).
On February 28, a burned-out car with a body inside was found in Dagestan's Karabudakhkentsky district. Investigators said the person inside was a resident of the town of Gubden, a rebel stronghold in Dagestan, and was apparently transporting an improvised explosive device (IED) that accidentally detonated (www.newsru.com, February 28). On February 25-26, security forces in Dagestan captured five suspected rebels. According to the National Anti-Terrorism Committee (NAK), the five suspects confessed to several murders of civilians and a number of terrorism-related crimes (www.newsru.com, February 27).
In Kabardino-Balkaria, a man was killed March 2 in a shootout with police in Nalchik. The slain main was identified as Dmitry Chudov, a resident of Kabardino-Balkaria. Another man who was with Chudov during the shootout managed to escape. Police said they found a grenade and an IED at the scene of Chudov's arrest (www.kavkaz-uzel.ru, March 3).
On February 25, three groups of militants comprising up to 12 people attacked law-enforcement buildings in Nalchik. A traffic policeman was injured in the attack but there were no reports of any fatalities. The attackers managed to escape. Following the attack, security officials in the republic said the situation in Nalchik was "totally controlled by the republic's crisis center," which, they said, was conducting "special operations to locate and detain the assailants" (RIA Novosti, February 26).
Russia imposed a counter-terrorism regime in two areas of Kabardino-Balkaria after gunmen attacked a tourist area on Mount Elbrus on February 18, killing three two tourists from Moscow and injuring two.
On March 2, following a series of attacks in Kabardino-Balkaria, the leader of a self-styled "anti-Wahhabi" group calling itself the Black Hawks (Chernye Yasterby) gave an interview to Ren-TV in which he said his group would kill the children of rebels. "Let them [the militants] collect tribute from businessmen, from vodka barons, but don't let them kill our children," said the Black Hawks chief, who was not identified by name. "If they go on like this, we will kill their children, so that they feel how it hurts. We are fed up with extreme violence of these bearded beasts who don't let the republic live in peace" (Interfax, March 2).
On February 26, someone threw a hand grenade at a home in Kabardino-Balkaria's capital Nalchik belonging to the parents of Astemir Mamishev, a rebel who is on the federal wanted list. No one was hurt in the blast, which broke windows in the home (www.newsru.com, February 26).
Today (March 4), Aleksandr Torshin, First Deputy Speaker of the Russian Federation Council and a member of the NAK, said the appearance of the Black Hawks in Kabardino-Balkaria was "very natural and justified." He told Interfax that the people who have joined the Black Hawks are "a real force" made up of "young people who want to live according to civilized laws, not according to radical Islamic rules."
Torshin added: "The bearded terrorists are carrying a tough Islamic order, which has nothing in common with European values, and therefore the appearance of such an underground structure in Kabardino-Balkaria is very natural. … I will give my paradoxical opinion. I believe the local law enforcement agencies should not fight these good people from the Black Hawks, who are fighting Wahhabis, but use them because they could become a good information channel."