Reforming the People's Liberation Army's Noncommissioned Officer Corps and Conscripts
Publication: China Brief Volume: 11 Issue: 20
By: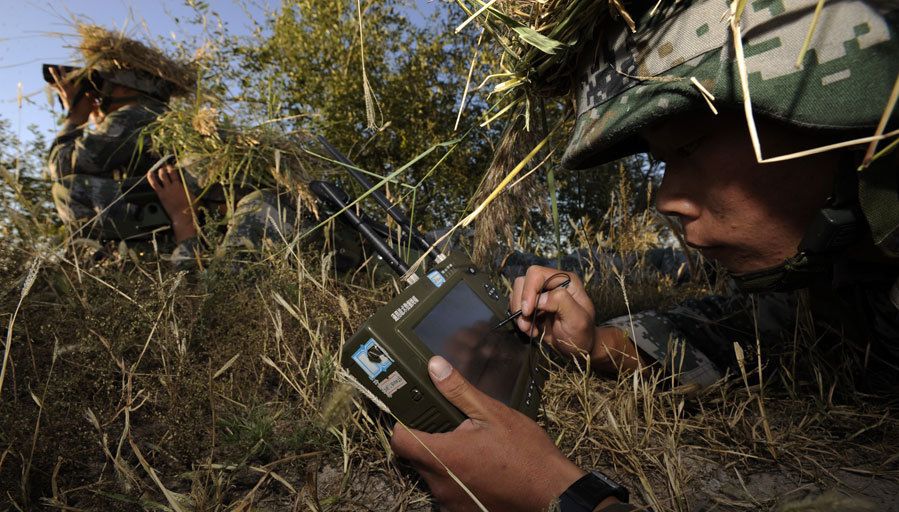 The People's Liberation Army (PLA) is in the process of reforming the Noncommissioned Officer (NCO) corps and the compulsory service system to attract personnel with higher education and skill levels to better support PLA modernization ("Noncommissioned Officers and the Creation of a Volunteer Force," China Brief, September 30). The PLA has identified significant issues in the NCO corps and has initiated a series of reforms and adjustments since 1999, including recent announcements of further reforms in 2011 and 2012 to attract and retain quality personnel [1].
In tandem with improvements in the NCO corps, the PLA is altering the compulsory service system to provide incentives to attract college graduates and students. Two-year recruits are demobilized at the end of October each year and winter conscription for 2011, including university students, will begin on November 1 (PLA Daily, October 9; October 13). Raising the educational and skill levels of conscripts is another critical component of PLA efforts to build a modern informatized military. Other recent developments include the announcement in last month to expand conscription to include full-time female college students (PLA Daily, September 17). A September 2011 speech to graduating college students who enlisted in the military by General Chen Bingde, Chief of the General Staff and member of the Central Military Commission (CMC), urging them to strengthen their quality and capabilities, indicates the high level interest in recruiting highly-educated personnel (PLA Daily, September 10).
These PLA efforts at enlisted personnel reforms still are in their early stages and will be a long-term process of adjustments to transform the NCO corps fully and attract highly-qualified recruits through the compulsory service system. The PLA probably has not shifted completely from conscription to an all-volunteer force—although that has been the trend since 1999. Success in these efforts is important to the PLA's overall transformation effort to build an advanced military and they already are resulting in a more professional, volunteer force.
Significant NCO Reforms and Restructuring since 1999
The PLA has identified a number of issues affecting the quality of the expanding NCO corps. These issues include a lax selection process that includes bribery; inadequate training and education; a need for a more thorough and demanding management system; and improvements in wages, subsidies, family housing, welfare and retirement/demobilization benefits. The PLA is attempting to address these problems with a series of reforms and restructuring initiatives (PLA Daily, November 4, 2009).
The four General Departments—Staff, Political, Logistics and Armaments—convened a "Working Conference on Reform of the Noncommissioned Officer System" in September 1999 to initiate a major reform and expansion of the NCO corps (PLA Daily, October 13, 2004). Reforms have continued as the PLA struggles to build a professional, highly-skilled NCO corps and reports continue to indicate adjustments and expansions of the NCO academies (Ta Kung Pao, August 9). These reforms include the following:
• A 2003 initiative for the special enlistment of civilians from colleges and advanced technical schools directly into the NCO corps. In 2008 the PLA press reported that the number of these special enlistments had reached more than 10 percent of the NCOs recruited each year (PLA Daily, November 4, 2009; November 12, 2008).
• The 2003 CMC "Strategic Project for Talented People" with a twenty-year plan to professionally develop officers and NCOs to support a modern military (Xinhua, December 27, 2004).
• A 2004 regulation establishing and optimizing schools for intermediate- and senior-grade specialized technical NCOs (PLA Daily, April 20; October 13, 2004).
• A 2005 "guidance" to improve the allocation, selection, training, education and management of NCOs, and create yearly NCO awards to recognize achievements and boost morale (PLA Daily, January 25, 2005).
• Reforms in 2008 addressing continuing quality and capability issues regarding training and education, skill evaluation, management procedures, marriage, social insurance and housing. The General Staff Department also established a NCO selection registration system in an attempt to eliminate abuses in the selection process (PLA Daily, November 1, 2008; Xinhua, September 22, 2008).
• Continued efforts in 2009 to improve qualifications and increase the numbers of NCOs in high-tech units. Reforms included the establishment of the current seven ranks for NCOs, increased pay and subsidies and plans to recruit more graduates with three-year civilian college diplomas while relying less on promoting enlisted personnel who have generally consisted of middle school graduates with only nine years of education or high school graduates with 12 years of education (Xinhua, July 14, 2009; PLA Daily, July 13, 2009).
• A 2010 regulation implementing a position qualification system for specialized technical NCOs and increased stipends tied to skill levels (PLA Daily, August 30, 2010).
• A revised regulation issued in mid-2011 to further improve the NCO assignment process and benefits, including those for retirement/demobilization. The PLA stated the revision was to further intensify NCO reforms and "fundamentally resolve contradictions and issues existing in the building of the NCO contingent," indicating continuing problems. The PLA noted unfair NCO selection methods and the poor quality of the candidates as two of the issues being addressed (PLA Daily, July 10; June 27).
• Announcement of a new NCO selection qualification system to be implemented by 2012 establishing statutes, appraisal organizations and examination standards, database and management system to ensure the required professional skills for NCO posts (PLA Daily, January 25).
The continuing reforms suggest serious lingering problems in establishing a professional NCO corps. The PLA's monitoring and identification of issues requiring adjustments indicates the importance of the NCO corps to PLA transformation goals. The NCO system is still in an early stage of development, so it should not be surprising that continuing efforts are required to establish fully a well-developed and refined education, training, management, regulation and pay and benefits system.
Although the PLA has identified some problems, additional issues will inhibit the NCO corps' quality and limit the positive impact it can have on PLA modernization. While the current PLA NCO system is improving the quality of NCOs with technical specialties to operate, maintain and repair increasingly sophisticated equipment, the PLA has not developed a NCO corps with attributes of U.S. NCOs who have leadership responsibilities that can impact the development of more junior NCOs and enlisted personnel in their units.
PLA NCOs have little leadership impact on their units, because the PLA decision-making process structurally reduces their influence. For example, there is no equivalent of a U.S. sergeant major or first sergeant in the PLA at any level. In the U.S. military system, these positions have a significant positive impact on their unit and the NCOs and enlisted personnel under them. This is not to say that the PLA needs to mirror the U.S. NCO system. By not assigning greater leadership and professional development responsibilities to their NCOs, however, the PLA underutilizes and limits the impact of a potentially valuable resource. The Party Committee (Party Branch), and in particular the Standing Committee, in each unit down to the company level is the policymaking organization for all aspects of the unit's activities and follows the guidance from the next higher level's Party Committee. Currently, NCOs have virtually no representation on Party Committees in the PLA, except at the company level where one or two senior NCOs might be on the Party Committee but not the Standing Committee. Therefore, NCOs have no input to the decision making or management process in the PLA, limiting the positive impact NCOs could have at any given level and giving even senior NCOs no influence in the promotion process [2].
Additionally, some NCO career tracks have a limited possibility for career progression, even if NCOs theoretically can serve a 30-year career. While NCOs can theoretically serve a 30 year career in military service, some posts have a limited possibility for career progression. For example, drivers have to demobilize after 12 years and must return to their home town because there is no possibility of promotion after that point. This limited career progression in some positions—and the difficulty of changing tracks—will hurt the PLA's ability to attract and retain quality NCOs.
Conscription Reforms
In parallel with the effort to build a professional, volunteer NCO corps, the PLA is attempting to recruit more highly qualified and educated personnel, including civilian college students and graduates, as two-year enlistees. During a recent Ministry of National Defense press briefing for French journalists, PLA officers stated that recruiting college students and graduates was critical to the PLA's modernization efforts, particularly for the PLAN and PLAAF. The targeting of college students began in 2001 and expanded in 2003 to cover a larger range of universities. The Ministry of National Defense Conscription Office is now actively targeting students with higher level or specialized educational experience including college graduates (PLA Daily, November 8, 2008; September 14, 2008).
At the end of 2009, the PLA recruited 130,000 civilian college graduates and students to serve as two-year enlistees. The PLA established the goal of recruiting some 150,000 college graduates in 2010, although one source states that only 100,000 were recruited that year. There have been no reports of 2011 recruitment goals or recruitment numbers for college graduates (Xinhua, September 9; Agence France Presse, September 23). The press report that the 2010 goals were not met and no Chinese reporting of goals for 2011 could indicate problems attracting high quality college recruits. Other recent developments have included the following:
• The recent announcement of a program for selecting enlisted university graduates for the officer corps and recommending outstanding soldiers who are college graduates for admission to military colleges (PLA Daily, September 15; Xinhua, October 30, 2003).
• The Conscription Office of the Beijing Municipality expanded the scope of female soldier recruitment that was limited to high school, college or university graduates to include full-time college and university students (PLA Daily, September 17).
Some analysts believe that conscripts are now actually volunteers, making the PLA an all-volunteer force [3]. The PLA has established inducements and policies to attract college graduates into the compulsory service system, including subsidies for tuition fees or to repay educational loans; priority selection as NCOs or even promotion to officer rank for qualified candidates; and preferential treatment for college and post graduate enrollment after demobilization. The various incentives being offered to two-year enlistees probably indicates these recruits could be considered volunteers. However, the evidence is not conclusive that all conscripts, estimated at approximately 400,000 per year, are now volunteers. Two-year soldiers are still called conscripts and are governed by conscription regulations (Xinhua, June 27; April 9, 2010; PLA Daily, June 29, 2009).
A Jiefangjun Bao article from September 19, 2011 examined foreign armed forces that now rely on professional all-volunteer forces. The article argued the traditional conscription system cannot meet the requirements of modern warfare and technological developments, indicating, at a minimum, a continuation of the trend since 1999 toward a more volunteer and professional force will continue, with a possible goal of eventually establishing an all-volunteer force.
Conclusions
The PLA believes warfare under informatized conditions requires highly-skilled NCOs to operate and maintain complex modern equipment and NCO squad leaders to support more independent combat at the tactical level (PLA Daily, August 24, 2009). The PLA is attempting to create a large NCO corps filled with quality personnel (Xinhua, September 22, 2008). However, the new NCO system remains in an early stage of development and significant issues have surfaced requiring continuing adjustments and revisions.
The PLA appears serious in addressing some problems in the NCO corps. Since 1999 the PLA has upgraded education and training, increased pay and benefits, established skill criteria for positions and instituted management reforms to improve selection and retention of quality personnel. However, the persistent problems plaguing the NCO corps indicates that building a professional NCO corps will be a long-term effort. The 20-year strategic talent program to develop professional officers and NCOs appears to be recognition by the PLA that professionalization in general is a long-term process.
The role of the PLA NCO corps is more limited than the U.S. NCO system and the PLA does not currently appear to have plans to alter its emphasis on developing primarily technical specialists. The PLA's NCO corps will support the PLA's equipment modernization program, but inherent limitations regarding leadership responsibilities and authority will lessen their positive impact on the PLA at the human level. Additionally, a selection process that is prone to bribery will adversely impact the quality and morale of the NCO corps.
There are possible sources of tension that could be detrimental to morale within the enlisted force, both two-year enlistees and NCOs. There could be tension between college-educated enlisted personnel and those having only a middle or high school degree. Within the NCO corps, personnel with college experience would have been recruited starting in 2003, either directly or from the enlisted ranks from those college students or graduates who were targeted beginning in 2001, making them intermediate rank NCOs. Current senior rank NCOs likely do not have a civilian college education, possibly leading to tensions with lower ranking NCOs who are better educated. Another possible source of tension is between those NCOs promoted on merit and those perceived to have been promoted by bribery or favoritism. Another area of tension could occur between college educated enlisted personnel and officers.
The PLA is targeting college students and recent graduates for recruitment into the compulsory service system, or directly into the NCO and officer corps. Conscription Offices are offering a variety of incentives to attract qualified compulsory service personnel, men and women, to support modernization in combination with a restructured NCO corps. This targeting of personnel with at least some college education for both two-year enlistees and NCOs signals that without a more advanced education there is limited career potential in the PLA, although this is a long-term goal if there are difficulties attracting college graduates or students.
Current NCO corps and conscription developments are turning the PLA into an increasingly volunteer professional force. The continuity and experience provided by an expanding NCO corps provides the PLA with a large pool of trained and skilled personnel reducing train up times and allowing units to move more rapidly each year into higher level and more complex training and exercises. Overall, this development increases the combat capability of units, lessoning the impact of the yearly turnover and train up of conscripts. The effort to conscript civilian college graduates and students, as well as civilians with technical skills also supports modernization efforts. The increasing size and particularly the improving quality of the NCO corps will significantly support PLA modernization, but lingering problems indicate a long development process and inherent limitations can limit the positive impact of the NCO corps on the PLA.
Notes:
Jiefangjun Bao Online recently ran a series of articles in Aug 2011 on NCO development including continuing issues hindering the quality of the NCO corps; additional articles include Jiefangjun Bao, 18 Jul 2011, "Winning 'Battle of Noncommissioned Officers' – First Commentary on Vigorously Strengthening the Construction of Noncommissioned Officer Teams;" PLA Daily, 27 Jun 2011, "Newly revised NCO management regulations issued;" Jiefangjun Bao Online, 10 Jul 2011, "Raise the Building of the Noncommissioned Officer Contingents to a New Level;" and PLA Daily, 25 Jan 2011, "NCO selection qualification system to be implemented in 2012"
PLA officer Interviews conducted by Ken Allen.
National Air and Space Intelligence Center, 1 Aug 2010, "People's Liberation Army Air Force 2010"