Regional Proxy Wars, Massive War Games and Punitive Sanction Define Russia's Future
Publication: Eurasia Daily Monitor Volume: 15 Issue: 123
By: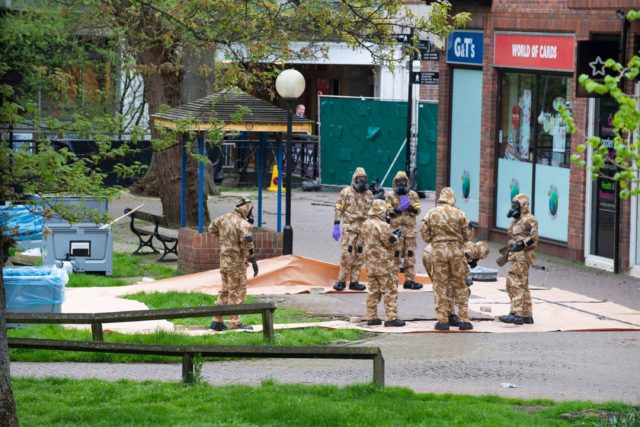 Sergei Skripal (66), a former Russian military intelligence (GRU) colonel, was arrested in Moscow in 2004 for allegedly being an agent of the United Kingdom's MI6 intelligence service. In 2010, Skripal was pardoned, released and sent to the UK in a major spy exchange involving a big group of so-called "illegal" or "sleeper" spies who were arrested in the United States, promptly convicted and deported to Russia (see EDM, July 6, 2010). On March 4, 2018, Skripal, together with his daughter Yulia (a Russian citizen who lives in Moscow and came to Britain to visit, on March 3), was found poisoned in Salisbury, England, where he resides. The Skripals were exposed to a highly toxic and obscure nerve agent known as "Novichok," secretly developed during the Cold War in the Soviet Union. The UK government accused Russia of masterminding the attack on the Skripals—an allegation Moscow adamantly rejected. The Novichok attack in Salisbury has been described in Russia as a "provocation," implying it was the British themselves who made the nerve agent and used it, planning to accuse Russia because of endemic "Russophobia," whereas Russia is innocent and had no interest in poisoning Skripal (see EDM, March 15, 2018).
Despite repeated Russian assertions of innocence, the Skripal case has continued to unravel for Moscow. Both of the Skripals survived the Novichok attack, though their present whereabouts and exact health condition are being kept secret by the British authorities. There were other local Novichok victims as well. A first responder police officer, Nick Bailey, fell seriously ill after being exposed to the nerve agent in Salisbury. And a couple from the nearby town of Amesbury, Dawn Sturgess and her boyfriend, Charlie Rowley, grew sickened on June 30, after finding a small spray bottle falsely labeled as containing Nina Ricci Premier Jour perfume, in a charity bin. The bottle instead held a small amount of Novichok—the same compound that was used to poison the Skripals, as verified by the Organization for the Prohibition of Chemical Weapons (OPCW). Rowley survived the exposure to the lethal chemical, but Sturgess died on July 8 (Militarynews.ru, September 4).
On September 5, the UK police disclosed the identities of the two alleged assailants who poisoned the Skripals by applying the Novichok nerve agent to the door handle of Sergei Skripal's residence in Salisbury, possibly using the false perfume bottle found in Rowley's home. The suspects and their movements in the UK were pinpointed using data from the dense network of security and CCTV cameras, analyzed by a small army of British police officers. Allegedly, Russian passport holders Ruslan Boshirov and Alexander Petrov flew on Aeroflot, from Moscow to the UK, on March 2, and settled in a budget hotel in London. They then took a train to Salisbury on March 3, for an apparent short reconnaissance mission. The following day, they made a second train journey evidently to apply the Novichok to Sergei Skripal's door handle. Indeed, the surveillance footage places Boshirov and Petrov in the vicinity of Skripal's residence. Afterward, Boshirov and Petrov immediately returned to London, left the hotel and flew back to Moscow, by Aeroflot, on March 4. According to the UK police, the container with Novichok used in the attack was discharged into a charity bin to be later discovered by Rowley, with fatal consequences. Prime Minister Theresa May declared that the United Kingdom possesses intelligence indicating that Boshirov and Petrov are active service GRU commissioned officers, and the names on their Russian passports are aliases. (In 2010, Russian military intelligence was rebranded from Glavnoye Razvedyvatelnoye Upravlenye to simply Glavnoye Upravlenye, or GU, but the old acronym GRU is still much used unofficially.) The alleged assailants have officially been indicted; but according to May, her government will not seek Boshirov and Petrov's extradition from Russia because that would be senseless (Interfax, September 5).
The UK police's evidence seems compelling, but the Russian reaction was predictable: Moscow has called it a "provocation," deliberately organized to harm Russia (Interfax, September 5). Rossya-1 state TV used a popular American term and called the latest UK revelations in the Skripal case a "witch hunt" (Vesti, September 5). But questions are still being raised in Moscow about why the Salisbury operation appeared to be organized so unprofessionally (Novaya Gazeta, September 6). Were Boshirov and Petrov acting under orders, or were they carrying out a personal vendetta mission to punish a former GRU colleague-turned-traitor (Bfm.ru, September 5)?
According to the independent St. Petersburg–based news site Fontanka, Boshirov and Petrov used passports issued simultaneously in 2016, on which they then often traveled to different European countries. Almost nothing appears to be known publicly about the two men. Their social media profiles are empty, and the names "Boshirov" and "Petrov" could be aliases, as the UK authorities assert (Fontanka, September 5). The use of the secret nerve agent Novichok in the Salisbury attack implies the operation was approved at a high political/administrative level in order to guarantee interdepartmental cooperation in acquiring the poison and assisting in its field application. Nonetheless, the Kremlin has denounced as "unacceptable" London's accusations of possible high-level Russian involvement in the Skripal case (Interfax, September 6).
The Russian authorities evidently see themselves mired in a deepening confrontation with the West—in particular, the US and its "faithful lackey" the UK—a confrontation that could possibly escalate into all-out war. According to Foreign Minister Sergei Lavrov, "Tensions are growing, the confrontation is escalating and diplomatic niceties have been abandoned." Troops of the North Atlantic Treaty Organization (NATO) are being deployed on Russian borders, Lavrov recently implied, adding that US, Canadian and other Western "instructors" are being deployed with Ukrainian forces, together with Western armaments, thus "increasing the risk of war" (Interfax, September 4).
At the same time, the Russian navy has gathered a large armada of warships in the Mediterranean Sea, close to Syria, where a major offensive against rebels in Idlib province looks imminent. And the Russian military is about to run massive Vostok 2018 war games, involving some 300,000 personnel, in mid-September, obviously preparing for a possible major war (Interfax, September 6).
Officials in Russia may have decided drastic action is needed to ensure discipline and troop cohesion, while disregarding the real threat of possible retaliatory punitive Western sanctions. For now, however, the highly public profile of the Skripal case has sent a clear and powerful message to all potential defectors inside the Russian system that treason does not work and that the West cannot guarantee their safety.