Romania's Air Defenses Are Being Stretched to the Limit
Publication: Eurasia Daily Monitor Volume: 15 Issue: 122
By: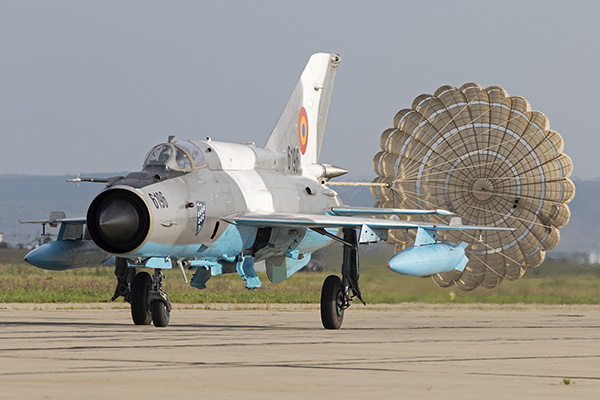 Air defense is crucial for the security of the North Atlantic Treaty Organization's (NATO) eastern flank. Yet, despite an ambitious modernization drive, spurned on one hand by a mounting Russian threat and on the other by aging and obsolescent capabilities, NATO member Romania finds itself in a difficult situation. At present, the Romanian Air Force (RoAF) is forced to carry out its modernization efforts while simultaneously being tasked with deterring Russian assertiveness in the Black Sea region. Moreover, an important part of the modernization program has been mismanaged, and key capabilities are not yet fully operational.
In one month, the Romanian Air Force has lost two aircraft in accidents: a MiG-21 LanceR interceptor during an air show (Agerpres, July 7) and an IAR-99 Șoim (Falcon) during a training flight (Mediafax, July 16). The MiG pilot was killed, apparently sacrificing himself so that his jet would not crash into the crowd. The two pilots of the IAR-99 trainer managed to survive their crash, but they suffered injuries as a result of ejecting from the doomed aircraft.
Considering the small number of aircraft the RoAF has in its inventory, the loss of two planes is significant. The accidents have raised serious questions regarding Romania's capability to protect its own airspace. While the crash of the MiG-21 was being investigated, most of the remaining military planes were grounded (Ziare.com, July 7). Air policing missions were performed by a contingent of four Royal Air Force (RAF) Eurofighter Typhoons from the United Kingdom and some Romanian MiG-21 LanceRs assigned to quick reaction alert (QRA) duties (Hotnews.ro, July 13).
Despite having acquired 12 used F-16 AM/BM multirole fighters from Portugal in 2013, these aircraft have not yet reached full operational capability, only an initial operational capability. Accordingly, these F-16s do not take part in air policing missions. The defense ministry has not made public when the 53rd Fighter Squadron, which is equipped with the new aircraft, will be fully operational and take up air policing duties. Instead, Defense Minister Mihai Fifor has announced the intention of buying a further five secondhand F-16s from Portugal (Adevarul, July 13).
This development shows two things. First, the initial acquisition of a batch of 12 F-16s has proven inadequate. Clearly more should have been purchased in 2013, but financial considerations intervened. Furthermore, plans scheduled for 2017–2019 to acquire another dozen of these jets—a so-called "second F-16 squadron"—and the eventual retirement of Romania's MiGs by 2019 (ROEC, November 1, 2016) have been pushed back further. The reason for this delay is not clear at present. Either it was caused by a lack of funds or, more likely, by a high international demand for used F-16s (see EDM, September 19, 2017). Consequently, the remaining MiG-21s will have to soldier on beyond 2019.
Second, Romania has underestimated the total number of multirole fighters it requires. Until 2017, Romanian authorities had maintained that the country needs 48 such aircraft to modernize its air force—enough to equip four squadrons (News.ro, September 27, 2017). However, while conducting negotiations for buying another batch of F-16 fighters, the requirement was suddenly increased to 52 (Evenimentul Zilei, February 20, 2018).
A major vulnerability of Romania's fighter acquisition is that it is predicated on used aircraft, rather than newly built machines. To date, the defense ministry has shown no interest in acquiring newly manufactured F-16s, signaling that, in the long run, it will instead try to acquire a number of fifth-generation F-35 multirole stealth fighters (Hotnews.ro, August 31, 2017).
Meanwhile, Russian aircraft have increased their patrols over the Black Sea, some of them periodically violating Romanian airspace (Mediafax, July 10). Indeed, this past July, Defense Minister Fifor acknowledged that Russian incursions in Romanian airspace have increased (Ziare.com, July 13). This represented the first time since the annexation of Crimea that a high-ranking Romanian government official publicly acknowledged the existence of such incursions.
Nonetheless, the defense ministry has yet to publish a report detailing the number and incidence of Russian aerial incursions into NATO and Romanian airspace. Such a document would be helpful for highlighting the security challenges faced along the southern tip of the North Atlantic Alliance's eastern flank. "Naming and shaming" would offer Bucharest a diplomatic edge against Moscow in the Black Sea region. It would also help the government better explain to the Romanian public the security and defense challenges faced by the country.
Confronted with increased Russian military aircraft activity in the Black Sea, Romania may need to rethink its air-defense acquisition programs so that they are more adapted to the threat. The F-16 acquisition program will likely need to be accelerated, and the acquisition of new built aircraft may have to be considered. The 53rd Fighter Squadron will need to become fully operationalized for air policing duties as soon as possible. With the F-16 fighter and Patriot air-defense acquisition processes moving steadily, the defense ministry will be in a position to finally launch its planned acquisition of a vertical-launched short-range air-defense (VL/SHORAD) system in the near future, thus creating a modern layered air defense for Romania.