Reopening Ukraine's Grain Export: Is a Quick Decision on the Horizon?
Publication: Eurasia Daily Monitor Volume: 19 Issue: 86
By: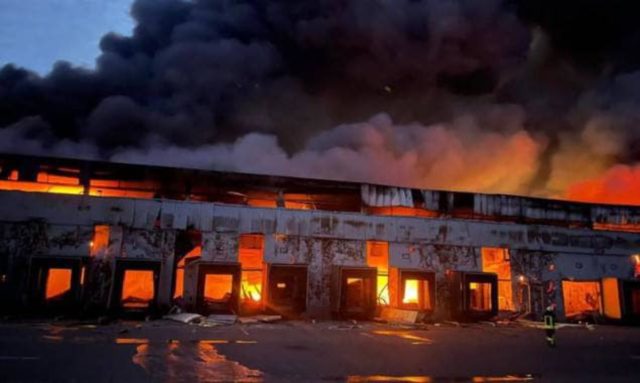 Recently, Turkey stated that it expects a decision on grain exports from Ukraine by sea "in the coming days." But even after an agreement is reached with Russia, it will take about five weeks to begin the operation, according to İbrahim Kalın, the spokesperson for Turkish President Recep Tayyip Erdoğan. He went on to state that it is economically and physically most expedient to transport Ukrainian grain to international markets via the ports on the Black Sea and the Sea of Azov. Kalın noted that Turkey is in talks on the future coordination of the departure and arrival of ships carrying grain, as well as regarding a coordination mechanism between Turkey, Ukraine, Russia and the United Nations. President Erdoğan's spokesperson called the talks "positive" but stressed that "there are certain legitimate security expectations" that Russian warships will not enter those unblocked Ukrainian ports (Anadolu Agency, June 4).
"Our Turkish colleagues have said that they are ready to help with demining. I think our militaries [Russian and Turkish] will agree on how best to organize it so that the ships can reach the high seas through the minefields that need to be cleared. And we guarantee on our own or with Turkish colleagues to follow them to the Straits [the Bosporus and the Dardanelles] and further into the Mediterranean," Russian Foreign Minister Sergei Lavrov said during a June 6 press conference (RIA Novosti, June 6). These talks are occurring amidst soaring food prices, in part caused by Russia's war against Ukraine, which has destabilized global markets. Ukraine is one of the world's largest grain exporters, and the collapse of its deliveries following the large-scale Russian re-invasion, launched on February 24, has hit African countries particularly hard. Russian President Vladimir Putin recently received his Senegalese counterpart, Macky Sall, who currently chairs the African Union, in order to discuss the food disruption issue. While Putin denied Russia was responsible for the high prices, he said he was willing to facilitate Ukrainian grain deliveries (Daily Sabah, June 6).
On June 3, the Kremlin posted an extensive interview of President Putin with the television channel Russia 1, in which he discussed inter alia the Russian naval blockade of Ukraine. Putin contended, "As for the export of Ukrainian grain, we do not hinder. There are several ways to export grain. First, please, it is possible to bring out [grain] through the ports that are under the control of Ukraine, primarily in the Black Sea basin—the port of Odesa and neighboring ports. It was not us who mined the routes to the port, it was Ukraine who mined it. I have already told all our colleagues many times—they [Ukrainians] should demine and please let the ships, loaded with grain, exit the ports. We guarantee their safe passage to international waters without any problems." He added, "They [Ukrainians] must demine [the maritime areas] and lift the vessels from the floor of the Black Sea that deliberately had been sunk in order to make it difficult to enter these ports in southern Ukraine. We are ready to do this, we have no intentions of using the demining situation to launch any attacks from the sea, as I have already said." According to the Kremlin leader, "Second, there is another possibility. The ports on the Sea of Azov, Berdyansk and Mariupol, are under our control and we are ready to ensure the smooth export of grain, including Ukrainian grain, through these ports. Please. We have already done the work; we are finishing up the demining of the fields that the Ukrainian army once mined in three layers; the work is coming to an end. We will create the necessary logistics. Please, we will do it" (Kremlin.ru, June 3).
On June 6, Ukrainian Foreign Minister Dmytro Kuleba replied in a tweet, "Putin says he will not use trade routes to attack Odesa. This is the same Putin who told German Chancellor [Olaf] Scholz and French President [Emanuele] Macron he would not attack Ukraine—days before launching a full-scale invasion of our country. We can not [spelling in original] trust Putin, his words are empty" (Twitter.com/DmytroKuleba, June 6). Ukraine's President Volodymyr Zelenskyy, in turn, said that Ukrainian weapons, including anti-ship systems, would be "the best guarantees" for demining ports. Kyiv is working on this issue, he added (Epravda.com.ua, June 6).
Indeed, during the negotiation process, Moscow attacked ports and granaries in the Mykolaiv region using air-launched cruise missiles from the direction of the Black Sea and Russia. Two warehouses burned down as a result of these strikes (Landlord.ua, June 5). "President Putin has blocked food shipments and aggressively uses his propaganda machine to absolve himself of responsibility or distort it because he hopes the world will yield to him and lift sanctions. In other words, it's just blackmail," according to United States Secretary of State Antony Blinken. He added that Russia was "robbing Ukrainian grain exporters" in order to sell grain itself and benefit from it (Ukrinform.ua, June 7).
On June 8, at a meeting in Ankara, the representatives of Russia and Turkey discussed unblocking Ukrainian ports, but no specific agreements were reached. Ukrainian diplomats were not invited to these talks. Now Ukraine is waiting for another round of negotiations with Turkey (Epravda.com.ua, June 8).
Given all of the above, there is strong reason to believe that Putin's actual negotiating position is aimed at blackmailing Ukraine as well as its Western allies and partners, effectively "squeezing" Ukraine out of the global agricultural market. At the same time, Moscow's repeated emphasis on mine clearance in areas surrounding Ukrainian Black Sea ports could be designed to facilitate or at least raise the risk of an additional Russian attack on Ukraine from the sea.