As War Rages in Ukraine, Turkey Expanding Its Soft Power in North Caucasus
Publication: Eurasia Daily Monitor Volume: 19 Issue: 86
By: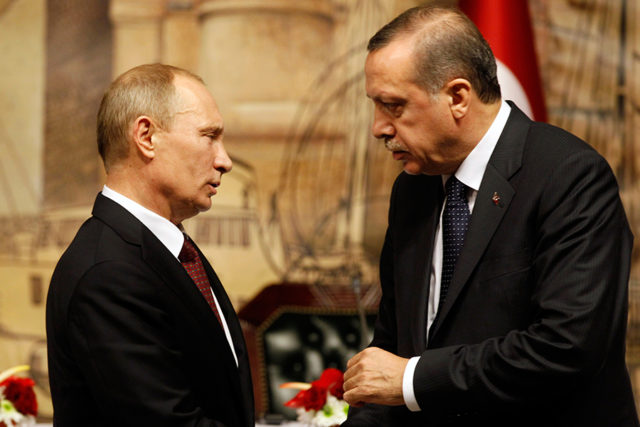 Although Turkey is no longer as dramatically active in the North Caucasus as during the 1990s, when it backed Chechen aspirations for independence, Ankara is quietly expanding its use of soft power mechanisms there. As Russian analyst Andrey Areshov writes, these overtures toward the region—increasingly apparent in the wake of the Azerbaijani-Armenian war of 2020 and even more since the start of Russia's so-called "special military operation" in Ukraine—encompass relationships with the numerous and active North Caucasian émigré groups in Turkey. Such links expand Turkish influence in the North Caucasus and undermine Russia's control; but unfortunately, Areshov says, the Kremlin is distracted by other concerns and has failed to recognize what is going on. Because Russia's government has not taken the necessary steps to counter what Turkey is doing, a branch of the "Turkic World" is now at risk of growing inside the current borders of the Russian Federation, the analyst contends (Fond Strategicheskoy Kultury, June 4).
Fears about Turkey's new moves and its use of North Caucasian diasporas have been a regular focus of the Russian analytical community since the end of the 2020 Second Karabakh War. At that time, Russian commentators like Dmitry Rodionov asserted that what Turkey wants to do is create not just a union of Turkish states but a union of Turkic nations, including those whose populations are within Russia's borders. "No one will say this aloud," including Turkish President Recep Tayyip Erdoğan, the Moscow writer continued. But that is precisely what is going on, he insisted (Rhythm of Eurasia, January 11, 2021; see EDM, November 16, 2021). Others have made similar points (Kavkazsky Uzel, January 17, 2022).
But it is Areshov's recent article that provides the most comprehensive survey of Turkey's activities there now and why Moscow should but is not paying attention. In the 1990s, he notes, Turkey actively supported the Chechens and others seeking independence by providing them with training bases. Those are now for the most part closed, although some still exist (Nordic Monitor, December 13, 2021). Instead, they have been replaced by more symbolic Turkish actions, like attention paid to the deadly events of 1864, honoring Jokhar Dudayev (the first Chechen president) with toponyms in Turkey, as well as efforts to involve young people from the North Caucasus in Turkish educational projects (Star.com.tr, October 1, 2013; Vzglyad, December 23, 2021). Because more vigorous measures have declined, Moscow assumes it does not face a problem. But the soft power Turkey is using is working effectively (Fond Strategicheskoy Kultury, June 4).
The Turkish government is working hard to involve young people from the North Caucasus and their diasporas into its orbit in what Areshov describes as "a war in the shadows." As evidence, the Russian analyst specifically points to the activities of Gulenist groups, which Ankara ostensibly opposes but sometimes makes use of, the work of Turkey's directorate for religion and its Agency for Cooperation and Coordination (TIKA), and, especially, projects carried out by the TUGWA youth group, which is closely tied to Erdoğan (T.me/playing_in_the_shadows, November 11, 2021; Fond Strategicheskoy Kultury, June 4, 2022).
According to Areshov, Ankara is "activating its work in Karachaevo-Cherkessia and Kabardino-Balkaria and attempting also to influence Dagestan, Ingushetia, North Ossetia, Adygea, Chechnya and Stavropol Krai" (Fond Strategicheskoy Kultury, June 4; Serdalo, March 18). He adds that TUGVA alone has organized approximately 50 youth programs across the North Caucasus; some of these initiatives are online while others involve having students from the region go to Turkey, helping émigrés visit their homelands, or placing Turkish instructors in North Caucasus universities (Gazetaingush.ru, February 18, 2022; EADaily, April 26, 2021) Areshov says that TUGVA has distributed some $5 million to Muslim groups in the North Caucasus and elsewhere in Russia since the start of this year's Ramadan. He concludes that "under conditions of the special military operation of the Russian Armed Forces in Ukraine," there can be "no doubt that Turkey and its 'longtime friends,' " such as the United Kingdom, will exploit "this opportunity to create additional problems for Russia on the southern flank, including within its state borders," in the North Caucasus (Fond Strategicheskoy Kultury, June 4).
In this, Areshov suggests and others confirm, the numerous North Caucasus diasporas in Turkey are playing a special role, one made even more important by the ways in which the Internet has linked them to their communities in their homelands (Kirj.ee, December 10, 2021). At the same time, the war in Ukraine has cost Moscow the influence it once had and used among diaspora organizations in Turkey and elsewhere (Windowoneurasia2.blogspot.com, May 4, June 7).
Two developments in Turkey underline this new role for the various North Caucasus emigrant populations there. On the one hand, Ankara, which has long opposed research into these communities, now is allowing more and even appears interested in calling attention to them. As a result, for example, the International Crisis Group recently published a special investigation about Muslims of Russian origin who live in Turkey (Crisisgroup.org, July 12, 2021). And on the other hand, some Turkish politicians are now prepared to talk about the possibility of recognizing as "genocide" Russian actions against North Caucasian nations. Given the reluctance of Turks to use that term lest it lead to discussions of the tragic events of 1915, that is a remarkable shift. And it only became possible because Ankara now sees the North Caucasus as a place where it can win points if it agrees with those like the Circassians, Ingush and Chechens, who insist that they have historically been victims of an intentional Russian policy of national destruction (Gumilev-center.ru, November 20, 2013; Natpressru.info, May 29, 2021). One possible additional reason for this is that Turkey is presently competing in the region not only with Russia but with Iran, a country even less unwilling to talk about genocides than Turkey has been (Kommersant, January 26, 2021).
If the Kremlin does start to pay attention to this trend, it is likely to restrict Turkish actions in the North Caucasus with even more draconian repressions. But for the moment, Moscow is distracted by the conflict in Ukraine. And it may also be constrained by an unwillingness to alienate Turkey lest Ankara take steps such as dropping its opposition to the enlargement of the North Atlantic Treaty Organization (NATO) to include Finland and Sweden—an issue the Russian leadership cares even more about.