Reported Coup Attempt in Turkmenistan Could Threaten Ashgabat's Future Course
Publication: Eurasia Daily Monitor Volume: 20 Issue: 111
By: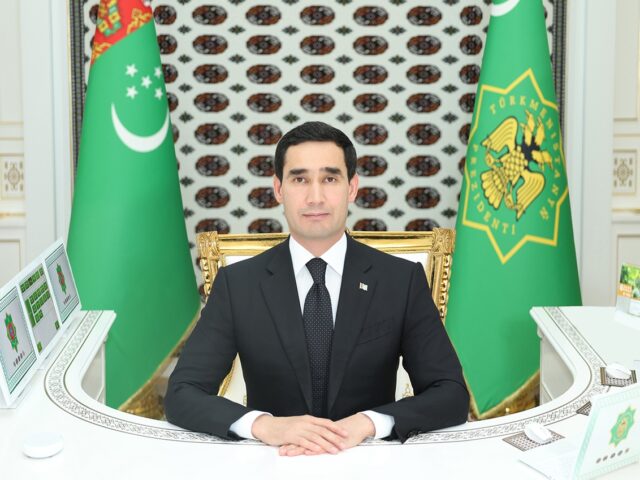 The independent Telegram channel "Turkmen News" reports that Ashgabat's security services recently blocked an attempt at an armed insurrection in Turkmenistan's capital and have arrested 20 Turkmen citizens. Most prominently, the son of a former agricultural minister was arrested (then later died while behind bars), as was Akhmed Khodzhatov, the current deputy minister of internal affairs. The channel says that the group brought in arms of various kinds to support their effort and planned for a far larger uprising (T.me/anthabar, July 8; Bizmedia.kz, July 9; Eurasia Today, July 10; News-asia.ru, July 11). According to the outlet, the government disrupted Internet access in the country to block additional reports about the coup attempt. Immediately after the story appeared, Batyr Redzhepov, Turkmenistan's ambassador to Kazakhstan, denounced the story as "fake news" and noted that even the Telegram channel had removed the story. The ambassador added that the situation in the national capital remains "calm" (Tengrinews.kz, July 10).
Given the absence of independent news agencies in Turkmenistan and the difficulties of reporting developments there, it is impossible to precisely say what is happening. It may be that the report about the coup attempt is in fact, as Ashgabat claims, not true and represents an attempt by opposition elements to present what they would like to happen. Or it may be the case that the Turkmenistan government is behind the report and wants to use this as an excuse to settle scores within the country's elite or as a means to impose more repression on a population already suffering from widespread poverty and the heavy hand of Ashgabat. Or—and this is perhaps the most likely—the reported event may reflect elements of both growing popular unhappiness with the regime and growing repression by the regime to remain in power while pursuing greater cooperation with foreign countries such as Iran, Russia and China (Azathabar.com, May 20; Radio Free Europe/Radio Liberty, May 21). Indeed, the report is either based on real actions or invented ones, designed to justify new arrests that could involve officials who disagree with Ashgabat's current course at home or abroad.
For more than 30 years since becoming independent following the collapse of the Soviet Union, Turkmenistan has been the most repressive and isolationist of the post-Soviet states, winning a reputation in some quarters as a country that rivals North Korea. All this reached its highest level under former President Gurbanguly Berdimuhamedov, who ruled from 2006 to 2022. In March 2022, he was succeeded by his son, Serdar, who has been no less repressive at home but has opened his country to expanded cooperation with other countries (see EDM, December 15, 2022; May 11; May 18). As often happens when repressive countries begin to open to the outside world, many have assumed that Turkmenistan is becoming less repressive at home. But that may be a misreading of what is actually occurring, given that all politics in Turkmenistan remains behind the scenes—though there is occasional evidence that not all officials and the Turkmenistan population agree with the current regime's choice of foreign partners or domestic policies (see EDM, July 29, 2021; Radio Azattyq, December 2, 2021; Window on Eurasia, February 26).
Beneath these expected differences in policy, another factor is at work in Turkmenistan, one that may be even more significant and make coups as well as reports of coups more likely—namely, tribalism and the resentment of those who are not part of the ruling Teke tribe from which the Berdimuhamedovs come from and rely on. Maksat Saparmuradov, a Turkmen émigré, says that these divisions and the resentments they are spawning represent the most serious threats to the current regime and could bring change more quickly and more violently than almost anyone now thinks possible (Platon.asia, April 2020; Window on Eurasia, May 16, 2020).
According to Saparmuradov, those who seek to understand Turkmen politics and society must remember that "the Turkmens do not have a nationality: this is a Soviet definition. The Turkmens are a nation of tribes." Prior to 1917, "each Turkmen tribe had its own space, its own territory, and violations of the borders of others occurred only through attacks. … With the establishment of Soviet power," these geographic borders began to disappear, but the identities of the members of the tribes did not lessen. This occurred at least in part because Moscow followed the tradition of appointing a member of one tribe to head the republic and then allowing him to consolidate his power by using only members of his group. And that tradition has continued.
The émigré leader continues, "'The nation of tribes' consists of sub-ethnos groups so different from one another that it is possible to speak about each of them in principle as a small independent 'people.'" Preventing them from acting on those identities explains not only Ashgabat's authoritarianism but also why changes will eventually come and be quite radical. He points out that there are "about 30 tribes" that unite within themselves "more than 5,000 family groups." The Teke is only one, and, because of Ashgabat's policies of supporting that tribe, others are angry and seek change. The big question now is whether enough tribes can come together to challenge the Teke and thus the current regime.
In the worst case, Saparmuradov suggests, this could lead to even harsher repressions to save the current regime, its replacement by representatives of another tribe prepared to rule in the same way over all the others, or the disintegration of the country into pre-existing tribal areas of one kind or another. As the situation in Turkmenistan is so dire that even some members of the Berdimuhamedov family are worried (see, for example, Eurasianet, May 14, 2020), a tribe-driven change in the country may be far closer than many people there or analysts elsewhere imagine or want. And as a result, reports about a coup, real or not, almost certainly reflect these divisions and fears; and those will have a far greater impact on Turkmenistan's domestic arrangements and its commitments to cooperation with outsiders than many may now think possible.