RUSSIA CAPTURES SERBIA'S ENERGY SECTOR
Publication: Eurasia Daily Monitor Volume: 5 Issue: 16
By: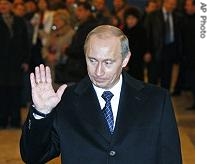 On January 25 in Moscow, President Vladimir Putin and Serbian leaders witnessed the signing of agreements to hand over Serbia's entire gas and oil sectors to Russia's Gazprom at one stroke. Serbia's February 3 presidential election runoff and Russia's support to Serbia against the West over Kosovo shaped the political context of this deal. The Europe-oriented incumbent president, Boris Tadic, could not afford opposing the terms of the deal (let alone the deal itself) while facing a Russophile challenger in the runoff. The Kremlin exploited this situation and rushed the signing.
However, the Serbian handover is not a reward to Russia for opposing Kosovo's imminent declaration of independence. Even if it were not for this timing, Belgrade could at most have held out for a better price for its oil industry, which is in any case the smaller part of the deal with Gazprom. The deal's centerpiece is the gas agreement. And in this respect, Serbia is following in the footsteps of Italy, Greece, Bulgaria, and Austria, each of which has in recent months leaped aboard Gazprom's South Stream pipeline project, thereby undermining the European Union's Nabucco project. All these countries cite a lack of immediately available gas supply sources and pipeline options. By rushing to join Gazprom's South Stream, these countries turn their Nabucco-skepticism into a self-fulfilling prophecy.
Under the agreements just signed, Gazprom and Serbia Gas are forming two joint companies, 51% Gazprom-controlled in each case. One company shall build an arm of the South Stream pipeline through Serbian territory with a capacity of at least 10 billion cubic meters annually. Apparently, Serbia's gas transmission network as well as that of Bosnia-Herzegovina's Serb Republic are also to be part of this joint company. The South Stream pipeline will enter Serbia from Bulgaria. The line's precise route within Serbia and its exit point(s) are to be determined in a follow-up agreement by the two governments in the course of 2008.
The other joint company is to expand and modernize Serbia's underground storage site for gas at Banatski Dvor, located near Serbia's borders with Hungary and Romania. This agreement also caters to Serbia's ambition to become a "regional hub" for Gazprom gas.
Gazprom and the Serbian government/Serbia Gas are to share the construction expenses in a 51%-49% ratio, both for the South Stream pipeline and for the storage site. The investment is valued at €1.7 billion ($2.4 billion) for the pipeline alone. The project is expected to inject altogether €2 billion at a minimum (almost $3 billion) into Serbia's economy during the construction period, with a tentative completion date by 2013. Thereafter Serbia expects to earn €200 million (almost $300 million) annually in transit revenue.
According to Gazprom CEO Alexei Miller at the signing ceremony, the company is in a position to invest its own cash outright, without having to borrow on international financial markets. An impoverished Serbia, however, will almost certainly have to borrow in order to cover its 49% share.
Facing chronic shortages of gas, and urgently requiring modernization of the transmission network, Serbia welcomes this agreement despite the total dependency it spells on Russia. That dependency would reach 100%, according to Infrastructure Minister Velimir Ilic, who signed the agreement for the Serbian government (BETA, January 25). Nevertheless, Serbian officials profess satisfaction with the massive investment in the country for the first time since Yugoslavia's collapse, "guaranteed" gas supply for 30 years, transit revenue, and subcontracting opportunities for Serbian companies. Such sentiments seem to be shared by Serbian ministers over and above party lines or attitudes toward the West and Russia. In Moscow, both the Europe-oriented President Boris Tadic and the Russia-oriented Prime Minister Vojislav Kostunica hailed the gas agreement.
However, the Serbian government remains divided to some extent over the terms of selling the state-owned Serbia's Petroleum Industry (NIS) to Gazprom's oil subsidiary, GazpromNeft. The terms are those imposed by Moscow: €400 million in cash now, and 500 million in investments later, for a 51% stake in NIS, without a competitive tender. NIS includes the refineries in Pancevo and Nish with a combined processing capacity of 7 million tons annually, an oil supply pipeline entering Serbia from Croatia, and a fuel distribution network that holds the lion's share of Serbia's market.
Gazprom's price offer is regarded as deeply undervalued, but is accepted by most Serbian ministers for now as an inevitable "incentive" to Gazprom to sign the gas deal with Serbia. Thus, the government signed a memorandum of understanding in Moscow with GazpromNeft on these terms, but it hopes to adjust some details in the final sale-and-purchase contract, which is due for signing before the end of 2008.
Meanwhile, Russian officials including Putin leave open various continuation options for the South Stream pipeline from Serbia onward: either through Croatia and Slovenia to northern Italy or through Romania and Hungary to Austria. (The South Stream company has already determined that one branch of the pipeline would run from Bulgaria to Greece and Southern Italy.) Gazprom ostensibly reserves the right to make final decisions on transit routes based on technical and feasibility studies by the end of this year. By juggling rhetorically with all those options, Moscow tries to tempt these countries into competing against each other to provide transit and storage services for Gazprom and/or to defect from the competing Nabucco project of the EU.
(Interfax, Pregled, Politika, BETA, Danas, Dow Jones, January 25, 26; see EDM, January 9, 10, 24)