Russia Considers Exporting S-500 Air-Defense Systems to China and India
Publication: Eurasia Daily Monitor Volume: 18 Issue: 173
By: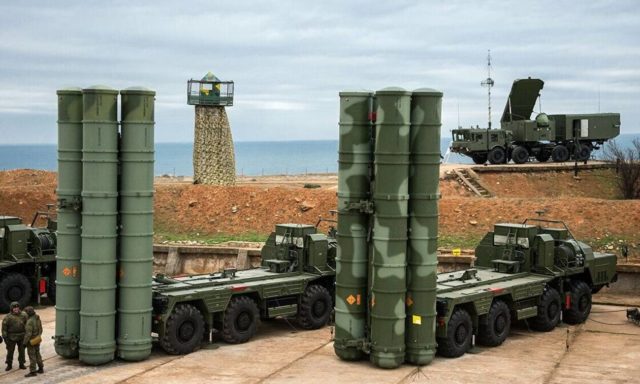 According to Dmitry Shugaev, the head of Russia's Federal Service for Military-Technical Cooperation (FSMTC), Russia may export its most advanced S-500 Prometheus air-defense weaponry to China and India after its own Armed Forces receive their allocations of the systems. Shugaev said, "When the [Russian] Armed Forces contracts are fulfilled, it will then be possible to supply the system for export. We consider India, as well as China and all those states with whom we have long-standing partnerships and stable relationships, as future owners of this latest system" (Radio Sputnik, November 2). Such a development would shift Eurasia's military balance of power away from the United States and Europe. If exported, the S-500s would not only defend the Russian Federation but cover most of Eurasia with a next-generation anti-aircraft missile-defense shield specifically designed to counter US and North Atlantic Treaty Organization (NATO) aerial capabilities, including fighters, intercontinental ballistic missiles (ICBMs), hypersonics as well as low-Earth-orbit satellites.
Even accounting for advertising hyperbole, the S-500's operational capabilities, if proven successful, would represent a major advance in anti-aircraft defense systems. The S-500's operational range is approximately 370 miles (600 kilometers), within which it reportedly can detect and simultaneously counter up to ten ballistic supersonic terminal ICBM warheads flying at speeds up to 4.34 miles (7 kilometers) per second, as well as volleys of hypersonic missiles currently under development by various countries (RIA Novosti, November 2).
The S-500 also has a much more powerful radar than previous Russian military anti-aircraft systems for detecting targets and transmitting their coordinates to the launch battery's missiles (RIA Novosti, July 20). The first tests of this latest air-defense system took place in July and were reportedly successful (Lenta, August 5). Less than two months after their conclusion, Deputy Prime Minister Yuri Borisov stated that the Russian Armed Forces had begun receiving their first S-500 consignments (Radio Sputnik, September 16). By October, the first S-500 brigade was deployed by the Russian Aerospace Forces' (Vozdushno Kosmicheskikh Sil—VKS) 15th Special Forces Army to cover Moscow and the country's Central Industrial Region (TASS, October 13).
Paving the way for India's potential purchase of S-500 systems are its long-standing armaments connection with the Russian military-industrial complex. These include Russia having organized the licensed production of T-90 tanks and Su-30MKI aircraft in India, joint production of BrahMos supersonic missiles, and ongoing negotiations on the licensed manufacture of Ka-226T helicopters. Moreover, New Delhi has crucially already purchased Russian S-400 air-defense systems, scheduled for delivery by the end of the year (RIA Novosti, September 16).
Such sales represent a further step away from traditional Russian hesitancy in exporting its state-of-the-art military systems. Given that the two potential primary buyers—China and India—are themselves involved in various geopolitical struggles (including with one another), the sales have an added element of potential regional destabilization. Beyond providing battlefield tactical air defense, the mobile S-500 Prometheus system is considered one of the most advanced in the world, reportedly capable of destroying low-orbit satellites and fifth-generation stealth aircraft, in addition to its primary targets of cruise and ballistic missiles. Moreover, the system's survivability is allegedly enhanced by its high resistance to electronic interference (Topwar.ru, May 8, 2020).
The Russian military is also continuing efforts to further integrate the aerial defense systems of fellow Commonwealth of Independent States (CIS) members. The day after his S-500 pronouncement, after a meeting of the Council of CIS Defense Ministers, Russia's minister of defense, Army General Sergei Shoigu, announced that next year, the CIS countries would hold "the Regional Security 2022 computerized command and staff exercise of the joint air-defense system" (TASS, November 10, 2021).
Nor is this the end of the story: on November 9, during a conference call with top Russian military officials, Shoigu told them that Moscow is developing a new air-defense missile system. Specifically, he quoted Russian President Vladimir Putin, who allegedly "emphasized the importance of advancing the development of domestic air-defense systems, and the supply of S-350, S-500 and S-550 systems to the Armed Forces" (TASS, November 9). This notably marked the first time that the S-550 system had been mentioned in public.
The S-550 anti-aircraft missile system (SAM), developed on the basis of the S-500 Prometheus, will become the world's first mobile specialized missile-defense (anti-ballistic missile—ABM) and anti-space defense system capable of effectively destroying intercontinental ballistic missiles. While Russia and the US both already possess missile-defense systems that can accurately shoot down ICBM warheads, those systems are not mobile and are, instead, based in silos, increasing their vulnerability to a preemptive first strike. The S-550 high-mobility terminal air-defense system had initially been in development at the Soviet Union's Almaz Central Design Bureau in 1981–1988; but it, along with many other projects, was abandoned as part of Soviet-US strategic military disarmament agreements. The equipment of the prototype firing complex of the system was dismantled after 1992, following the breakup of the Soviet Union (TASS, November 9). The Almaz Central Design Bureau, now the state-owned Almaz-Antey Corporation, also developed the older-generation S-400 and S-300 air-defense systems.
A source speaking on condition of anonymity told RIA Novosti, "The new [S-550] mobile system is being developed as a version of the S-500 air-defense system and will specialize in anti-missile and anti-space defense tasks. Its capabilities to intercept warheads of ballistic missiles of various ranges, primarily intercontinental ones, as well as space attack weapons will be an order of magnitude higher than that of the S-400 and S-500, as well as American missile defense systems—THAAD and Aegis with SM-3Block llB missiles" (RIA Novosti, November 13).
Russia's proposed anti-aircraft sales represent an astute sidestepping of US Eurasian policy, which for decades had overwhelmingly been fixated on counter-terrorism operations and blindsided by the Afghanistan war debacle. Unless Washington refocuses its priorities when it comes to its defense posture and that of its regional allies, it seems likely that over the next three years, Eurasia's skies will become much less friendly (or vulnerable) to advanced US and Western aerial technology.