Russia Continues to Forcibly Recruit Prisoners and Migrant Workers for War in Ukraine (Part One)
Publication: Eurasia Daily Monitor Volume: 20 Issue: 167
By: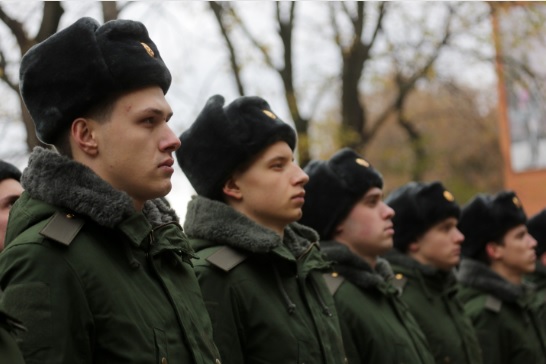 Russia's war against Ukraine has taken an unpleasant turn for Moscow. Instead of a speedy, triumphant victory, the Russian Armed Forces are effectively wasting human and material resources in the battle for Avdiivka (Ukrinform, October 28). Three factors are pushing the Russian side to continue the forcible recruitment of prisoners and migrants workers for its war against Ukraine. These include an unwillingness to expend well-trained regular troops, the desire to wear down Ukraine's defensive potential, and the lack of resolve to launch a new wave of mobilization before 2024. Official Russian data confirms that prisoners are "disappearing" in large numbers. In total, 33,000 men have disappeared in 35 regions, with Samara, Chelyabinsk, and Kirov oblasts leading the pack (Current Time TV, April 20). According to Russian Deputy Justice Minister Vsevolod Vukolov, the Russian prison population has now plummeted to a historic low of about 266,000, meaning that up to 54,000 prisoners may have been recruited to fight in Ukraine (Rus.azattyq.org, October 7).
At least in the short-term, Russia will continue to use both prisoners and labor migrants to shore up manpower shortages in Ukraine. Moscow is heavily reliant on three main groups to reinforce its regular forces. First, male prisoners constitute the largest share of those being forced into taking part in the war. Information from Russian prisons and related sources suggest that, in the past several months, Russian officials have increased pressure on prisoners, urging them to sign contracts with the Ministry of Defense (MoD) (see EDM, September 28). Recruitment efforts are being jointly conducted by representatives of the MoD and local administrators who directly threaten prisoners with "consequences" if their proposals are rejected. These prisoners are experiencing both physical and mental pressure if they refuse to sign contracts (Gulagu.net, October 20).
This tactic will continue to play a central role in the recruitment of prisoners, though it has limits. Heavy losses in Ukraine and a high number of military-age men fleeing the "partial mobilization" last year mean that a relatively limited number of able-bodied young men who can perform military service are left in the country, including in Russia's prisons. Prison labor has also attracted the attention of Russia's state corporations, which have their own plans to integrate this cheap resource into their operations (see EDM, October 23).
Second, Moscow is recruiting female prisoners in higher numbers. According to Olga Romanova, a Russian human rights activist and the founder of Russia Behind Bars, Russian officials are conducting a "massive recruitment of female prisoners for the war in Ukraine." This approach has not been widely successful in the occupied territories of Ukraine. In Russia's Lipetsk Oblast, however, the number of female recruits has reached "massive proportions." Romanova argues that, "unlike men, female prisoners are much more susceptible to propaganda and go to war much more ardently than men." Additionally, she stated that female prisoners "have been spotted in stormtrooper units fighting on behalf of the MoD. … They are kept separately from men, but they are fighting together" (Dw.com/ru, August 3).
In 2022, the number of female prisoners in the Russian penitentiary system stood at approximately 30,000. Close to 30 percent were convicted of violent crimes, with only a fraction being the initiators (Forbes.ru, November 23). This means that only a small percentage of female prisoners would be considered theoretically eligible to join stormtrooper units or similar formations on the Ukrainian battlefield.
Third, the Kremlin continues to lean on migrant workers to replenish its forces at the front (see EDM, February 16, September 13). These migrants mainly come from Central Asia, with a high concentration coming from Tajikistan and Uzbekistan. Russian military officials are actively searching for potential recruits among migrants at mosques and immigration centers. According to Radio Free Europe/Radio Liberty (RFE/RL), Central Asian migrants are being offered bonuses of $2,390 and a salary of $4,160 per month for signing a contract (RFE/RL, April 18). Additionally, migrants willing to sign a contract with the MoD are offered a "fast track" to Russian citizenship. Those that sign contracts can receive citizenship in six to 12 months, instead of having to wait for the regular five-year term (Eurointegration.com.ua, May 8).
A group of Kyrgyzstani citizens currently serving time in Russian jails have filed a petition to be transferred back to their home country to serve out the rest of their sentences (see EDM, September 13). This is presumably due to the fear of being pressured to join the Russian Armed Forces. According to official data, 1,064 Kyrgyz citizens are currently serving prison time in Russia. Many of their relatives have already turned to the Kyrgyzstani government to do everything it can to bring their family members back home. An undisclosed number of Uzbekistani nationals serving prison time in Russia have also appealed directly to President Shavkat Mirziyoyev to do whatever possible to transfer them back to Uzbekistan. They, too, are afraid of the growing pressure to join Russian mercenary formations (Mediazona.ca, June 8).
According to the Ukrainian MoD's Main Directorate of Intelligence (GUR), Russia is mobilizing up to 20,000 men a month to participate in the war against Ukraine. The GUR has argued that Russia is energetically searching for recruits from various walks of life, ranging from "prisoners to people with financial arrears … and former military personnel who are made to re-sign contracts" (Twitter/@dw_russian, October 22). In the coming months, Moscow seems set on drastically increasing the search for additional "cannon fodder" to send to Ukraine. The forcible recruitment of prisoners and migrant workers is destined to remain a central part of these efforts.