Russia Continues to Forcibly Recruit Prisoners and Migrant Workers for War in Ukraine (Part Two)
Publication: Eurasia Daily Monitor Volume: 20 Issue: 172
By: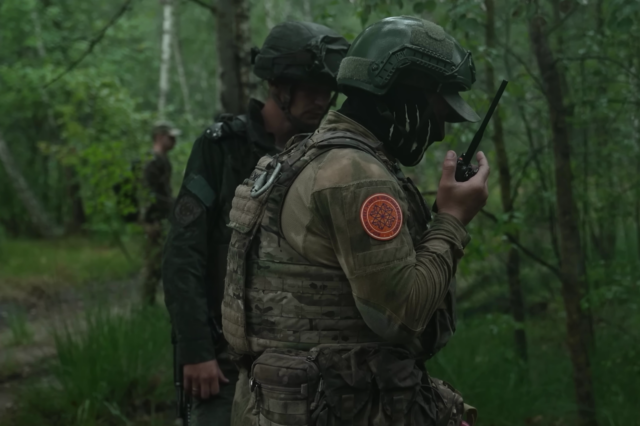 The Kremlin has broadened the recruitment of prisoners by the Russian Ministry of Defense (MoD) and National Guard (Rosgvardia) in an effort to avoid launching a second wave of mass mobilization. This comes after Moscow denied the Wagner Group the right to recruit convicts in February and the Russian State Duma granted legal approval to the MoD for the military use of prisoners this summer (Ru.euronews.com, June 15). The Defense Ministry utilizes two quasi-private military companies (PMC)—Storm-Z and Redut—in recruiting and deploying more prisoners to Ukraine. In practice, the MoD does not appear to be the only actor within Russia's siloviki, or "strongmen," that can recruit current and former prisoners. Rosgvardia also appears to have been given authorization to recruit from this group. In addition, an investigative report from Vazhnyye Istorii ("Important Stories") on November 2 revealed that officials in the Central Federal District have instructed regional authorities to recruit "migrants, prisoners, debtors, the unemployed, and other vulnerable segments of society" for the war in Ukraine (Istories.media, November 2).
Redut is reportedly subordinated to the MoD and the Russian General Staff. Following the ban on Wagner's recruitment of prisoners, the MoD emerged as the main player in coercing prisoners to sign contracts to fight in Ukraine (Current Time TV, February 7). Starting in the fall of last year, Wagner's emissaries would primarily recruit prisoners from the so-called "red colonies" (Istories.media, October 11, 2022)—that is, prisons hosting mainly imprisoned siloviki. Starting in 2023, Wagner broadened its focus and began recruiting current and former convicts.
Wagner's new approach seems to have been co-opted by other quasi-PMCs within Russia. In October, Olga Romanova, founder of Russian Behind Bars, mentioned Redut in relation to the military recruitment of prisoners. She argued that official authorization to recruit prisoners would not necessarily become a precondition for Redut's success in those efforts (Current Time TV, October 11). Unlike Wagner, whose leadership has intimate knowledge of Russia's prisons, Redut's representatives and recruiters have no such knowledge and expertise. Romanova also stipulated that, while the Wagner Group could recruit prisoners straight from the penitentiary system, Redut would have to go through additional procedures when coordinating its actions with the MoD. She concluded that many prisoners felt that allowing Wagner to carry out such efforts made much more sense than for Redut, as "in contrast to the 'Prigozhinites,' [Redut] does not know the prison hierarchy, they do not know how to conduct themselves and communicate with prisoners."
The recruitment of prisoners is taking place across Russia's regions and has seemingly picked up in recent months. According to investigative journalists, prisoners have been reportedly enlisted from the Mordovia, Tula, Yekaterinburg, Vladivostok, Belgorod, Perm, Bashkiria, Sverdlovsk, and Saratov oblasts. All recruits end up being placed in one of five units within Redut: "Veterans," "Rys" (Lynx), "Wolki" (Wolves), "Tigr" (Tiger), and "Sever" (North). Serbian war criminal Davor Savicic, who has fought on the Russian side against Ukraine, confirmed to journalists in an October interview that the influx of prisoners into Redut is growing (Nv.ua, October 11). While the precise number of prisoners recruited remains unknown, Romanova theorized that more than 1,000 men might have been recruited as of October 1 (Svoboda, October 11).
The recruitment of prisoners in Russia now seems to extend beyond quasi-PMCs. Rosgvardia has reportedly started accepting job applications from ex-convicts who used to be a part of Wagner before Prigozhin's unsuccessful mutiny (Meduza, September 11). This information first appeared at the end of the summer in closed conversations with relatives of Wagner members. According to Russian sources, this transition was quite challenging. Some Wagnerites were removed from consideration based on the types of crimes they had committed. They were also disallowed from applying for top- and mid-level leadership positions.
Vazhnyye Istorii correspondents presented themselves as former Wagner mercenaries and called Rosgvardia representatives to gain insights into the various recruitment options (Istories.media, September 11). The differences in responses from Rosgvardia's Moscow and Rostov-on-Don representatives were quite telling. In Moscow, conditions for recruitment appeared to be less stringent. Ex-convicts who served in the Wagner Group could be considered eligible to join Moscow-based Rosgvardia formations depending on the severity of their criminal charges, whether they served time, and the length of their imprisonment. In Rostov-on-Don, one of the Vazhnyye Istorii correspondents was also offered a potential spot in Rosgvardiya on two conditions. First, they would not serve in the Rostov region. Second, they must agree to be sent to the newly occupied territories of the Donetsk region to provide security to some of the locally based "objects of strategic importance."
The Russian journalists also spoke with an anonymous Russian lawyer from the "Call for Consciousness" (Prizyv k Sovesti) coalition. He claimed that the Russian military is accepting anyone willing to enlist, irrespective of their past. His words were corroborated by head of the public movement "Citizen. Army. Law," Sergey Krivenko, who stated that, today in Russia, everyone, except those with exceptionally extreme legal cases, can join Rosgvardia (Istories.media, September 11).
In allowing current and former convicts to serve in Rosgvardia and join Redut, Russia primarily hopes to avoid another massive wave of mobilization. Moscow worries that future mobilization could lead to widespread societal discontent that could disrupt the upcoming electoral cycle. For now, those prisoners will serve as "cannon fodder" for the Russian army in Ukraine, with very little sympathy from the majority of the Russian public (Twitter.com/Sota_Vision, October 26). They will primarily be deployed as a means of wearing down Ukrainian forces as the winter campaign quickly approaches.