Belarus Finds Economic Optimism Amid Political Freeze
Publication: Eurasia Daily Monitor Volume: 20 Issue: 173
By: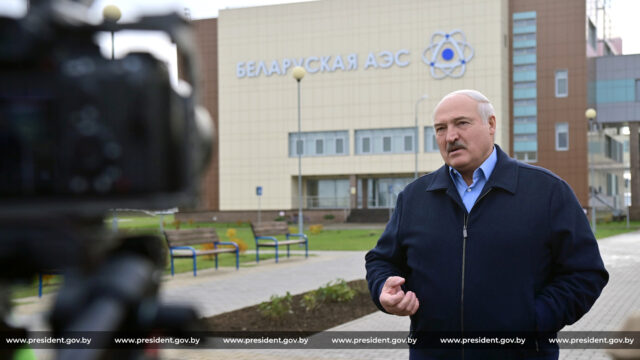 On November 3, Belarusian President Alyaksandr Lukashenka paid a visit to Astravets, the site of Belarus's nuclear power plant located 15 kilometers (about 9 miles) from the Lithuanian border (President.gov.by, November 3). The visit was arranged in concert with Russian energy corporation Rosatom completing the plant's second unit. (The first unit was commissioned in June 2021.) Formerly a sleepy provincial township, Astravets is now a growing industrial center with a young population and driver of economic growth in the country. In addition, the International Monetary Fund recently upgraded its growth estimates for Belarus (MyFin.by, October 10). These developments undergird an optimistic economic outlook for Minsk, even as progress on some key political issues appears to have stalled.
Lukashenka used his working trip to highlight several key issues (President.gov.by, November 3). First, he thanked Rosatom and acknowledged how much natural gas Belarus will now be able to store with the completion of the Astravets Nuclear Power Plant's second unit. Belarusian homes will now receive electric heat, with numerous power lines being built to support this flow. The Belarusian president also announced that the construction of one more nuclear power plant is under discussion either in Mogilev Oblast or as the third unit of the Astravets station.
Second, Lukashenka observed that the completion of critical industrial projects is set to coincide with major holidays once again. Such was the case with major infrastructure projects during Soviet times. In this particular case, Lukashenka referenced the official opening of the new unit at the Astravets plant as "one of the gifts" for the Belarusian people on October Revolution Day, celebrated on November 7 (President.gov.by, November 3). Belarus is the only post-Soviet state, including Russia, that still celebrates the anniversary of the 1917 Communist Revolution on that day.
Third, Lukashenka dismissed the Lithuanian letter of protest demanding that both units of the existing station be shut down until issues of nuclear security are resolved (Rus.err.ee, November 4). The Belarusian leader referred to the letter's authors as "crazies" who have nothing to do with the interests of the Lithuanian people. He added, "Let them write those notes, our commodes still have a lot of room." On previous occasions, Lukashenka had attributed the Lithuanian attitude to jealousy arising from the closure of their own nuclear plant based on the European Union's demands. The planned replacement has never materialized. He also proclaimed that Belarus's western neighbors will "come to their senses" and start buying cheap electricity from Minsk (President.gov.by, November 3).
Fourth, Lukashenka shared his optimism that the prospects of cheap energy would help improve Belarus's relationship with Ukraine. He declared that "we will have to assist" our neighbor, since Kyiv "will ask us for help" as soon as the Americans abandon them like they abandoned Afghanistan.
The celebratory public tone over the completion of the power plant seemingly veiled some grievances festering behind the scenes. Specifically, Lukashenka demanded monetary compensation from Russia for the delay in construction and received it in the form of a discounted price on nuclear fuel (Politnavigator, October 31). Moscow's swift capitulation to Lukashenka's demands seemingly runs contrary to the narrative in Western media that the Belarusian president is a mere puppet of Vladimir Putin.
This occurrence is more in line with the dissenting view expressed by Artyom Shraibman, a nonresident scholar at the Carnegie Endowment for International Peace. According to Shraibman, with Russia's war against Ukraine, "Belarus has become a crucial military asset in its own right, and Moscow is also to some extent dependent on Minsk. As a result, Lukashenka maintains certain autonomy" (Foreign Affairs, October 31).
Lukashenka seems aware of this reality and has tried to capitalize on it to increase trust in his leadership within Russian society. According to the fall study conducted by the Russian polling agency Romir, Lukashenka, Chinese Communist Party General Secretary Xi Jinping, and former US President Donald Trump are the top-three international figures trusted by the Russian population. They were the only politicians among the top ten (Romir, November 2).
Belarusian public opinion on trust in Russia and its leaders is not quite as clear-cut. Andrei Vardomatsky, one of Belarus's most seasoned sociologists, now based in Warsaw, has been conducting regular phone interviews of his fellow Belarusians. According to Vardomatsky, most Belarusians remain doggedly opposed to participation in the war next door. Pro-Russian attitudes in Belarus, nevertheless, are on the rise. In the past, a similar trend dominated from 2004 to 2014, when Moscow illegally annexed Crimea. Up until the end of 2020, those attitudes were on the decline. Vardomatsky attributes their current rise to the fact that the official Belarusian media is now more in unison with the state-run Russian media than ever before. Accessing alternative sources is not easy, though still possible (Gazetaby, October 31).
The most active influencers promoting alternative viewpoints now reside outside of Belarus. As many as 350,000 people reportedly left Belarus following the 2020 post-election protests and ensuing repressions. This estimate was shared by Nikolai Karpenkov, deputy minister of internal affairs, during his speech to a military unit that was engaged in squashing those protests (Zerkalo, October 23). This is a massive shift for a country with a population just over nine million, especially considering that most émigrés are young with highly technical capabilities.
The government commission set to consider applications for these Belarusians' return apparently has not had much success (see EDM, February 1). The report from the Prosecutor General's Office on the latest meeting of the commission led by Andrei Shved in October does not mention the total number of appeals received. Shved announced on television in early May that just over 70 applications had been received. Judging by the website of the Prosecutor General's Office, the commission has only met four times.
According to Lukashenka's decree, the commission will stop accepting appeals on December 31. The composition of the body, dominated by military officials and propagandists, and the humiliating preconditions (denounce yourself and ask for forgiveness publicly) hardly instills enthusiasm among the Belarusian émigré community or any confidence that the number of appeals will increase greatly between now and the end of the year (Pozirk, November 1).