Cossack Education Becoming Further Institutionalized Across Russia's Regions
Publication: Eurasia Daily Monitor Volume: 20 Issue: 173
By: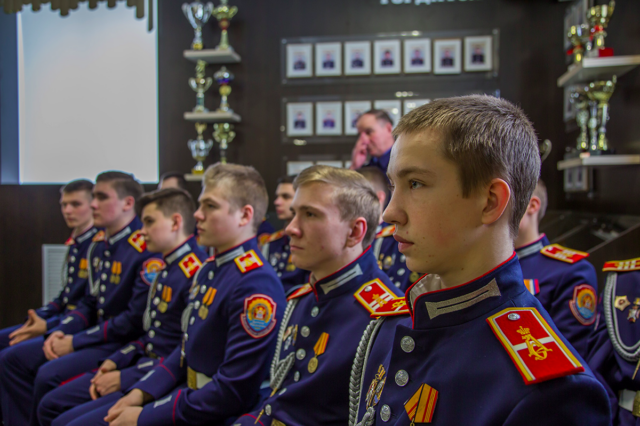 Russia is going to great lengths to maintain its war effort in Ukraine without having to resort to another wave of mass mobilization (see EDM, October 10, 31). Military-adjacent structures, such as the Registered Cossacks, are becoming increasingly important as a source of recruits for the Russian army. Cossack education plays a central role in this process, ensuring the indoctrination of Russian society for a long war in Ukraine and physical preparedness for future conflicts.
The phenomenon of Cossack pedagogy has been noted before, but the Kremlin is now extending it beyond secondary education (see EDM, October 17, 2022). Razumovsky University (the first Cossack university) recently unveiled a round of funding applications for a new "Cossack" bachelor's degree. This program is "unique since no university in the country" has previously provided such coursework nor emphasized "a separate block on the history and culture of the Cossacks." The grant competition, "Cossacks in Service of the Fatherland," provides funding to study these courses at various Russian universities and offers a stipend to cover "the provision of tactical field clothing … and purchase of ceremonial Cossack uniforms" (All-Russian Cossack Society, October 19). Graduates will presumably be expected to serve at least one and likely additional tours of duty. This becomes another means of exchanging one's life to achieve rapid social elevation for those from Russia's poorer regions. The creation of this and similar military incentive programs gives Moscow the means to deepen hostile sentiments toward the West and carry on the war in Ukraine for the foreseeable future.
Other initiatives point to furthering Cossack education at the regional and local levels. This is particularly the case for the "Cossack Cadets Corps," known by their Russian acronym of "KKK." The KKK provides a "modern training ground for future atamans and defenders of the Motherland" (Society of Cossack Youth, accessed November 8)  There are currently a total of 31 KKK organizations in Russia (All-Russian Cossack Society, accessed November 8), with branches in Astrakhan, Bryansk, Kurgan, Moscow, Novosibirsk, Penza, Samara, Kalmykia, Penza, Perm, Stavropol, and Sverdlovsk. Plans are in the works to open new chapters in the Stavropol, Khabarovsk, Trans-Baikal, Krasnoyarsk, Irkutsk, Omsk, and Orenburg regions (All-Russian Cossack Society, September 14).
These organizations offer a different model in spreading military-patriotic ideas at the grassroots level. Nikolai Doluda, deputy chairman of the Russia State Duma's Committee on Nationalities, pointed out, "It is impossible to carry out full-fledged Cossack cadet education in a multidisciplinary educational institution. … The 'Cossack component' presupposes a completely different regime, a different organization of the educational process" (All-Russian Cossack Society, September 14). The KKK organizations provide a prestigious designation and presumably quality education for youth as a means of social advancement. It also serves to radicalize younger participants as part of a wider agenda of "patriotic education" among Russian youth (see EDM, August 18). The dispersal of the KKK institutions make the Cossacks an ideological vanguard in institutionalizing 19th-century militarism throughout Russia.
The relationship between these youth organizations and the Russian military has become more apparent since Moscow's full-scale invasion of Ukraine. A recent article on the All-Russian Cossack Society's website, titled "Kuban Military Sports Clubs Train 10,000 Future Warriors," outlines how the community is involving children in its militarization. These sports clubs, where veterans of the "special military operation" are guests of honor, teach students basic military tactics and simulate battles with paintball guns in dilapidated buildings to ensure their readiness for future fighting. There are even excursions to "the military unit stationed in [their] city" for the youth stylized as "young Cossacks" (All-Russian Cossack Society, October 25). Such activities indicate the long-term preparations Russia is undertaking to militarize Russian society and convince the younger generation that they are destined for military service.
These efforts ease the processes of staffing private military companies (PMCs) currently active in Russia and organizing new ones. This is exemplified by the career of Konstantin Pikalov, who began with the Black Sea Cossacks and is now the leader of the relatively new PMC, Konvoy (The Insider, August 14, 2020). Pikalov served in a relatively senior position with the notorious Wagner Group before forming Konvoy. Additionally, the proliferation of PMCs in Russia presumably increases the supply of recruits for violent criminal enterprises.
Similar Cossack programs are also being set up in the newly occupied regions of Ukraine. A recent meeting in Rostov brought together the Southern Federal District's presidential envoy and Deputy Head of the Federal Agency for Ethnic Affairs Anna Kotova "to coordinate work on the construction of Cossack societies" in Donetsk, Luhansk, Zaporizhzhia, and Kherson. Ataman Sergey Bodryakov from the Don host was also in attendance and shared "his experience of interacting between Cossack groups, wishing to create primary Cossack societies" (All-Russian Cossack Society, October 19). Kotova's presence is particularly noteworthy, given the loose standards around who can qualify as a "Cossack" in the state-run movement. Her attendance implies that the Kremlin wishes to maintain the fiction that the Registered Cossacks are linked to the ancestral Cossack past. The close proximity of these organizations to the Cossack "holy land" of Khortytsa likely means these "Cossack" groupings will play an important ideological and educational role in the future.
The institutionalization of Cossack education across Russia's regions serves two key functions in achieving the Kremlin's goals domestically. First, the spread of military-patriotic indoctrination within these Cossack organizations is preparing a new generation of young Russians to fight, even without draft papers. Second, Cossack education ensures the physical preparedness of a new vanguard to serve in Ukraine, which has been a problem for the Russian army. Both functions ensure that Russia will have a healthy pool of "volunteers" for future wars and a milieu that promotes violent entrepreneurship and the privatization of force at home.